Bubbling Over at Andora's
Downtown bubble tea shop brimming with selections
October 9, 2019 at 1:30 PM
Andora's Bubble Tea Shop is a new business that aims to bring authentic Taiwan tea to Erie. There are only a few shops that offer bubble tea locally (such as Khao Thai and Fat Lenny's), so you might not be sure exactly what it is. Bubble tea is created with homemade iced tea, your choice of added flavor made from real fruit juice, and either popping boba, tapioca pearls, or jellies at the bottom. You drink the tea through a large straw that allows the gummy-like spheres ("bubbles") to come through while drinking.
Popping boba have gel-like skin with a multitude of different flavors (I prefer honey) that explode with juice when they go through the straw. Tapioca pearls are a more basic sugar flavor but have a thick texture which I find satisfying. While jellies taste like a thicker Jell-O with separate unique flavors (the aloe jellies are amazing), they don't contain gelatin — exciting news for vegans. Each drink is totally customizable — start with a type of tea, add a flavoring and type of milk (or don't), and finish with boba and/or toppings, which come in different flavors of their own. You tell the person at the register exactly what you want, and your creative drink is made in seconds.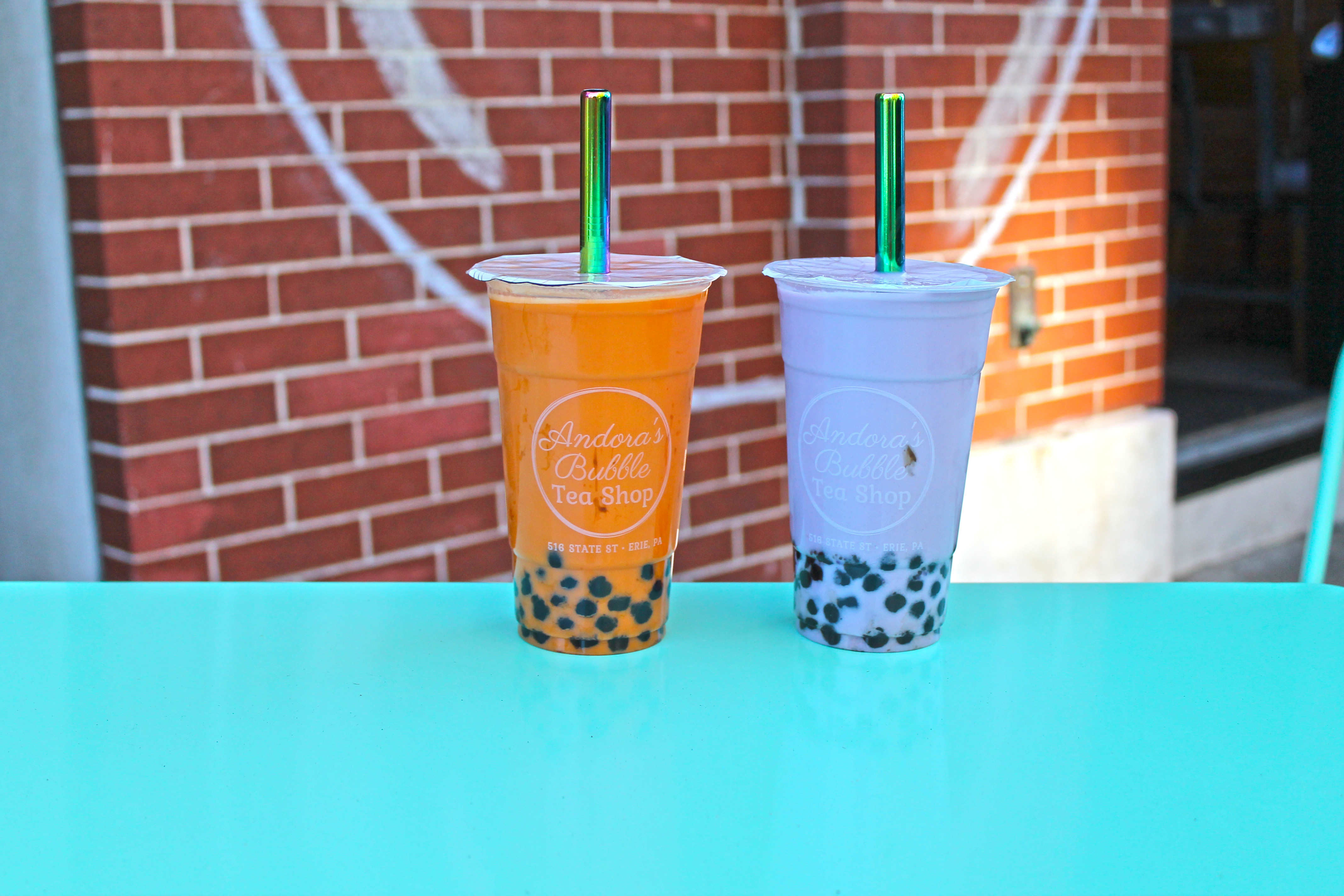 Andora's Bubble Tea Shop gets all of their tea and flavors directly from Taiwan, which gives their tea an authentic taste and texture. Andora's also brews their tea from leaves multiple times a day, while some bubble tea places use powder tea. The shop offers both traditional and Americanized flavors, which makes for a sizable list of options. While owners Rora and Andy Steinmetz personally prefer classic flavors like taro and lychee, they realize that bubble tea is a new concept to the Erie area. Thus you'll also find less foreign flavors such as pineapple, mango, rose, kiwi, lavender, and more. I personally love how diverse bubble tea is; there really is something for everyone. "The only real connecting element of all bubble teas is the boba. At the moment all of our bubble teas are iced, but traditionally they can also be served hot," Rora informed.
Even if you don't like tea, you're in luck. One of Andora's most popular items this summer was  their house-made lemonade. There is even a Vietnamese-style coffee, which is a cold-brew with a housemade condensed creamer with vegan options available, which goes well with tapioca pearls or coffee jellies. "When we first opened, we were only selling tea-based beverages," explained Rora. "However, we saw a demand for other drinks, such as lemonades and coffee, and began selling those as well. Creating new drinks has been a really fun process."
But it all started with the bubbles. Rora and Andy were both born in Erie and moved to California after college, where bubble tea is very popular. Andy's background is in social media and tech, while Rora' converted to tech after beginning with early childhood education. When the couple moved back to Erie, they missed the bubble tea they got on a regular basis and Rora explained that "at the time we moved back, there was nothing like that here." Rora went on to discern that "it's gotten to the point in the city where if you want something done, you kind of have to do it yourself if you have the means. I think a lot of the young adults in Erie are starting to follow that idea."
Luckily, the processes of opening Andora's Bubble Tea shop was a pretty stress-free and simple process. The couple found the location and then were given a loan in just a few months. Then, they met with a designer and contractor, and five months later they opened, receiving assistance from Gannon's Small Business Development Center along the way. When Rora was asked what she loved most about owning a bubble tea shop, she cited "the versatility of the beverage."
Andora's Bubble Tea Shop is a great asset to the Erie area, and I'm glad the couple decided to take the leap to start this business. While there are several shops in Erie that do offer bubble tea, every shop does it differently. Which in my opinion makes the experience fun; you get to choose exactly the style and flavors of your bubble tea by choosing which shop to visit.
Lauren Demko can be reached online at Demkomedia.com, via email at Lauren@demkomedia.com and on Youtube at Laurenstruth