From Africa to Erie
This 'invasion' comes with a positive vibe
November 7, 2018 at 9:30 AM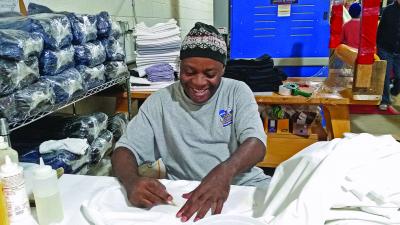 By: Liz Allen
As Donald Trump unleashed his hateful rhetoric about an "invasion" of poor, desperate Hondurans struggling on foot to reach our southern border, I witnessed a different kind of "invasion." This one did not foment division; rather, it celebrated diversity.
The African Student Organization at Gannon University hosted "Wakanda Invasion, A Showcase of African Fashion, Music, Food and Culture," for a packed house at Gannon's Yehl Ballroom on Oct. 20. We feasted on professionally prepared ethnic food, applauded wildly as students walked the fashion runway, and enjoyed the musical entertainment.
Before attending, I asked Epizitone Kale "Dante" Nsanbeh, ASO president, if it would be appropriate to wear the outfit that my late sister-in-law, Henriette Ekanga Allen, sewed for me years ago, when she was designing and selling African fashions in Erie.
I didn't want to claim Henriette's Zairian heritage as my own, but Nsanbeh assured me that it would okay to wear African clothes to the celebration. After all, the Gannon event was inspired by Wakanda, the fictional African country from the blockbuster Black Panther movie that brought people around the world together. "Wakanda Invasion" aimed to do the same in Erie, he said.
Indeed, when I walked into the ballroom in my square-necked shirt and drawstring pants, made from a flashy pink-and-purple floral fabric, I was greeted with thumbs-up and welcoming smiles.
The "Wakanda Invasion" made me reflect on Henriette's drive to succeed as an immigrant in America and also prompted me to appreciate those of African descent who call Erie home, whether it's for a short time, as students, or more permanently, when they resettle here as refugees.
For Erie's international community, whether they are students, immigrants, or refugees, education and enterprise are intertwined. They are who we Americans once were — strivers and optimists.
Consider 11-year-old Melody Desuah, a fifth-grader at St. Luke Catholic School. We met at the Quality of Life Learning Center, 2046 E. 19th St., where youngsters from Tanzania, Kenya, Somalia, Liberia, Democratic Republic of Congo, Sudan, South Sudan, Burundi, Rwanda, Cameroon and Eritrea are matched with tutors and mentors and invited to participate in fun and educational activities, including the annual Walking Through Black History tour of the South.
With poise beyond her years, Melody, the third of four children of Liberian parents, introduced herself. Africans are "very independent people who work hard," she said. "I'm always on top of my grades. I'm a straight-A student."
She likes graphic novels and chapter books, because when she tackles challenging reading, "my vocabulary expands." This summer, she read 100 books. That's not a boast; just a fact.
Her parents encourage her to be No. 1 in her class, but "they're not control freaks," she said with a smile. Her favorite subjects are math, science, English language arts, and spelling. Her goal is to become a scientist or crime scene investigator.
Education is also a top priority for Felix Eshesimua, 32. The son of a businessman and politician in Lagos, Nigeria, Eshesiua said his goal after his 2007 high school graduation was "to become an influencer." To become a leader, he knew that he needed a university education, preferably in the U.S.
He started at Florida International University but even with scholarships, school was too expensive. When he discovered that Edinboro University of Pennsylvania would be cheaper, he packed his bags and decided to check it out. "I got on a Greyhound with $50 in my pocket."
At Edinboro, he confronted "a lot of cultural change to me and a lot of shock," he said. "The first time I saw snow, it blew my mind."
He spoke English, but his accent was "very bad," making communication difficult, especially in a country where we rush through our words.
If he didn't understand his professors, it wasn't because he was dumb, he said. "I decided to start sitting in the front of the class, to pay attention to what they were writing, (and say to them), 'Help me to understand this.'" He also implored his American friends to rephrase things, until he comprehended what they were saying.
At Edinboro, he studied accounting and economics, earned an associate degree, then went to Gannon, where he was vice president of the international student group. He spent his free time helping international students and pondering ideas about how to help newcomers to America.
Eshesimua was set to graduate from Gannon's entrepreneurship program in May 2014, but in the first week of January, his dad passed away after suffering a heart attack.
In his grief, Eshesimua began "smoking weed and drinking heavily." After graduating, he moved to Seattle, where he ended up sleeping in his car and being arrested for having an open bottle of alcohol in the vehicle. Sentenced to 30 days in jail, he lost his job.
While in jail, though, he decided he needed to make changes on his release. He landed a sales job with Microsoft, which enabled him "to pay off my lawyer, pay off my bills, send money to my mom. I was living the American dream, according to African opinion."
He published his first book, Focus to Pass: Success Guide for International Students, and works today as a management consultant, teaching businesses how they can benefit from diversity.
He is also developing a business plan to pitch to investors "to build a community similar to Facebook, to not only help international students but minorities and business owners." Immigrants and refugees also need access to such resources, he said. His personal story serves as a motivator. "Our mission is to engage them. After we engage them, we're going to educate them. While we educate them, we're going to encourage them. Our final goal is to empower them," he said.
Starla Speed Starocci introduced me to Eshesimua when he visited Erie in September. She thinks his message will resonate in Erie's African-American community, among those who don't even think about going to college or who assume that they don't have the money to go to school.
But having a college education and a professional resume doesn't help if you come to this country as a refugee, uprooted from your homeland by war, terrorism, and famine.
Mlongeca Malango, 46, is from Kivu in the Democratic Republic of Congo (formerly Zaire, the same country where my sister-in-law lived). Shot in the leg in Congo  when his country was at war, he fled to Tanzania in 1996. "The people who shot me in Congo followed me to the camp," he said, and shot him in the other leg. He came to Erie on Nov. 17, 2009, after 13 years in a refugee camp, including more than a year in the hospital for his injuries. Fitted with prosthetics, he walks with the help of braces and also uses a wheelchair.
On Oct. 18, Malango was honored, along with 41 other adults, as the Barber National Institute celebrated Disability Employment Awareness Month. Marquis Wallace, employment specialist and transitional team leader for the Barber Institute, helped Malango to find work at Grapevine Laundry & Linens, owned and operated by Mary Beth Graml.
"I hired him to wrap towels and napkins and tablecloths," said Graml. He also worked as a spotter -- removing stains from clothes brought in for dry cleaning and from the linens that Graml's business supplies to Presque isle Downs & Casino, the Sheraton Erie Bayfront Hotel and other customers.
Malango had been referred to the Barber National Institute for job placement through the Pennsylvania Office of Vocational Rehabilitation. "I happen to be a man of color," said Wallace. When he heard Malango's name, he said, "I recognize this culture. I recognize this name. I want to know what his story is."
He learned that Malango had worked as a lab technician in Congo . "I reached out to all the labs here," said Wallace. But Malango didn't have U.S. credentials. "He had spent years in college being educated," said Wallace. "I tried to use all of this information to leverage opportunities for him," he said. "I'm trying to get him into his preferred field, but … I'm striking out."
Wallace asked Malango what he did in his spare time. "That's when he took me into the room (at his house) and showed me that he makes clothes for his family," Wallace said. Women in the refugee camp had taught him to sew and he also took a class at the Benedict Education Center.
Wallace, who had placed other clients at Grapevine, noticed that Graml offered alteration services but didn't do them in-house.
Then Wallace told Graml that Malango is a talented tailor. "He can do anything … men's pants, suit coats, pillowcases," said Graml.
Epizitone Kale Nsanbeh, the student who heads Gannon's African Student Organization, is also multitalented.
At age 33, he is working on his second master's degree, in public administration. He earned his first master's, in political science, in his home country of Cameroon.
A schoolmate back home recommended Gannon to him. After he graduates in May, he hopes to work for the World Bank Group or the International Monetary Fund.
Nsanbeh, who nicknamed himself "Dante," estimates that there are about 4,000 international students in Erie, counting the four universities and the Lake Erie College of Osteopathic Medicine.
Most of those students will not settle in Erie permanently but they can serve as goodwill ambassadors for our city, he said. "People move, move, move," he said. While he does not want to speak for all of the African continent, he knows that in his country, most information is spread by word-of-mouth. "Other Africans still ask about the educational system and the city itself," he said. If they return to Africa or settle elsewhere, these one-time Erie students will tell people to "come up and see Erie. This is how wonderful this town is," he said.
He cites the example of a LECOM student from Cameroon. "Because of the reputation of Erie and LECOM, he decided to come to Erie," he said.
Gannon has students from at least 14 African countries, he said, and the children of refugees, "people who have lost everything," are starting to enroll. An additional four African countries were represented at "Wakanda Invasion," he said. "My dream was always to get all the African student organizations (from the other local colleges) together in one place."
Nsanbeh is not a refugee but his family is dealing with heartache. After his father died last July, he grew a beard, which he will wear for one year to show that he is in mourning. Three months ago, he lost his youngest brother to violence back home. They were a family of eight children; now they are seven.
Beyond his immediate goals after graduation, Nsanbeh's "first dream" is to return home. He is earning his MBA so that he can study how systems and structures were built in the U.S., and to learn how African countries can build their own institutions, instead of relying on the ones put into place by colonial masters. And each African country is unique, he stressed. "Cameroon cannot be like Zaire."
Right now, it is not safe for him to return to Cameroon. As an activist there, he would be a target for violence, like his brother.
But when he returns, he has impressive political ambitions. Imagine our collective pride if we can say that a man who went to college in Erie becomes president — of Cameroon.
Liz Allen, a member of Erie City Council, is learning more about young Africans living in Erie as she takes part in a mentoring program at the Quality of Life Learning Center, sponsored by the bipartisan Elected Women of Erie County group.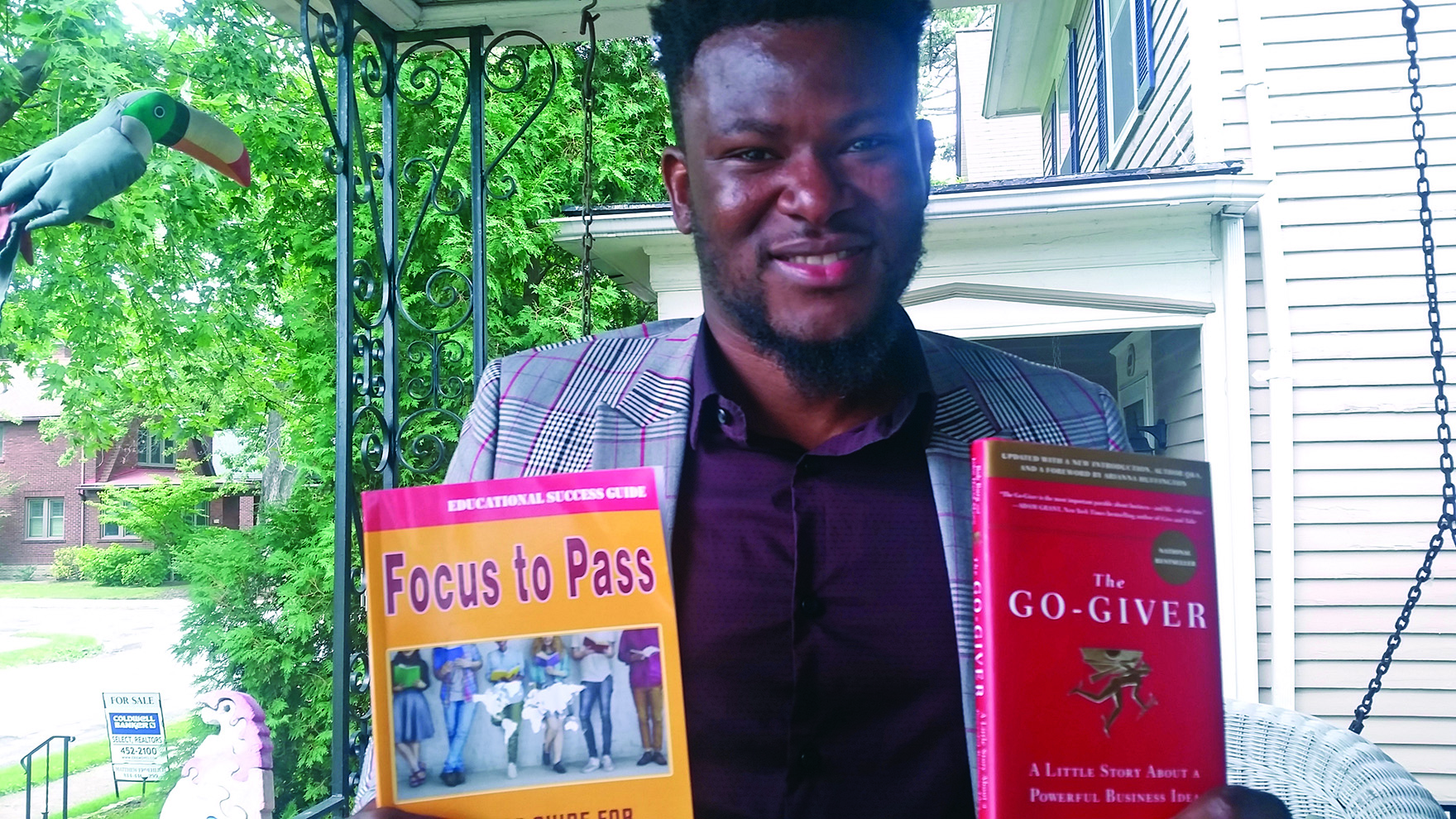 Felix Eshesiua, originally from Nigeria, has written one book, Focus to Pass, and finds inspiration from another, The Go-Giver, A Little Story about a Powerful Business Idea. He is working to start a business to serve international students, immigrants and minorities.
Rolling out the welcome mat
With between 16 and 18 percent of Erie's population now made up of refugees and a good number of immigrants, what can we do to make newcomers from other countries feel welcome?
Gary Horton, executive director of the Quality of Life Learning Center in Erie, has one quick suggestion: Learn to pronounce names correctly. Too often, people from Africa end up being called by their last names because we get tongue-tried trying to say their first names, Horton said.
I put his suggestion into practice when I interviewed Epizitone Kale Nsanbeh, president of Gannon University's African Student Organization. After I wrote out his name phonetically as E-peez-e-tony, I came close to saying it right. But then I pronounced his middle name like the vegetable. Wrong. His middle name is pronounced Kay-lee. By the way, he gave himself the nickname "Dante."
The Quality of Life Learning Center works with young people from around the world, including Arabic and Asian countries, but Horton sees a special benefit to Erie in being receptive to newcomers from African nations — and for black people in Erie to see people who look like them.
"No one wants to deal with the ugliness of what slavery did to this country," said Horton. As African immigrants make their homes in Erie, people here can see them "striving to do well," he said, and also can learn about the history and accomplishments of African people. "We are the descendants of kings and queens, with a great history and culture," as well as pride in learning, he said.
Lynn Johnson, who founded AmeriMasala, Erie's multicultural festival, attended the "Wakanda Invasion" celebration at Gannon University and said he was struck by the diversity in the crowd and in the student models who showed off African fashions. "They were short, tall, all skin colors … different types of beauty standing right there," said Johnson. "In the movies, the way they present African people is very narrow in how you look and how you talk."
When he began to learn African drumming for AmeriMasala, Johnson studied one type of drumming. Now he has learned that there are "hundreds" of different styles of drumming. "I'm always learning new techniques," he says. "It's just mind-boggling how diverse the whole continent of Africa is."
Johnson's last comment is a good reminder about the geography of Africa. It's a continent, not a country. In fact, according to National Geographic, there are 54 countries and one non-self-governing territory in Africa. — Liz Allen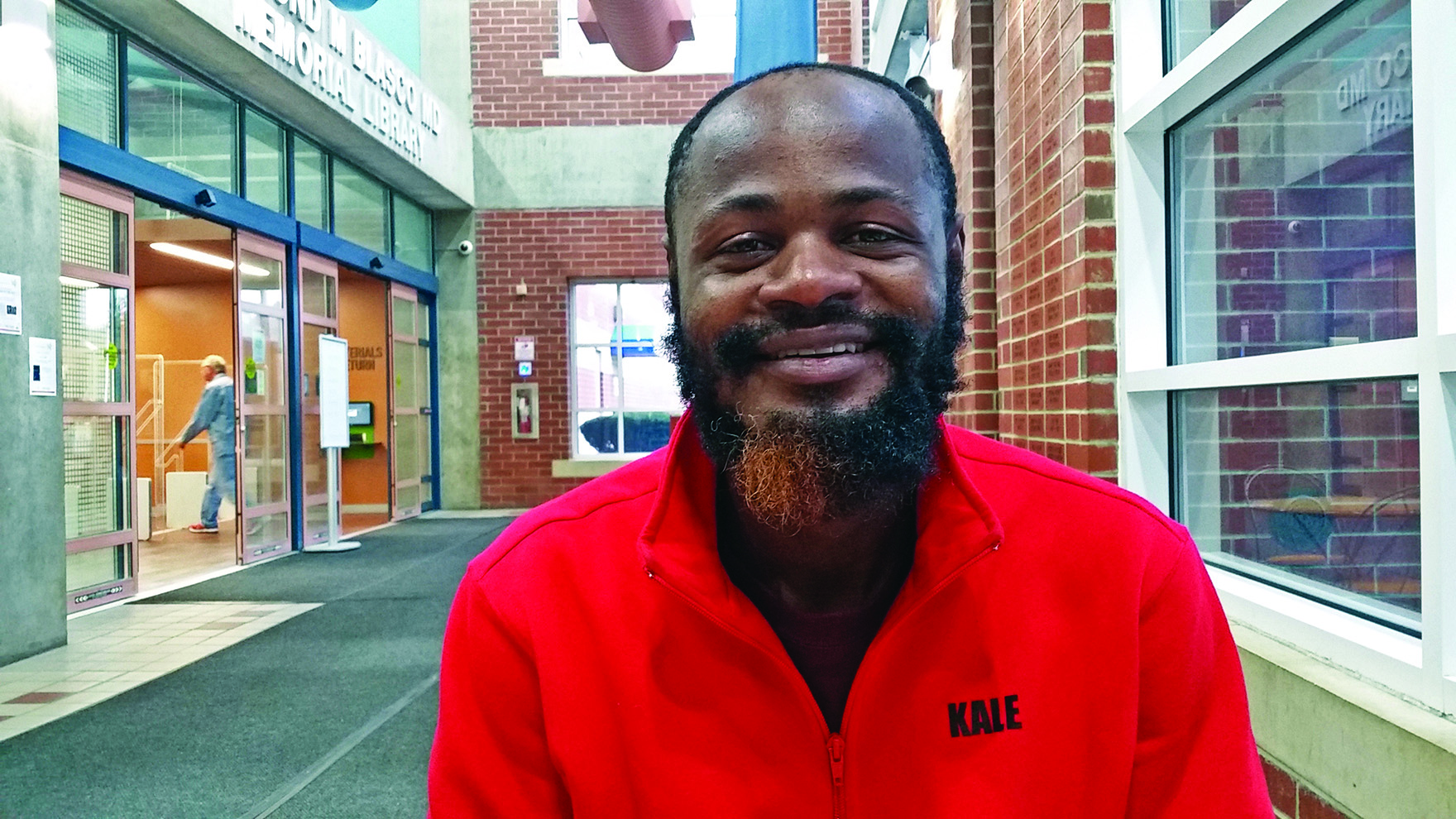 Epizitone Kale Nsanbeh, president of the African Student Organization at Gannon University, has another presidential office in his sights. Someday, his dream is to serve as president of his home country, Cameroon.
Erie's melting pot
It is hard to find numbers on how many people from African countries now live in Erie but it's fair to say that there is diversity in the African community itself.
Epizitone Kale "Dante" Nsanbeh, president of the African Student Association at Gannon University, said his organization has members from at least 14 countries in Africa.
Gary Horton, executive director of the Quality of Life Learning Center, said his agency works with former refugees from 10 African countries.
Niken Astari Carpenter, Erie Mayor Joe Schember's liaison to immigrants and refugees, said that refugees make up between 16 and 18 percent of the city's population. That percentage does not count immigrants. However, in the past five years, more than 1,900 people took the oath of U.S. citizenship at the federal courthouse in Erie, she said. These new Americans represented more than 75 countries in Erie.