10 Out of 10, Would Attend the 10th Street Gallery Crawl
Radius CoWork and 1020 Collective co-host exhibition open house
February 21, 2022 at 2:05 PM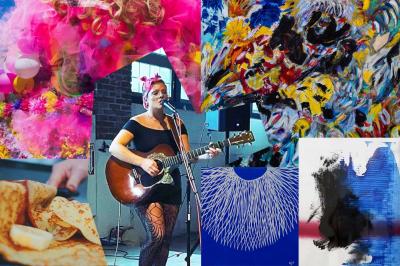 FRIDAY, FEB. 25
It is said that before you can walk, you must learn to crawl. Even so, neither Radius CoWork nor the 1020 Collective would mind you walking in on Friday's 10th Street Gallery Crawl, a dual open house event dedicated to showing off both spaces. 
The evening first finds its legs at Radius CoWork, a unique coworking space occupying the ninth floor of the Downtown Erie's Renaissance Building (the same building that houses the Reader offices on the 13th floor). If you are a freelancer, entrepreneur, or remote worker looking for a place to set up shop, Radius offers high-speed Internet, free printing, nearby parking, and an integrated cafe/lounge — as well as some pretty nice views of the Erie cityscape — with a number of flexible membership plans. 
After taking an hour or so to tour offices, mingle with local artists, and take in live music at Radius, crawl on over to the 1020 Collective, a multipurpose event and art space located at 1020 Holland St., for the night's second phase. Debuting as the featured exhibit will be Erie-based artist Jared Faulkner's "Ways to Avoid Death and Other Tragedies." While weighing these existential considerations, guests can sip on handcrafted spirits from The Aging Room, nibble on delightfully thin pancakes from GiveACrepe La CrepErie, and enjoy tunes from B Gilly (who will also appear in Saturday's Gumbo Sound II lineup) and others. 
Collectively (1020 or otherwise), it's an opportunity you'd be remiss to walk away from. 
6 p.m. to 9 p.m. // 1001 State St. (9th floor) and 1020 Holland St. // $5 // radiusco.work