11 Can't Miss Dishes Around Town
Must-try menu selections from the Erie area
March 10, 2021 at 12:00 PM
Food has always been an important part of Erie life. We have such a fantastic array of local, independently-owned restaurants to choose from, and for many, checking them off one-by-one has been a badge of honor. Over the course of the last 12 months, patronizing these restaurants has become even more important, not just for our appetites and our sanity, but for keeping these places afloat with our orders. As indoor dining slowly opens up, many Erieites are still living the to-go lifestyle, and for good reason. Takeout remains the #1 option for those trying to be safe, and all of these dishes are available in that fashion. Have you ever wondered what you should try out at a new place? Feast your eyes on this helpful list of some of our favorite takeaways from some of the best Erie-area restaurants, each with menus filled with plenty of other items that will assuredly tickle the tongue as well. But don't take our word for it, let your taste buds be the judge. The following is our second annual selection of a few of our personal favorites. We started with ten and added one for good measure. Bon Appetit!
(Listed in alphabetical order by location)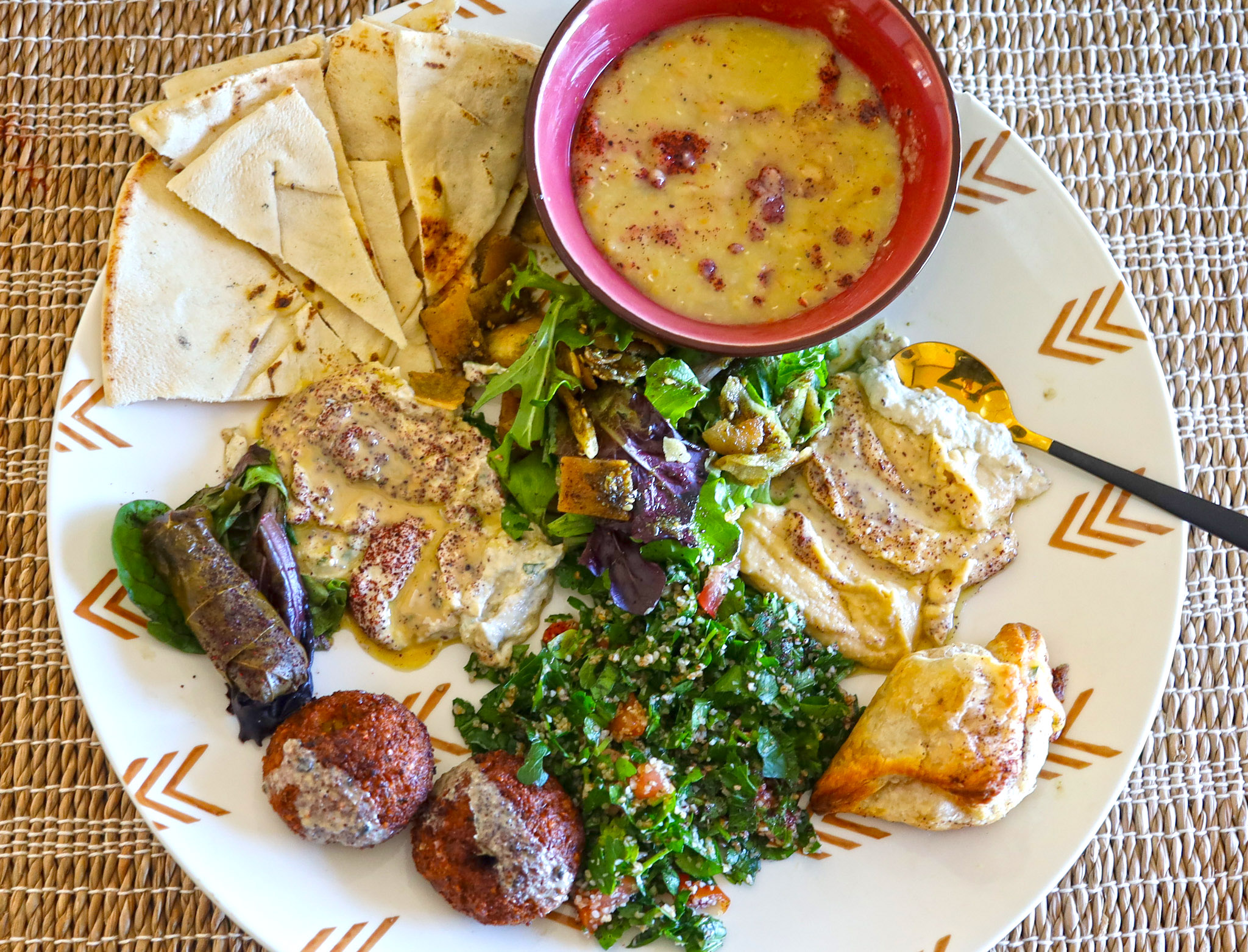 What: Casablanca Platter
Where: Casablanca Grill
Vibe: Exploratory and exemplary
On the Menu as: Entrées/House Specialties
Price: $15.99
This "experience of many flavors'' features Casablanca's signature Hummus, Baba Ghanouj, Tabooli, Fattoush, Dolma, Falafel, and Fatyer B'Jibin. Discover delicious and exciting flavors from Mediterranean and Middle East cuisine from one of Erie's best-loved locales.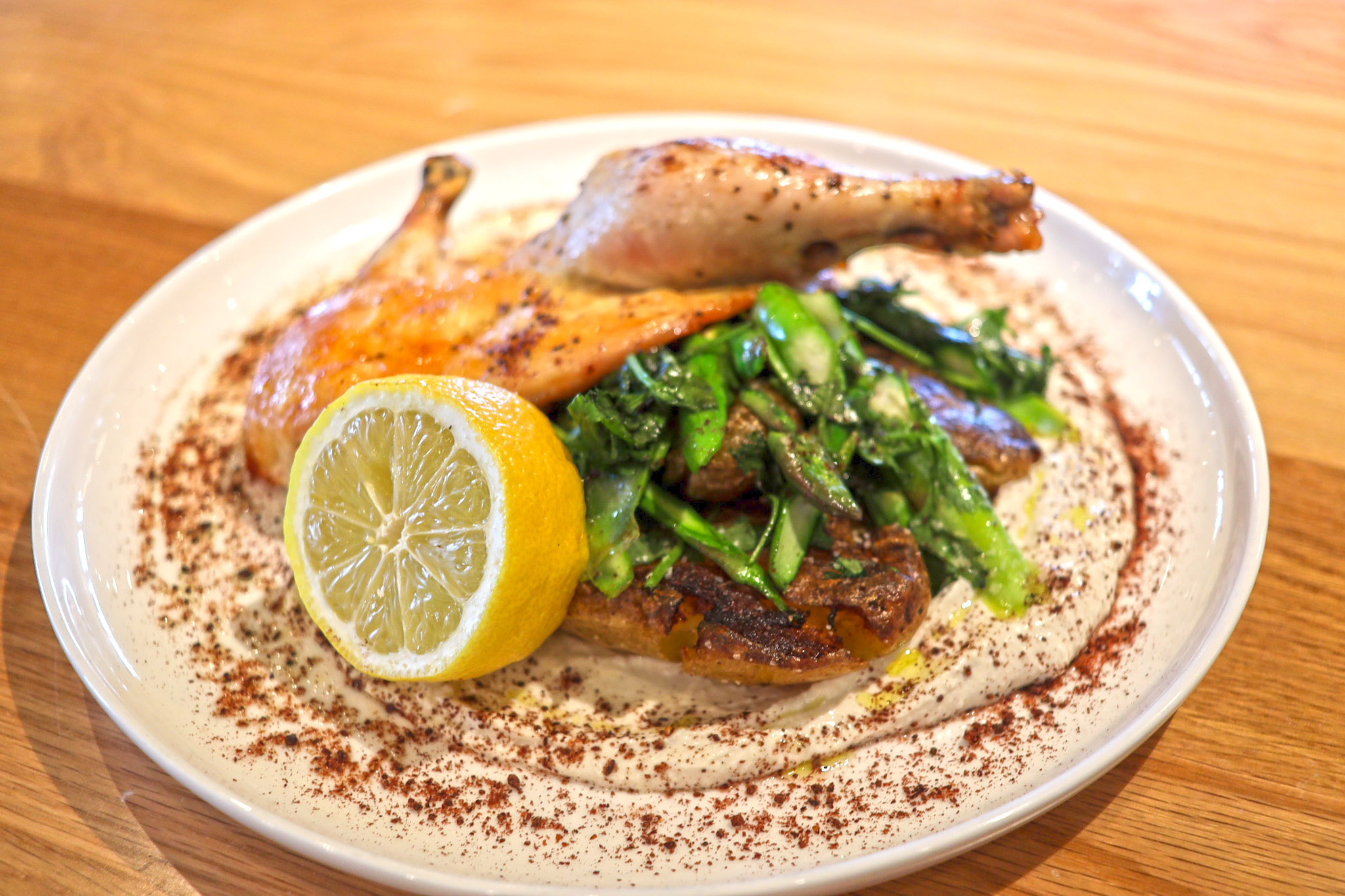 What: Brick Chicken
Where: The Cork 1794
Vibe: Fulfilling and flavorful
On the Menu as: Dinner Menu/Entrées
Price: $24
Red Letter Hospitality's gem of a dish at its West Erie Plaza flagship restaurant consists of a half chicken, cilantro, tahini, yogurt sauce, and sumac with garlic potatoes and asparagus. One of the mainstays of The Cork's ever-evolving menu, the Brick Chicken is one of their chefs' favorites and a favorite of its discerning patrons as well.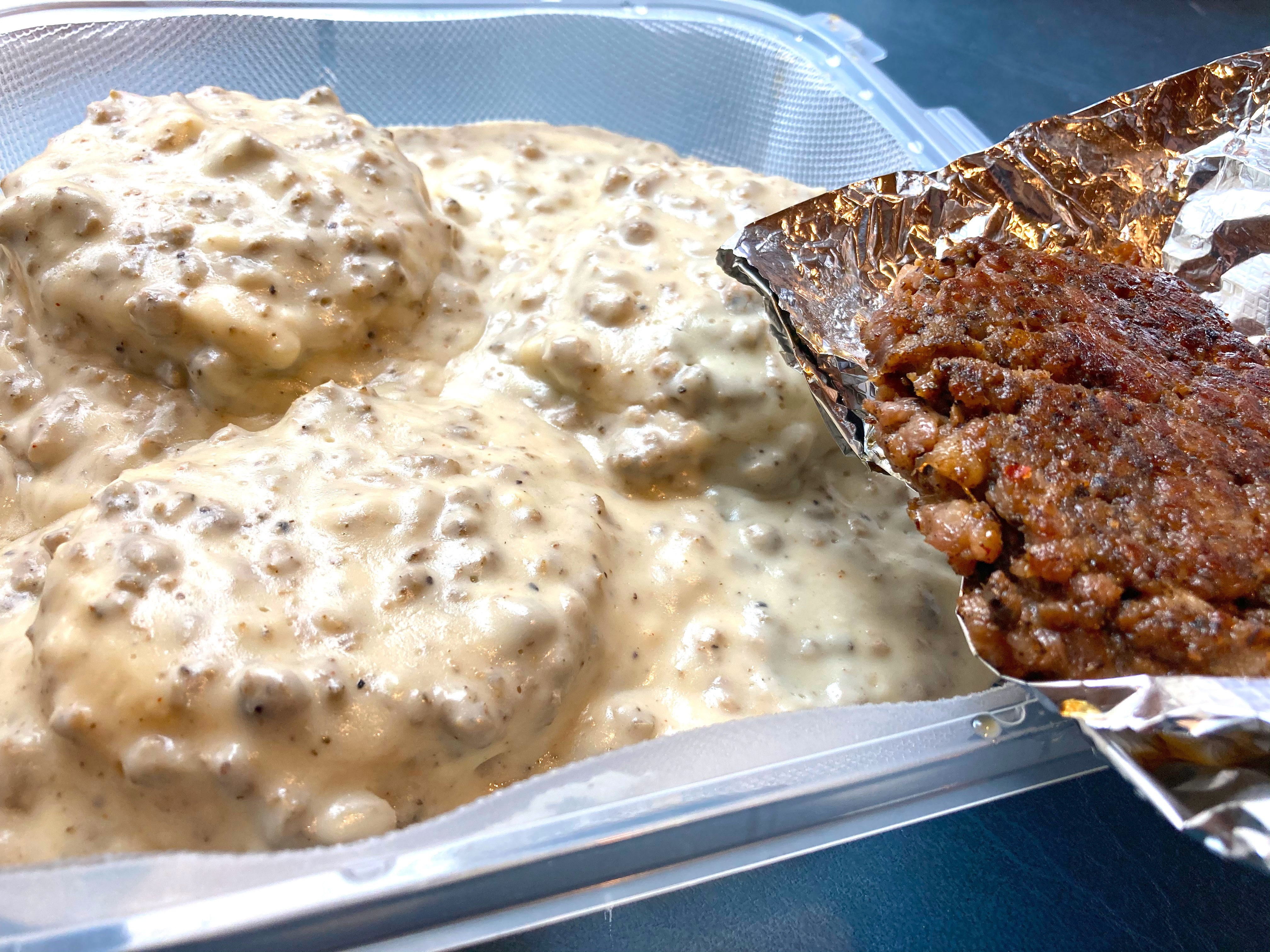 What: Sausage Gravy over Biscuits
Where: Freeport Restaurant
Vibe: Decadent and delicious
On the Menu as: Breakfast Menu/Sides and Additions
Price: $6.45, $5.25 for half order
You may not think that such a standard staple as sausage gravy over biscuits would be worth mentioning, but you clearly haven't had them from North East's Freeport. Featuring their homemade Country Sausage, their blend of ingredients transcends your standard breakfast fare. It's oddly invigorating for such a rich dish, and only available on weekends.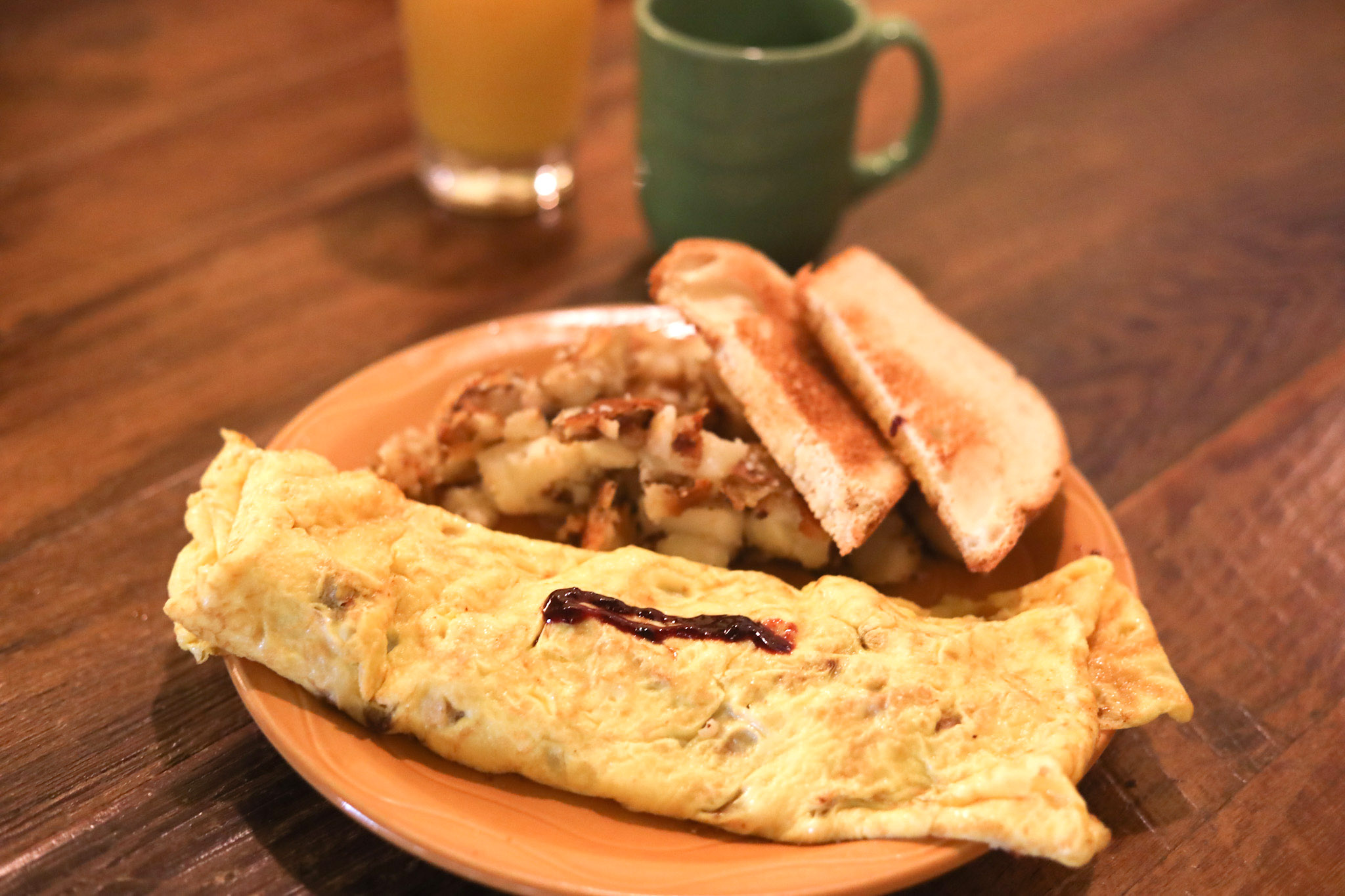 What: Gem City Omelette
Where: Gem City Dinor
Vibe: Unique and universal
On the Menu as: Omelettes
Price: $8.99
The Gem City Dinor is aptly home to some of the crown jewels of Erie's breakfast royalty. Among the many signature offerings on the regular menu, the Gem City Omelette is rightfully their trademark dish. It comes filled with burnt ham, Wisconsin Brie, and blackberry jam, and is also available in burger form. The smash browns alone are worth the visit.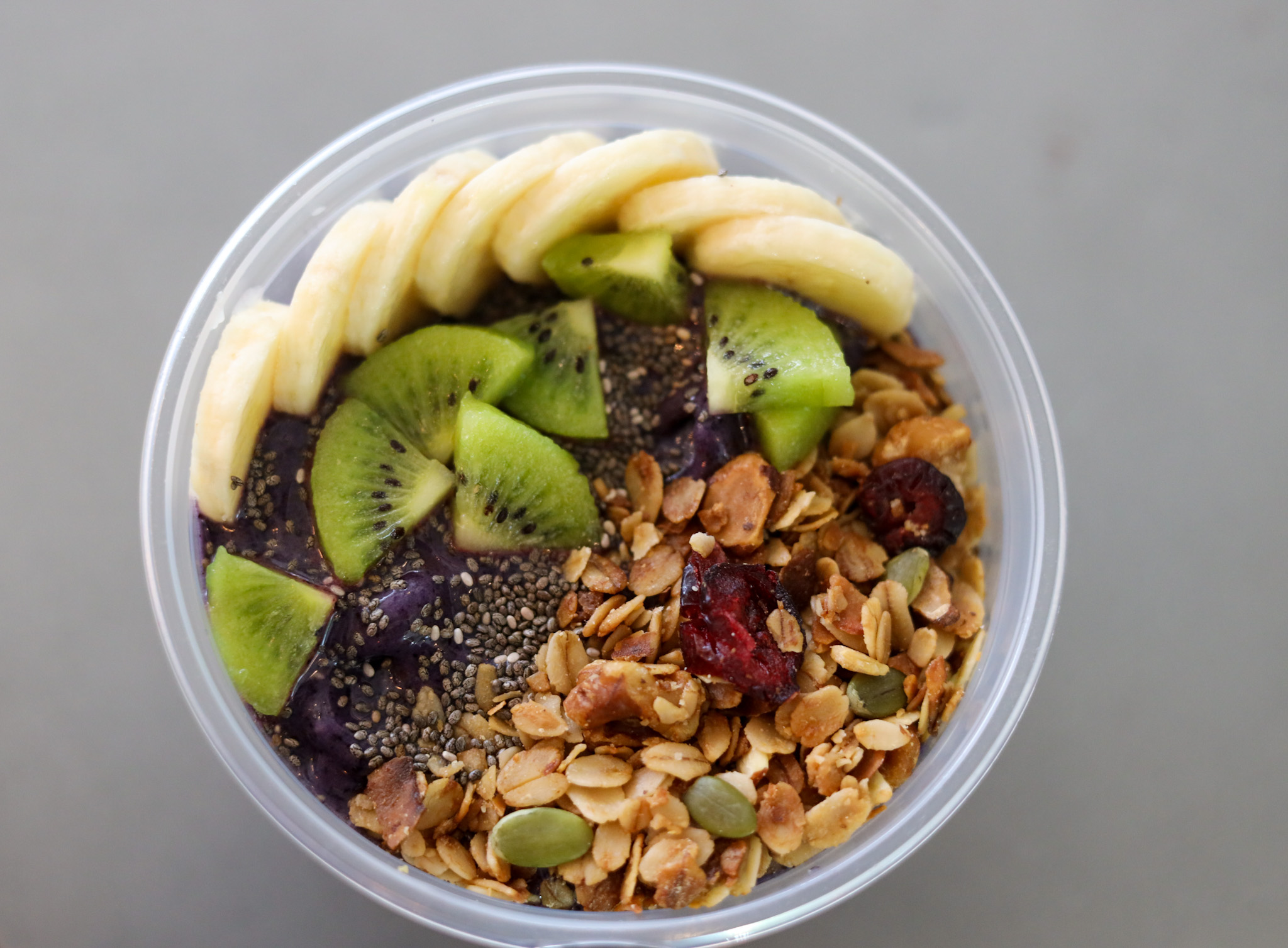 What: Acai Bowl
Where: The Juice Jar
Vibe: Fresh and fun
On the Menu as: Smoothie Bowls
Price: $8.50
If you think the Juice Jar just did drinkables, then think again. With a menu boasting wraps, burgers, and homemade soups, you'll want to try just about everything here. Bridging the gap between juices and meals is their line of smoothie bowls. The Acai Bowl struck a particular chord with us, with its energizing mix of blueberries, banana, almond milk, house granola, chia seeds, banana, slices of kiwi, and of course, acai.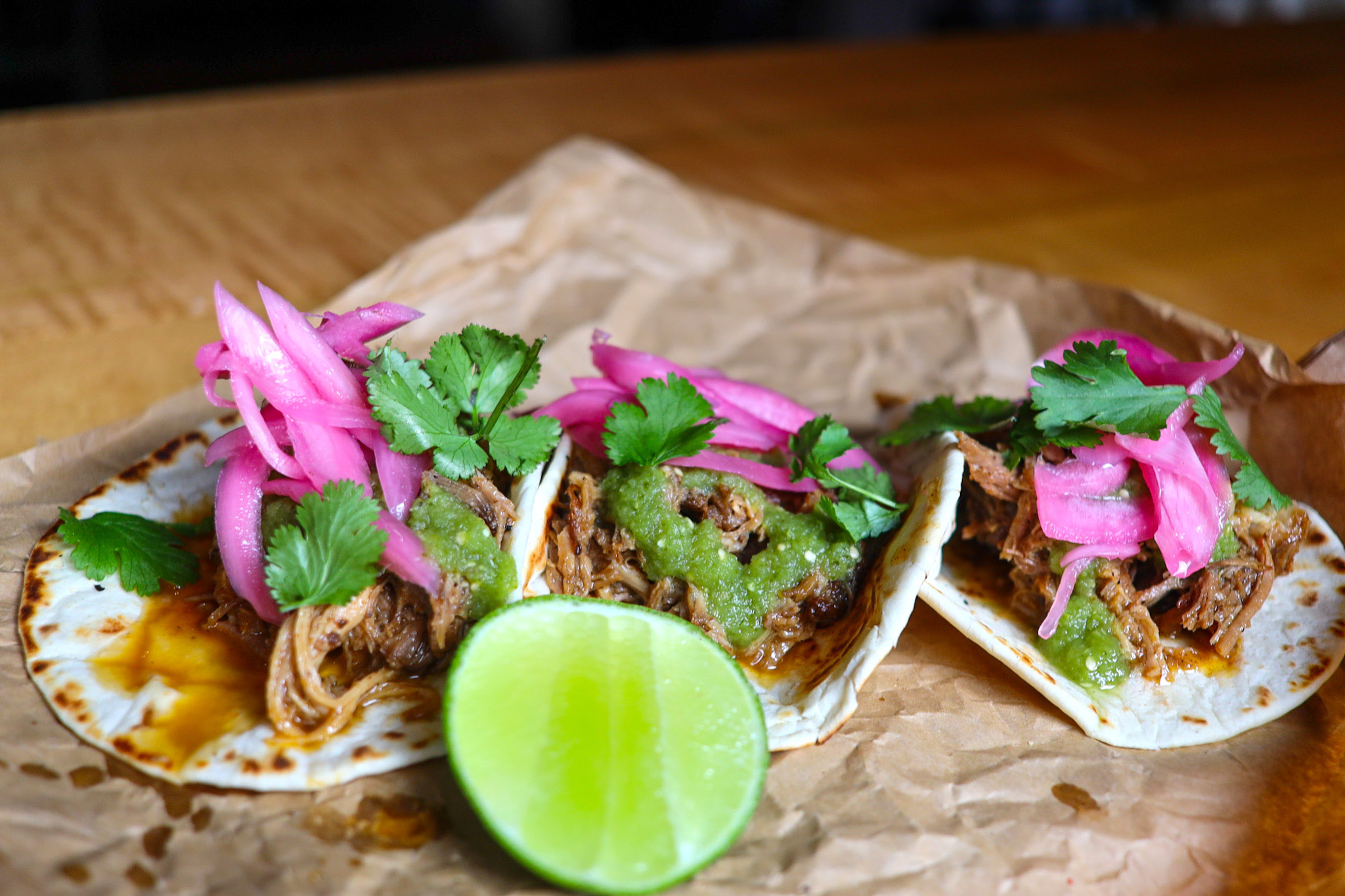 What: La Cochinita Tacos
Where: Lavery Brewing Co.
Vibe: Learned and lush
On the Menu as: Eats
Price: $10
With Yucatan pulled pork, salsa verde, and pickled red onion, Lavery's La Cochinita (translation: Piglet) tacos have been gradually perfected over the years. Chef Ashley Sayre de Rivas created this dish during her days at the King's Rook Club, with a carefully tweaked recipe that has to be sampled. The luscious menu at this local brewpub is truly one to behold.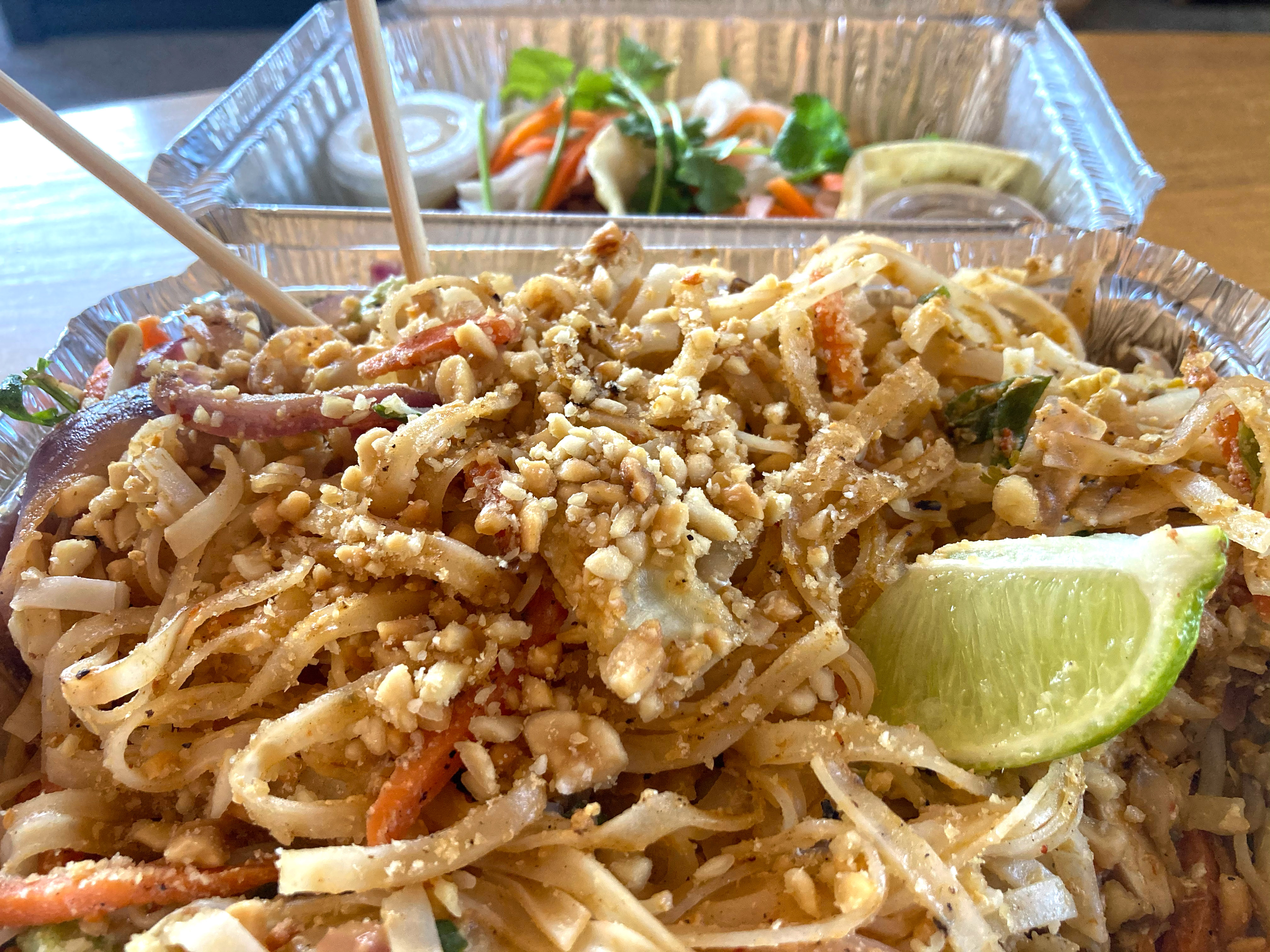 What: Pad Thai
Where: Like My Thai
Vibe: Visionary and vibrant
On the Menu as: Large Bowls/Noodles
Price: $10
Chef Mike Augustine's signature dish is his own take on the Thai classic. At its core, it's medium rice noodles, egg, lots of shredded vegetables, bean sprouts, and chopped peanuts in a lightly tangy sweet sauce — just one reason Like My Thai has rightfully earned their stripes as one of Erie's favorite restaurants for years. Their thick style of tofu is also notable for omnivores and herbivores alike.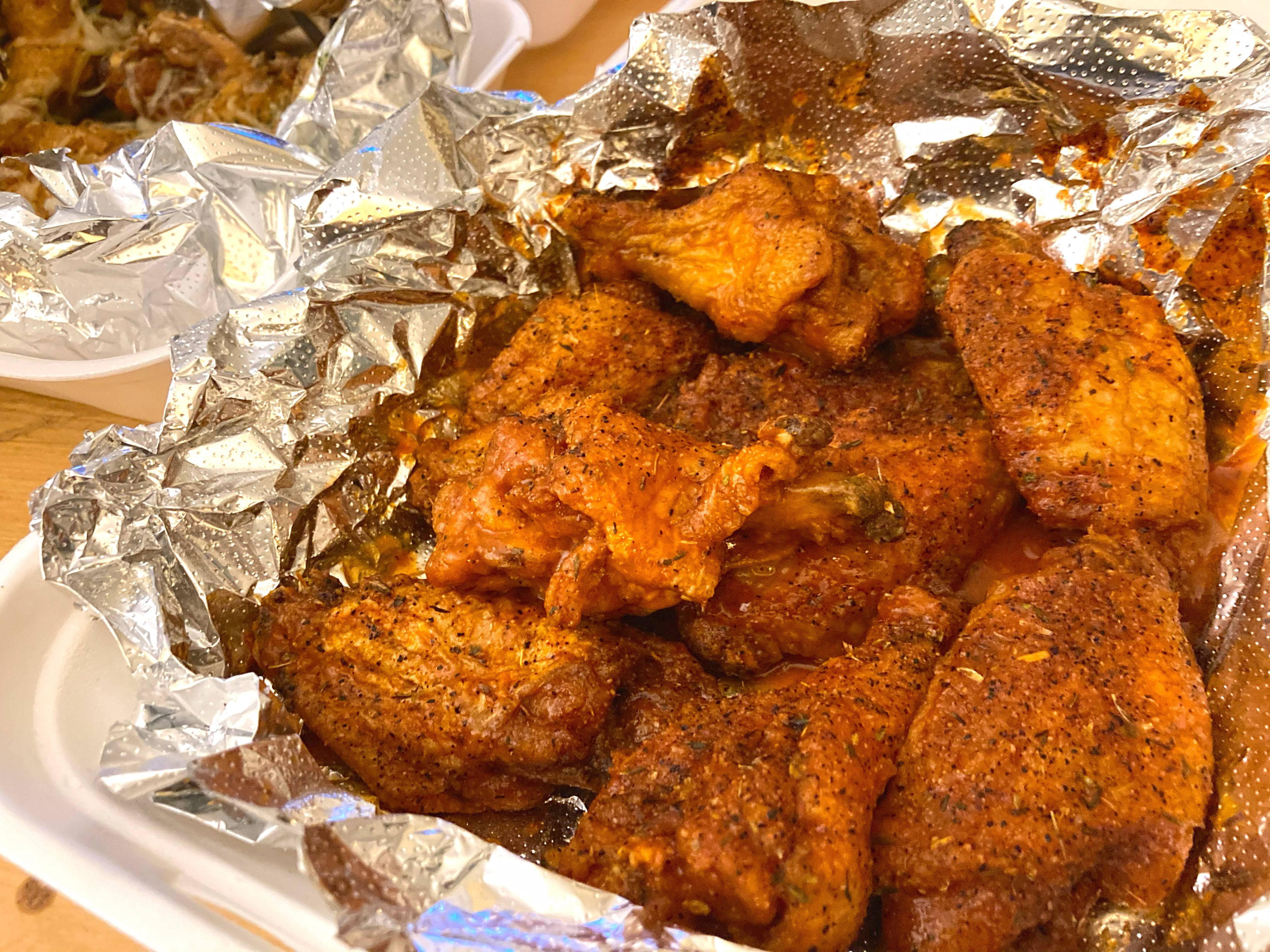 What: Herbie Cajun Wings
Where: Park Tavern
Vibe: Spiced and spectacular
On the Menu as: Wings Our Way
Price: $9.50 for 10
You can get them "sloppy, crispy, extra crispy or freakin' burnt." The wings at Harborcreek's Park Tavern have kept guests coming back again and again. Whether you want them with ranch, blue cheese, carrots, or celery, their Herbie Cajun blend is one of the most distinct and captivating tastes around, for an intoxicating concoction of flavor.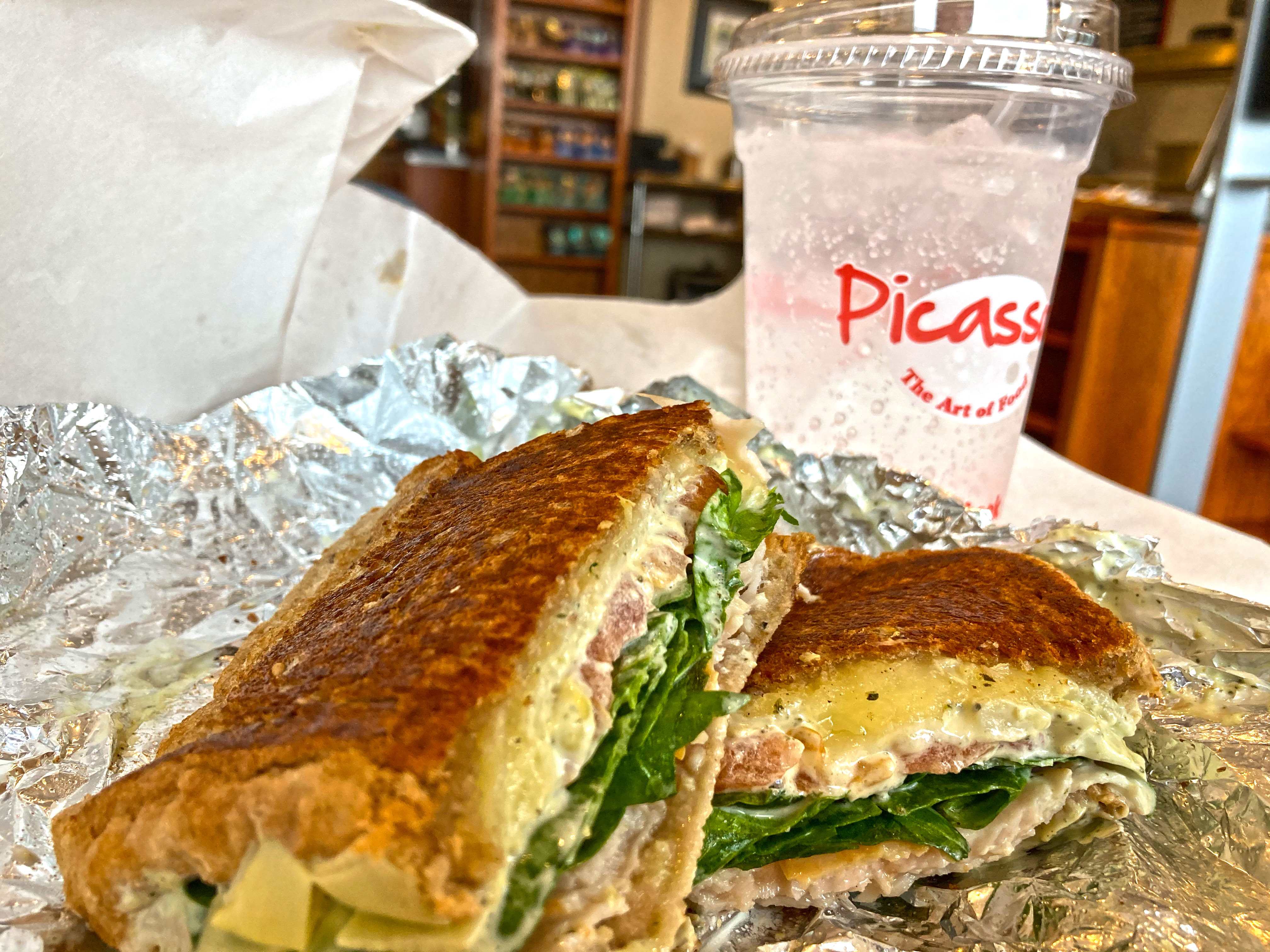 What: Mona Lisa
Where: Picasso's
Vibe: Artsy and Alluring
On the Menu as: Signature Sandwiches
Price: $7.29 for half, $9.49 for whole
Leave it to a place named Picasso's to get creative. Each selection is named after a famous artist or work of art. Where else can you get a Twinkie-based sandwich (the Lee Roslyn)? Not for miles around. A palette for the more traditional palate is likely the Mona Lisa, with turkey, artichoke hearts, baby spinach, tomato, Havarti, and pesto mayo that's sure to put a smile on your face.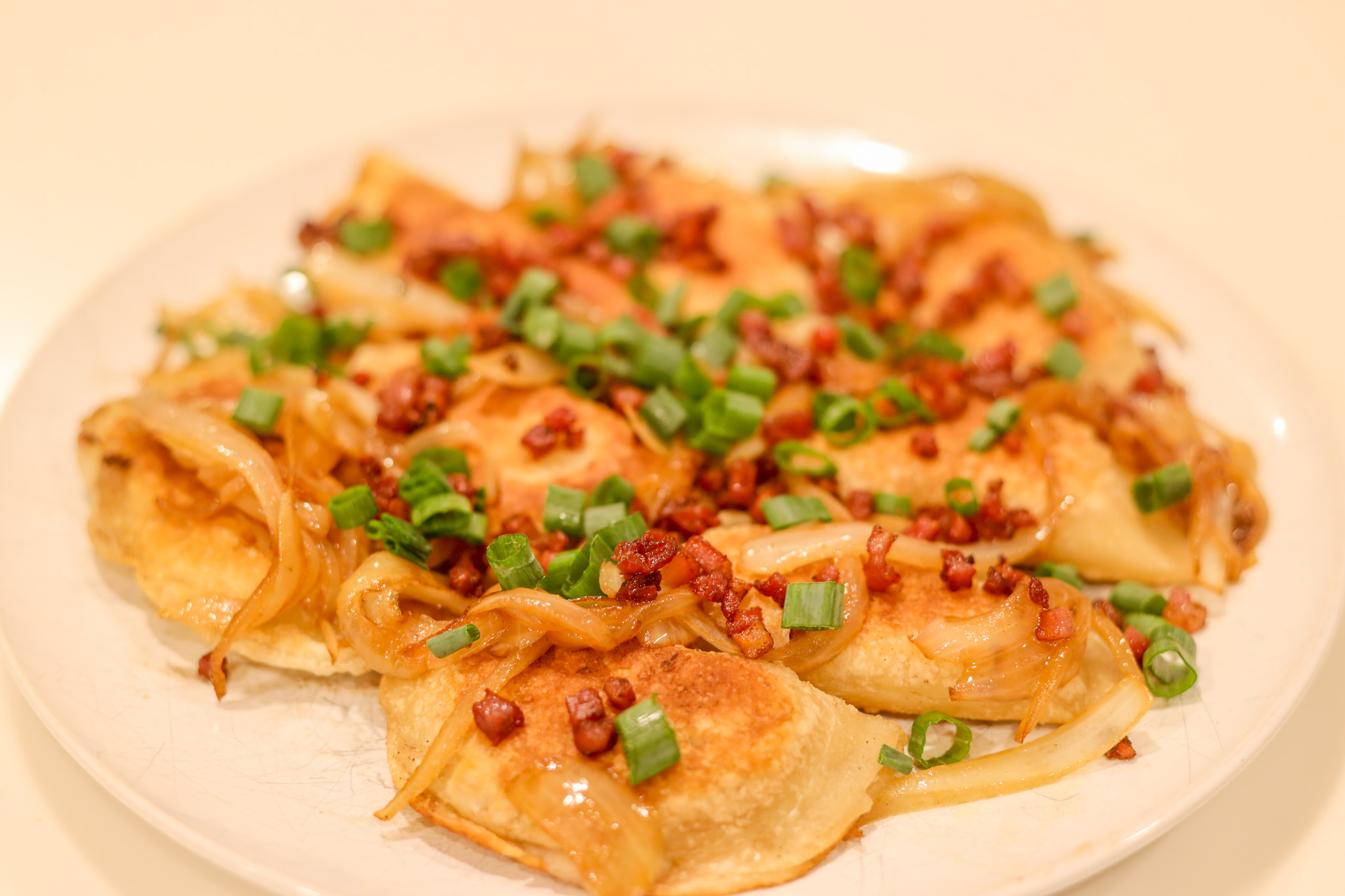 What: Loaded Potato Pierogi
Where: Stuffed Pierogi Co.
Vibe: Hearty and homemade
On the Menu as: Pierogis
Price: $11.25 for a dozen
Made from scratch and baked to order, the Stuffed Pierogi Co. offers some of the best gourmet dumplings this side of Pittsburgh. Founder Tim Mooney brought his special recipe northward to start the Stuffed Pierogi Co., which is available at locations like the Pittsburgh Inn as well as online. Try the loaded potato variety with its cheddar, bacon, sour cream, and green onion.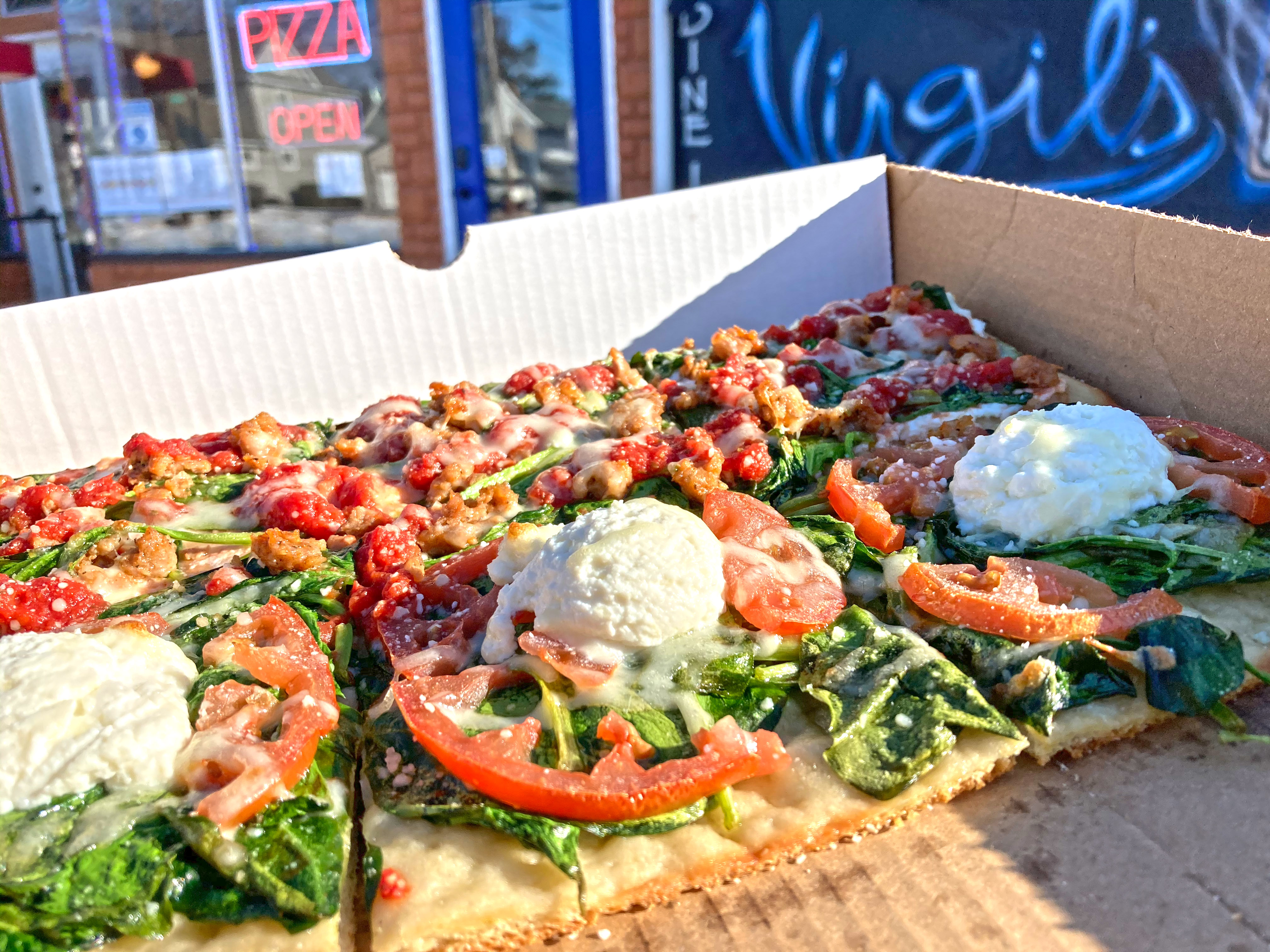 What: The Maggio/Happy Wife
Where: Virgil's Plate
Vibe: Indecisive and Idiosyncratic
On the Menu as: House Specialties
Price: $1.60 a slice (variable options)
Anyone who knows about Virgil's pizza knows that they do things a little differently, with highly customizable pies being their specialty. Two of their flagship options are the Maggio and the Happy Wife. The former has a garlic olive oil base with spinach, tomato, red onion, and ricotta cheese while the latter has a ricotta cheese base with spinach, red onion, sweet Italian sausage, and house red sauce drizzle. Get them both on the same pizza with room for your own creations. 
Photos by Jessica Hunter and Nick Warren