2016 Republican Primary Begins to Take Shape
The Republican field begins to take shape for 2016. When will we learn from our mistakes. 
December 18, 2014 at 12:10 AM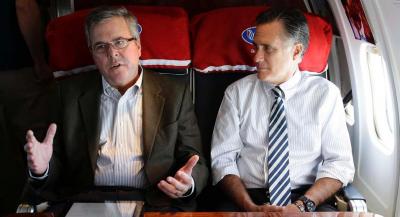 People have to learn from their own mistakes.
What concerns me, however, is that the Republican party is so devoid of new ideas and a clear direction for the future of the country that, it appears, they're going to allow two-time Republican presidential contender Mitt Romney to throw his hat in the ring a third time. Unless the party is willing to force its base, as well as its Tea Partiers, to surrender now and allow the full faith and credit of Republican fundraising to buy the presidency, Romney is likely to remain the twice beaten dog trapped on the roof of his wood-paneled grocery getter.  
Then there's the Bush issue. Even at this early stage of the 2016 campaign -- remember we're only about 13 months from the first primary -- the fact that we're dealing with another baby-booming Bush rather than one of the next generation of dynastic debutants makes me skeptical. Jeb Bush left politics to enter the finance industry, where he worked as an advisor to Lehman Brothers and Barclay's, two of the more insidious players in the 2008 banking crisis.
If involvement in bad banking business is going to become a prerequisite for presidential politics, why not push Jeb to the side for his little brother, Neil, who was at the heart of the savings and loan scandal in the 1980s. That episode only cost American taxpayers $1.3 Billion.
Banking aside, Bush interest in the White House is problematic for Florida Sen. Marco Rubio.
Rubio is also a standout in the Republican party and his conservative values make Jeb Bush look moderate by comparison.
A spokesperson for Rubio told The Hill, "Marco has a lot of respect for Governor Bush, and believes he would be a formidable candidate."
This would likely be the contest to watch in the Republican primary if for no other reason than to watch the former governor of Florida spar with that state's ever popular senator over immigration reform.
Bush supports immigration reform (although, so did George W. Bush and he remained bound by the party not to force the issue).
Rubio, the son of Cuban immigrants, holds a hard line on immigration, advocating for border security and enforcement rather than immigration reform that includes amnesty or citizenship.
When you couple these players with Chris Christie and Rand Paul -- among a host of other Republican presidential hopefuls -- things start to look fairly promising for the amorphous Democratic pack, even if it shares many of the same political problems.
Contact Jim Wertz at jWertz@ErieReader.com or follow him on Twitter @jim_wertz.