A Conversation with Derek Trucks
The guitar great opens up about the Allmans, Colbert, and life on the road with wife Susan Tedeschi.
September 16, 2015 at 11:30 AM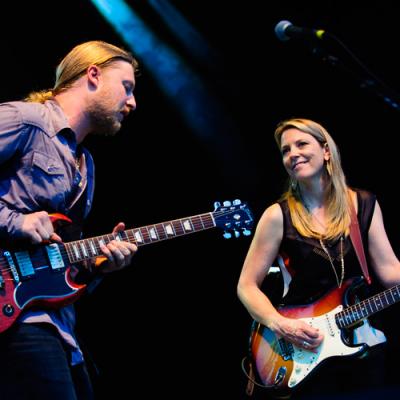 Derek Trucks has been hailed a prodigy and a virtuoso, and is ranked 16 among the greatest guitar players of all time by Rolling Stone. Last year marked the end of a 15-year run with the Allman Brothers Band, the stalwart jam band he joined at age 20. The ABB runs deep in Trucks's DNA. His uncle, Butch Trucks, is an original member of the band and one-half of its trademark drum duo, and founding Allman brother, Duane Allman, who died in a motorcycle accident in 1971, is frequently cited as one of Derek's earliest slide guitar influences.
But the ABB is only one chapter in Derek Trucks's ever growing biography. Now 36, he won a Grammy Award for Best Contemporary Blues Album in 2010 with his own band, The Derek Trucks Band. They toured from 1994 to 2010, when he formed Tedeschi Trucks Band with his wife, Susan Tedeschi – an accomplished blues guitarist and vocalist with five Grammy nominations of her own.
The Derek Trucks Band played the Docksider in 2000 and Celebrate Erie in 2003, and he's been on the Warner Stage with the ABB in 2005 and 2006. On Sept. 27 he's back at the Warner Theatre with the Tedeschi Trucks Band, hot off two nights at New York City's historic Beacon Theatre. I caught up with Trucks in Virginia as he and Tedeschi Trucks Band prepared for the Lockn' Music Festival, where they hosted an all-star lineup paying tribute to Joe Cocker with a live performance of Cocker's seminal album Mad Dogs & Englishmen. We talked collaborations, Allman Brothers, and what it's like to live life on the road with family and friends. Enjoy!
Jim Wertz: You guys are in VA a little early getting ready for Lockn'?
Derek Trucks: Yeah. We're rehearsing this mad dogs and englishmen show that we're doing tomorrow.
JW: That sounds like a really cool set.
DT: Yeah it's gonna be fun, man. It's a pretty vast collection of musicians that are going to be on stage, but so far it's off to a good start.
JW: You guys have done plenty of big collaborations like that so you should fit right in.
DT: I think so. This one's a little different because we've never done a full set of somebody else's music, especially with the full band. It's 12 of the alumni from the original group, so you want to make sure the spirit is right and you're doing the music justice and making it feel like you're not totally copping it too.
JW: I saw you and Susan on Stephen Colbert's premiere doing Sly and the Family Stone with the house band and other guests. How'd that work out for you? 
DT: That was a blast. It was great to get the call and to get to hang out with Buddy Guy for the day. That's never a bad way to go.
JW: Absolutely! I couldn't help but notice that you kept an eye on Colbert as he stepped up to sing next to Susan. Did I detect a little jealousy there?
DT: (Laughs) No. I was actually waiting for my cue.
JW: I figured as much, but there was a cutaway off your right side where you leaned back behind Buddy Guy and the way the shot was set up it looked like you were keeping an eye on Colbert.
DT: I've got to watch for that. When we were doing rehearsals for it, the whole band was on stage and there were microphones for Jeb Bush, Colbert, and George Clooney. They were supposed to come out and sing that last verse and right when the verse is done me and Buddy were supposed to start trading. Every time we did it in rehearsal it was different because the people kept changing, and when we did it for the show it was different still. I was trying to be a hawkeye and make sure I didn't leave Buddy Guy out in the cold. It's bound to be a little messy, but we got the spirit of it.
JW: Let's talk about some of these collaborations and specifically the one you have now with your wife. I saw you at the Fox Theater in Atlanta on New Year's Eve in 2006. Susan's band opened up, you guys were the headliner, and there were a lot of collaborations that night between the two bands. You could tell there was this symmetry that was being nurtured and you guys were putting some things together.
DT: You know, that specific tour was certainly the seed of this band. In a lot of ways we were just personally and musically testing the waters. We had always talked about doing something, but that was when we first got serious about giving it a shot. Then a few years go by and the windows start to open up a little bit. When I was done with the Clapton tour, and then when we put this band together, I was really thinking about stepping away from the Allman Brothers and my solo band at the same time, so it felt like the right time to shift gears.
I was certainly ready for it. With the Allmans thing, as always with that group, it takes a lot of twists and turns and you look back and you've been there five years or eight years longer than you've planned. You know, family loyalty and I do love the music and all of that, but this thing, when it did come together, I was glad we had waited. She had more time with her own band to mature musically, and me too, and I think when it finally did come together the timing was spot on.
JW: Do you think it helped too that you guys were a little more entrenched as a married couple by that time? If you guys went out together in a new band at the beginning of your relationship, that might have been a little bit difficult as well.
DT: Absolutely. That was a big part of it, making sure we were personally ready for it. So that's probably why we waited in the first place. You want to make sure that when you're touring and in each others space every second of every day that you know how to function. We waited and after ten years of being together we had a pretty good rapport. We felt pretty comfortable jumping in.
JW: You have some folks in Tedeschi Trucks from your band and you brought in some new folks. How do these parts all fit together and how've you made that work over the past five years?
DT: I think some of the fans from Susan's solo group or my solo group, they learn to love something and they want it to continue the same way. There's a bit of resistance on some fronts. My feeling is always if something's inspiring to you and it's evolving and changing, you're bound to ruffle some feathers along the way. I feel like that's all part of the natural growth of things. If somebody's not upset, you're not trying very hard.
There was a bit of a transition in the beginning, but for me that's fuel. When I first started playing in blues clubs as this young kid, and it's a bit of a novelty, and everybody wants to watch you play the same tunes and recreate something, as soon as you shift from that and you try other things, there's a little bit of blowback. So from the very beginning, I've learned for some reason that I kind of enjoy that, if the spirit is right. If you're moving musically and you're like 'this is what I want to do' – if people don't respond to that then you just move on.
So in the beginning with this band, it made the band better because you really have to mean it, you have to love it. The music has to hold up on its own. We really avoided playing music from her set or from my band's set or anything that was too familiar. We really wanted it to be able to stand on it's own. Now four or five years into it, it feels fully liberated. We feel like we can do whatever we want anytime. If it's digging back into the Derek Trucks Band catalog or the Susan Tedeschi catalog or even things we did with the Allmans or things we did with other groups along the way, if it's something we want to play musically, I don't feel like we have to avoid it.
The band's in a better place now than it's ever been. There's been a few personnel changes, but it's all been moving towards just having everybody on the same page. Right now it's healthier than it's ever been. We just finished another record and I think that's the representation we've been able to capture of what the band feels like and I think the way it feels live. We feel incredibly fortunate to be this far into it and still feel like we're just turning the first page.
JW: You've been doing this a long time and you've built a lot of bridges along the way. Do you think about the many paths you've crossed and the amazing talent you've been able to put together, explicitly for Tedeschi Trucks, but also for a lot of the other projects you touch?
DT: Yeah, you know, we realize how incredibly fortunate we are to have played with a lot of the musicians we have, some for a short time but some for a decade or more. Really with almost everybody we played with, we're still in touch with them like family members. It's still very much a part of the circle. There are different times in your life when you play with different people, but there are certain people you've played with for a long time or really connected with and that never goes away. Those connections are still there. We take that very seriously. Music and family are kind of one and the same for us. So when you're in the trenches with somebody for a long time, those are bonds that are always with you.
Before we left for Colbert we were rehearsing for this Mad Dogs thing and Todd Smallie (who played bass in the Derek Trucks Band) was in town rehearsing with J.J. Grey (& Mofro) and he came by the studio afterwards. Anytime you get to reconnect with band members like Todd, who I was on the road with for 15 years, it's refreshing and it feels like you never left. Those are the things you really do look forward to. One of the things about being on the road is that it's a pretty small world out here, so you get to see a lot of your old bandmates and friends quite often.
JW: I imagine that family spirit is kind of in your DNA having grown out of the culture of the Allman Brothers and having that be part of your family dynamic from way back.
DT: I think about it a lot. I feel lucky that I was one part removed. My dad was on the edges of the Allmans at the Fillmore. He was at a lot of the magical moments from that band, but it wasn't so direct that the negativity of the music industry got on us. It was all the beauty and none of the other stuff. I'd hear the stories, but it didn't really affect me.
My family was extremely close and we did everything together. It  was lower middle class, working class, all the way, but the stories of those festivals, and the music, and the way that band was in the beginning was a big part of the myth that I grew up around. I feel like I got the best part of it in a lot of ways. Sometimes the children of rock stars from that era didn't have that rosy experience. I feel lucky I wasn't too close to the fire in the beginning. By the time I was there, it was kind of a different generation. I feel like we've been able to learn a lot from those bumps in the road and the mistakes that first generation made when they didn't have the foresight. When the party was going on then, it was all very much an experiment. When you look back, you realize you realize you have to balance these things a little bit better.
JW: You mean the business and the mindset of a day to day grind, rather than being immersed in it all?
DT: That and making sure that when you have a band and you have a family, you have to balance those things too. In the early days, it was just that everybody was running so hard, a lot of wives and children got left by the wayside. It was just a different mentality 30 or 40 years ago.
JW: You mentioned the Fillmore. Has the Beacon more or less replaced the Fillmore as the place, not only for Tedeschi Trucks Band, but for the Allmans and a lot of great musical acts? People who want their music to be recognized in a particular way seem to gravitate toward the Beacon Theater. You guys will be there just before you come to Erie and when you get to Erie you'll be playing the Warner Theater, which is our city's Beacon Theater, a historic theater. There's not a great comparison between these theaters and the big festival venues you play. Is there one environment where you feel more at home? Where the set takes on a different meaning for you?
DT: Each one is different, but it's definitely a different mentality when you're playing a festival  like this thing we're doing in Virginia. We're learning a whole new set of music for the Mad Dogs night, then we do our show the next day. When you're in front of that many people after bands are playing all day, you have to think about the music you're playing a little differently. Some of the subtleties get pushed out of the way a little bit. You have to hit people a little more directly, which is fun sometimes. It's fun to get up and do that. At the end of the day though, there's something about places like the Beacon and the Warner Theater where you feel like everybody that's coming to the show is there with you and you really can take your time, and you can be a little bit more experimental. You want the show to start on fire and to end that way, but you don't have to worry if there's a bump in the road, that we're going to lose everybody. You can find your way a bit more naturally. I really do like when we get in the rhythm of doing those kinds of tours, of being in the theaters with some real history. It's a different vibe every night. There's certainly something about  a place like the Beacon Theater. I wasn't around for the Filmore, so this is the closest I'm going to get to the stories I hear about. The years I did the Beacon with the Allman Brothers, they certainly created their own tradition in that place.
JW: The first year you played at the Beacon with the Allman Brothers you blew your amp two songs into the first set and it shut the show down for an hour. We watched cartoons on the big screen for an hour or more, but when you guys came back out you just steamrolled it for the entire night. It was a memorable evening for everyone there.
DT: (Laughs) You never know, man. Sometimes there are demons in those rooms (laughs). You think it's going to be a good night and then your gear gets fucked with. But I do find that sometimes when that stuff goes down, when you do finally get up and running there's a little extra piss and vinegar in the set. It's like we need a little redemption (laughs).
JW: For the uninitiated, when you guys get to Erie what do we have to look forward to when the Tedeschi Trucks Band takes the stage at the Warner Theater on Sept. 27?
DT: The tour changes by the week. We try to fill in the set. But I can honestly say that there aren't many other bands like this on the road and touring right now. It's an incredible collection of talent on the stage. It's humbling for me and Susan. We look across the stage sometimes and you have those moments like, "Holy Shit! This is a really good band!" It's kind of a running joke, but it's not really a joke, that sometimes after a show Susan will say, "Hey, guys. Thanks for letting me be in your band." We say that to each other sometimes because we really do appreciate the level of musicianship and how much heart and energy everybody puts into it. That part is pretty much guaranteed. When there's music that's based at any level on improvisation you can't really predict what's going to happen from night to night, or even what level of show. But the thing with this band is that if it's a good night, there's still critiquing going on after the show. If it's a night that we feel should've been a lot better, there's a lot of critiquing going on after the show. But everybody leaves it on the stage. No one is phoning it in with a band like this. There's a level of honesty that I feel gets lost in a lot of music these days. Everybody on stage is coming to play. Everybody realizes that every show is an opportunity to grow it and make it musically better. We realize that after years of doing this there are people who come from far and wide or there are people who might only have this opportunity to see the band. We take that stuff seriously. It's a grind being on the road. There are some nights when you're energy is lower than others, but you realize when you hit the stage that music is a great release for people. There might be somebody out there that really needs what the band can do. You take the work seriously. You don't take yourself seriously. That's something that this band shares, that mentality. You don't waste nights on stage.
JW: Derek, thanks so much for your time. We look forward to seeing you in a few weeks.
DT: Thank you.    
Jim Wertz is currently searching the interwebs for A/V of the Mad Dogs & Englishmen set, but you can break his focus at jWertz@ErieReader.com, and you can follow him on Twitter @jim_wertz.