A Fortnight in History
Ever wonder what the headlines read back in the day? Dan Kubacki gives you the scoop.
July 20, 2011 at 10:02 AM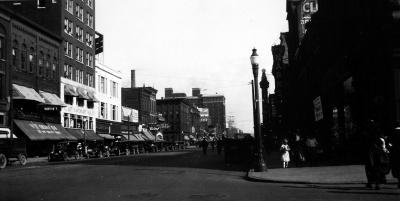 July 20
1988 – June Pinteau, director of development of the Erie Historical Museum, unveils a plan to build an addition that would house a hands-on children's museum. Some members of the Erie Museum Authority show concern that a children's museum would "cause the Erie Museum to lose its historical focus."
July 21
1916 – The Erie City Water Board discovers an alarming figure showing the abnormally high water usage in the city. Officials estimate that upwards of 28 million gallons are being used daily, and barring any natural catastrophe, the city could face a water shortage.
Plans to remedy the shortage include building a reservoir on the south side and limiting the hours of permitted sprinkling. Looks like my time spent running through the sprinkler will be cut short.
July 22
1969 – A truck driver from Springville, N.Y., who identified himself only as "Quick," escaped an accident in which his trailer was cut in half by an Erie Lackawanna freight train. Quick claimed he did not see the sign marking the crossing, but as he crossed the tracks and saw the train coming, he escaped the cab and was unhurt. But he wasn't quick enough to save his truck, right?
July 23
1898 – Twelve Erie stamp agencies are discontinued by the national postmaster. The men conducting these agencies received less than $24 a year. This ordination does not affect the five sub-stations where postal order stamps are sold. Good thing I've still held on to my Forever Stamps.
July 24
1940 – Erie Mayor Charles Barber declares July 24 a civic holiday as Soap Box Derby Day. The downhill track will be laid out 1,150 feet on lower State Street hill to be identical length to the regulation track in Akron, Ohio.
July 25
1993 – The port of Erie plans to welcome the high-tech USS Boulder for a visit and is moored across from the USS Brig Niagara. The 522-foot Boulder was designed for amphibious warfare – to land tanks on beaches. The six-engine combat ship is the first ever to be fitted with a bow thruster, which is intended to increase maneuverability while close to land.
July 26
1951 – Wanda Haydick is charged with malicious mischief and disorderly conduct after neighbor Anthony Nejman reported Haydick squirted a garden hose through the window of his East 11th Street home, soaking his furniture. Haven't we all wanted a swimming pool in our living room at one time in our lives?
Information Gathered From: The Erie Dispatch, The Erie Dispatch-Herald, and The Erie Times-News. Stories researched from newspaper microfilm slides, accessed at the Raymond M. Blasco, M.D. Memorial Library.