A Hazy Shade of Blue
Post-election reactions after Erie Democrats gain a narrow victory
November 22, 2017 at 2:00 PM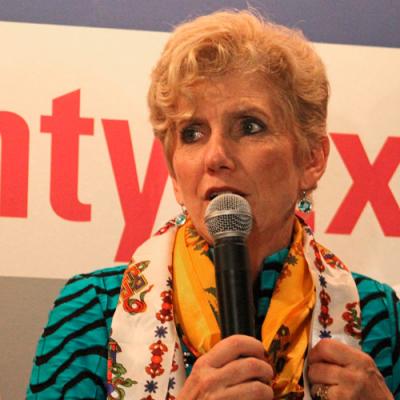 A month before the election, Salena Zito penned an Erie-centric piece for the New York Post titled "This die-hard Democratic city is about to turn Republican." Although ultimately the city and county remained blue, Zito's infatuation with the region isn't unfounded; after all, one year prior, Erie County turned red, and many credited — or blamed — it for flipping Pennsylvania to Donald Trump in the 2016 Presidential Election.
Though Democrats emerged victorious overall — especially in Erie County's two most closely watched races — the margins were slim. On the evening of Tuesday, Nov. 7, Joe Schember was poised to become Erie's next mayor, and Kathy Dahlkemper celebrated her re-election as Erie County Executive. However, by Wednesday morning, neither Republican had conceded.
After being told by the Erie County Board of Elections that the margin was too large to overcome, John Persinger called Schember to congratulate him on his win the next day. Schember garnered 1,315 more votes than Persinger, for a 6.75 percent edge in the end.
While those numbers represent a solid victory by national standards, Persinger's showing was closer than projected, considering the fact that the city's registered Democrats outnumber Republicans by a nearly 3-to-1 ratio. Time will tell what the future holds for each candidate and their respective parties.
In the race for Erie County Executive, Art Oligeri almost won. When all precincts had reported, Dahlkemper was ahead by only 135 votes. After all absentee ballots were counted, that number eventually rose to 304, and Oligeri held out, anticipating a recount.
However, with the final absentee ballots counted, the next Monday Oligeri called to congratulate Dahlkemper on her re-election.
Dahlkemper's victory is a historic one: She's now just the second person to win more than one term as Erie County Executive. Prior to that, only Democrat Judy Lynch had notched more than one term (five actually).
Zito's latest Erie-based headline — this time for the Washington Examiner: "Erie tells an ominous sign for Democrats" — is again an inaccurate picture of Erie on the national level. While the results were close, the turnout and vote count are in line with our history and trends in Erie County, neither issuing a mandate, nor proving an erosion in the Democratic base.
If anything, a key takeaway could be that Persinger's strong city campaign might have made the margin all the more tighter given that city voters largely favor Democrats.
But when the results of the night came in, the Erie Reader's managing editor and its two contributing editors hit the road to talk with the mayoral and county executive candidates, along with Tyler Titus, who won a spot on Erie's School Board — and became the Keystone State's first transgender elected official.
 It's worth reiterating that at the time of these interviews, neither Republican mayoral or county executive candidate had officially conceded.
 Joe Schember
Ben Speggen: How do you feel about the turnout so far?
Joe Schember: I'm very pleased with it. I'm very pleased with the crowd that was here tonight. They're very supportive and very vocal. They're all volunteers who chose to help me, and I'm really honored and flattered by that.
Jim Wertz: What's the transition like as you get started?
JS: The next step is to start planning: What're we going to do, who's going to do what at City Hall, how are we going to put in our "service culture" we want to implement, and how are we going to be able to work with businesses and create more family-sustaining jobs. Those are the top priorities, and there is going to be a lot of conversation and discussion about that. I've promised jobs to no one, I have no idea who's going to do what. At this point, I want to interview good candidates and pick the best people.
BS: It still looks like John walks away with 46 percent of the vote. How do you reach out to the people who clearly thought that the Persinger path was the path they wanted?
JS: I'm committed to working with everyone in Erie. I want 100 percent of the population to feel like they can talk to me, and know that I'll listen to them and take their concerns into consideration. My understanding in talking to people door-to-door — I got to over 6,000 doors in door-to-door — people like both of us, and a lot of people who were voting for Persinger said that they liked me, too. So I'm not anticipating any problems in terms of implementing things and getting people involved.
BS: Are you willing to work with John and bring him into your administration, or if he ends up on top, some way serve his administration?
JS: Absolutely. I'm committed to collaboration and I really don't believe in the silent mentality and turf protection we've seen around here. I want to work together with people to make Erie better.
JW: Kathy had a much closer race than you did, but it looks like she's going to pull it off. What's that relationship look like moving forward?
JS: Basically, the mayor and county executive haven't talked, from what I understand. My commitment is that I want to talk to whoever the county executive is — hopefully it's Kathy — but whoever it is, I want to talk at least once a week. We serve the same people. We need to work together. There may be things the county does that would be better for the city, and vice versa. If we work together and collaborate, we can do so much more. I'm committed to that.
BS: It's been somewhat "doom-and-gloom" since the Trump election. "We've turned red; Erie's gone red." If things hold the way that they shook out so far — we've got a Democratic mayor and we've got a Democratic county executive. What do you think that says about Erie County, and the City of Erie overall?
"I do believe we have a once-in-a- lifetime opportunity to really transform Erie right now. With Erie Refocused, the plan lays out guidelines on what we should be doing."
JS: I'm not sure about the party politics, but I do believe we have a once-in-a- lifetime opportunity to really transform Erie right now. With Erie Refocused, the plan lays out guidelines on what we should be doing. We need to fill in the details and decide exactly what we're going to do. In order to do that, we're going to go to every neighborhood, present the concepts in Erie Refocused, and see what input we get. We'll adjust detailed plans based on the input we get. That's something I want as mayor: I want every resident to feel like they can talk to me, and know I will listen to them and respond. I know I can't make everyone happy, but every decision will be based on what's best for Erie in the long term.
BS: There's been some criticism of the Sinnott administration, that it hasn't been progressive enough. Some people feel that he's done a great job as a far as the fiscal responsibility goes. How do you make the bridge between a Democratic mayor who's been more conservative both fiscally and in his overall public appeal and your administration?
JS: The best time to make change, I believe, is right at the beginning. We are looking to make some changes. We haven't made decisions yet, but in terms of how the city is structured, in order to accomplish what I want to accomplish, we need to make some changes. One example is code enforcement. Right now, they're sometimes feared in the neighborhoods. I want to make code enforcement a "helper" for the neighborhoods. They'll be inspecting like they do now, but we need to do it more proactively, and right now, it's mostly reactive. People don't always know what's going on. They'll get these notices, and they're afraid they're being fined or that they may go to prison — which isn't true. As well as telling them how to fix up their house, especially senior on fixed income, here's where you can get help; here are grants that are available; here are groups like ServErie that will come to your neighborhood and help you. If we're viewed as helping people to make their neighborhoods better, I think it will be better received.
John Persinger
 Ben Speggen: Can you talk about your strategy within the last week; how did you close any gaps, how did you stay on message?
John Persinger: We transitioned into the final 10 days just making sure our voters were getting to the polls. We were confident, going into Tuesday, that we had the momentum. Obviously, from the outside, we had a huge discrepancy to overcome, but our focus all along was on Nov. 7 and we wanted to make sure we had a slow, steady build into election day. Everything that we did was geared toward that — including the final 10-day stretch. 
Jim Wertz: So I know your focus now is on those absentee ballots, but let's talk about the future: If the count, as it is, holds up, what's next for you?
JP: If the count is what it is, then that's what it is. Throughout this process, I'm still working full-time; I'm still a husband; I'm still a father. So tomorrow, I will let my wife sleep in, I will take my kids to school, and I will go back to the office and talk to clients and deal with their issues. 
BS: In addition to coverage from Salena Zito, you've attracted attention outside of the Erie region. What do you think that speaks to the current political climate and you, as a Republican here in Erie, which is a Democratic stronghold in the city?
JP: We were an anomaly jumping into this race when everyone said it was impossible — they said, "don't do it because you're never going to win." I think that drew some people's interest from the outside. In terms of the actual race itself, we showed people that we were going to be different; we did some different things. We rolled out the mobile headquarters, we got a plane that flew overhead, and we rolled out serious policy initiatives that we thought could help the city because it's been done elsewhere. That was something different. What drew me into this race was [hearing] a lot of candidates last fall [say] that they had been planning this for years. They were talking about themselves, how much they love the city, and how many events they'd attended. I thought, "What about the actual issues? What about the blight in people's neighborhoods, our underfunded schools, the drug epidemic?" Why isn't someone talking about that? We were a bit of an anomaly because we were coming up with serious policy initiatives, but we said in order to run, we had to be different throughout, and you saw that throughout the race. 
JW: At the end of this, what do you hope the takeaway is from your campaign for the city and the future of the political climate here in the city of Erie?
JP: We hope we inspire people to get involved. What I notice, going around town, is that there feels like there are — to certain people outside downtown — entrenched interests that haven't been working for them. When we took the RV into neighborhoods, people pointed out blighted properties that have been sitting there for years that they want to get rid of. We hope that we inspire them to keep pushing and to keep raising these issues, because if we don't raise these issues from the neighborhoods, it's just going to be looked over by City Hall. 
Kathy Dahlkemper
Ben Speggen: So 135 votes ahead, how do you feel?
Kathy Dahlkemper: I feel great. We came out on top. We knew this was going to be close. County executive races tend to be very, very close races. We did everything we could, we didn't leave any stone unturned when we campaigned, and we worked until every poll closed. I think we did what we needed to do to bring forward the votes.
BS: Erie County, historically, is "one term and done" for county executives. Judy Lynch is the only other one to survive longer. If everything holds, and you've got a second term, how do you feel about it?
"I'm also extremely excited about working with the next mayor and having a partner at City Hall that will help me continue this momentum we've been building."
KD: Obviously I'm very proud of my record and I feel very fortunate to be able to serve four more years because there are a lot of things that aren't completed yet, like initiatives that I want to follow through [on]. I'm also extremely excited about working with the next mayor and having a partner at City Hall that will help me continue this momentum we've been building.
Jim Wertz: You've had a really great first term and you've rolled out a lot of new initiatives during the campaign cycle. What's first on the agenda?
KD: "Up for the Job," which is a fairly new initiative — it's going to be key to get that moving. And of course, the community college. Hopefully we'll get positive news from the state sometime early next year, and then we can move forward with that initiative.
BS: Erie County had some positive coverage from Jim and Deb Fallows from The Atlantic. Other than that, it's been largely, "Trump is our savior; why did Erie County go red?" If everything holds as it is tonight — your victory and Schember's victory — staying blue, what do you think that means for Erie County?
KD: I think it's obviously a good sign that the voters are rethinking their votes from last year, but I also know that the margins are close. So I think as Democrats across the state, there is still work to be done to show all that we have done here, which is very positive — not only here, but all across the state.
BS: I think there is a great fear for Trump voters that seem like they've been left out of the process. They seem angry, maybe disenfranchised by that. With such a close margin, what will be your efforts in the first 100 days — first year — to bring them into the fold since nearly 49 percent of people out there thought you weren't the future for Erie?
KD: I'll do what I've always done and that's reach out to all people, because I've always served all my constituents, never just the Democrats or one segment over another. I'll continue to do that in multiple ways. I did a lot of work, for example, in the public safety arena and I think once that whole project comes to final fruition next year, there are going to be a lot of people saying, "I never thought this would actually get done, but it did get done." There are people all over the county who benefit from that. I think those type of projects show the voters that I am the person that they want leading the county for the next four years.
BS: So here we are; we're done. No more campaigning. Can you give us insight into how you approached your second bid? What was your strategy for Erie County?
KD: We were very methodical. We really looked at where the votes were going to come from, we looked at a lot of historical data — but it's a weird time in politics, so there are a lot of unknowns right now. I think everybody who has worked in politics is trying to figure this out. We did what we needed, we found votes from many different avenues. Just tonight in talking to one of my supporters, who made all sorts of calls, he thinks he got 500 votes for me through that. It's reaching out to all of these constituents and getting these people to help you dig into that group and get the votes.
Art Oligeri
Ben Speggen: What do you credit for drawing such a close margin to win, lose, or draw — whatever the outcome? It's very close. 
Art Oligeri: Half of the people are unhappy with the status quo, and of course, that's one of the reasons why I ran. There are a lot of people who are looking forward to change in leadership — virtually 50 percent and that's a number you have to recognize. 
Jim Wertz: What do you think that means for the future of Erie County?
AO: I think we need a new direction. I think that people are not 100 percent satisfied with the direction Erie County is moving. We need to evaluate everything that we're doing. Something is not right if virtually 50 percent of the people voted for a change in leadership. 
BS: What was your ultimate strategy: Target voters throughout the county with a county-wide message? How do you feel that you were successful tonight, drawing as close as you were?
AO: I think that because there are a lot of people who are unhappy with a lot of things that were happening in government. I feel as though I was the option for change, and almost 50 percent of the people voted as they felt that I might be a solution to the problem. I represent — Art Oligeri represented — change, and I think that's what they were looking for … change in leadership and direction and ideas. We really have to look at that if there were that many people that voted for me. 
BS: How far are you willing to take the recounts?
AO: I'll listen to the advice of my counsel. If the number diminishes, we might look at a recount. I'll think about it over the next day or so. 
BS: With a last minute investment of $25,000 from outside of the region with Scott Wagner, how do you think that speaks to the interest of Erie politics and the climate here?
AO: I think that it speaks to the fact that there are other people that are unhappy with the direction that our community is going. People invest because they think that it's worth their investment. I represented change; I represented new leadership, and new direction. Otherwise, they wouldn't have done that. If they didn't think I could offer a solution to some of the problems that we're having, they wouldn't have invested that kind of money in me — it's a lot of money. They felt very confident in me to do that. 
Tyler Titus
Ben Speggen: As it stands, you're on the school board. How does it feel?
Tyler Titus: It still hasn't completely sunk in that tonight we blew the history books wide open. We keep refreshing our feed to double-check everything, but the numbers are showing what the numbers are showing, and it's mind-blowing. And today is my mom's birthday, and she came up. It's basically the coolest experience anybody could ever ask for in their life; to have this historic moment and also pair it with your mom's birthday.
BS: As far as schools go, this is a big crisis facing everybody. Why do you want to do this?
TT: I want to do this because somebody needed to do this. I can't just sit back and I've never been the person who can say "[let] someone else fix it." If I see a problem, I'm diving in. If there's a problem, you can't be someone who just sits in the background. You need to be somebody who comes to the table with a solution. I saw the issues. I saw where some of the gaps were, and I said, "This is my skill set, this is what I got, this is what I know how to do." [My campaign manager] Alayna [Getchell] saw me, she saw my vision, and she said that we were going to run with it. That's what we did! We had a vision and picked up our pieces and we said that this is what we were [bringing] to the table.
Jim Wertz: How does the momentum of this campaign then translate once you take your seat and begin to advise and participate on the school board? Do you anticipate hitting a new set of barriers?
"What Erie has needed, especially in the school board spot, is somebody who knows how to do a lot with a very little bit of money."
TT: I'm absolutely sure I will. I'm the new kid. The new kid always has a wall to face, but I'm not afraid of that. I catch on quickly and I think that a fresh set of eyes can always bring in an observation that maybe other people weren't seeing. Erie's become a city that, I think, has been overlooked. We forget how much talent we have here and how many resources we have available to us. We've just forgotten how to use them. I think when we get the younger people in, we realize this is exactly what we've grown up doing — we know how to do this. What Erie has needed, especially in the school board spot, is somebody who knows how to do a lot with a very little bit of money. Being a social worker by trade, that's all I know how to do — doing a whole lot with very little resources. You've got to use what you've been given.
BS: As a first-time candidate, can you talk about strategy? Entering a race, and now you're a winner. What was your strategy for coming out victorious?
TT: The biggest strategy was to connect. It was all about partnering up with somebody who knew what they were doing. I didn't know what I was doing, so I partnered up with Alayna and it was face-to-face, door-to-door, and getting my name into as many people's households as I could. They had to know my name, know what I stood for, and I had to not be afraid to answer the questions. People were often afraid to come out and be honest and truthful, and I wasn't afraid to do it. I got knocked off the ballot the first time in the primary. There were four other candidates who [decided to be] done. If I had been done, then I didn't deserve this spot to begin with. If you're going to put your hat in the game, you've got to realize that people are going to challenge you and people are going to try to knock you off of your feet, but you have to be ready for it. So to any first-time contender, that's what I would say — be ready for opposition, find the people who believe in your vision, and get as many people to know who you are [and] believe in your vision. The only way to do that is face-to-face contact. It's not social media, it's going to people's houses and talking to them face-to-face as a person and being willing to be vulnerable and share your passions and beliefs.
Ben Speggen can be reached at bspeggen@eriereader.com
Jim Wertz can be reached at jwertz@eriereader.com
For a full version of this article, including interviews with John Persinger and Art Oligeri, go to ErieReader.com