A Roaring Success?
Where is all of the revenue that Roar on the Shore is supposed to bring to Erie going? Local businesses haven't seen much of it.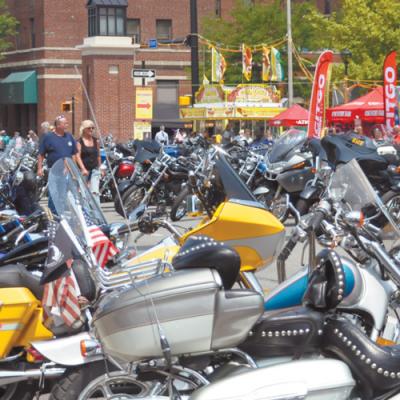 Standing on State Street 200 yards from the main stage at the Saturday night climax of Roar on the Shore was somewhat like I've always imagined purgatory. It was packed with a mix of people, some of whom are hard-worn by life, others just lived hard, all intermingling with a middle class that likes being close to the fringe without relishing in the consequences of bad decisions made during long days and late nights.
From the vantage point at North Park Row, onlookers could gaze over the sea of people facing north toward a stage they couldn't fully see to hear a band mostly long forgotten. Their sightline, obscured by the elevated VIP area at the back of the ten-foot-high-chain-link-fenced-off beer garden to which concert goers could purchase entry for $10 each night, left them focused on the video screens at Fifth and State streets framed by the backs of the rich and a distant American flag – the backdrop to the stage – as if to say, "This is what America looks like."
The Manufacturer's and Business Association, which organizes the four-day motorcycle festival, has contended since the festival's inception in 2007 that the estimated 100,000 or more bikers and enthusiasts who attend – local people and visitors – collectively inject around $20 million into the regional economy.
Based on a small Erie Reader survey of out-of-town bikers, each biker spends approximately $75 per day in Erie. That's $29 higher than the U.S. General Services Administration's per diem rate for Erie, Pa., which is an estimation of how much a traveler would need to spend on meals and incidentals in this area. It's also equal to any vacation in which you live out of a hotel room and are forced to purchase all meals out about town. On top of the $75 per day in living expenses, bikers we spoke to paid between $200 and $250 per night for hotel accommodations.
Where the $20 million injection comes from is hard to tell. It's a multiplier effect that any industry would relish. Money is clearly being spent, but its impact is more difficult to discern.
Some tourist dollars are spent directly with the Manufacturer's Association and its partners who put on charity rides to raise funds for the designated nonprofit each year. This year's proceeds will go to the Erie Homes for Children and Adults' "Project First Step," which helps low-income expectant mothers and families by offering training and support that limits the risk of disabilities, substance abuse, domestic violence, and homelessness, among other issues. The rest of that purported $20 million is spent throughout the region at hotels and eateries and downtown with vendors who purchased space in Perry Square.
There are essentially two types of vendors in Perry Square, transactional vendors that exchange money for goods and services, and informational vendors – mostly motorcycle centric – whose booths are there to provide information about everything from pinstriping your motorcycle to retaining a rider-friendly lawyer. Vendors pay between $450 and $1550 for booth space ranging from 10'x10' to 60'x20'.
The majority of vendors in Perry Square are not local vendors. Seivers Concessions, based in Grove City, Pa., has a monopoly on food at Roar on the Shore. No other food vending is available at the event. Additionally, the screen-printing, tattoo artists, and even the official wine of Roar on the Shore – Webb Winery from Hermitage, Pa. – are not local.
There were a few local clothing and novelty vendors for whom ROTS is an easy couple of days with relatively low overhead. "This is a good festival for me," says Michael Anderson, who sells tye-dye T-shirts and other clothing items at a price point mostly under $25. "The crowd here doesn't spend a lot of money. They're here for the bike stuff, and that's what they spend money on. But since we're in Erie and I don't have hotel and food costs like I would if we were out of town, I do very well."
Walt Ponatowski agrees. He's from North East and travels to festivals around the country to sell hemp-woven rugs, shirts, and other novelties. "The show here is awesome," he says. "Sales-wise, I go to little flea markets where I pay $50 for the space and do three times the business. For the caliber of show it really is, I expect to do better. Don't get me wrong, I make money, but there's a disconnect between the caliber of show and the caliber of people we see through here."
And for many of the restaurants and bars between French and Peach streets from 12th Street to Third streets, the success of ROTS doesn't necessarily translate into a winning weekend. Mike Augustine, co-owner and chef at Like My Thai located at 827 State St. in the heart of the Roar, says that limited access to his restaurant prevents is regular customers from coming in for lunch and dinner.
"I'm down $2,000 on the week because my customers can't get to me," Augustine says. "The bikers are cool, but they don't eat places they don't recognize." Other bar and restaurant owners on State Street told us that despite the volume of people in town, they are lucky to break even on the week. Augustine attempted to make up some lost revenue by selling chicken on a stick on the sidewalk outside of his restaurant.
We heard similar stories last year as well. Tickle's Deli owner Sue Wyant lamented the loss of business that begins as soon as the streets are blocked for preparations including the installation of the main stage.
"We're a small business," Wyant said last year. "Small businesses can't afford this kind of disruption." This year Wyant planned for weekend traffic. She printed fliers with sandwich specials, purchased extra bread and meat, and brought in extra staff, but she saw no return. "I stayed open late on Friday and Saturday. On Saturday, I had two deliveries and three walk-ins. Who's making out on this? Now I need to cut down this week to make up for the weekend."
Street closures begin the Monday prior to the event's kickoff and remain in effect until cleanup concludes at the start of the following week. For businesses between Third and Fifth streets, stage construction has always been a reality during festival season. It's a huge presence that costs local businesses in that area big bucks. But at least during Celebrate Erie, the area around the stage remains open allowing concertgoers to move in an out of the performance area to buy beer, eat and socialize. ROTS changed that equation by erecting a chain-link fence around the crowd nearest to the stage and charging admission to the fenced in area.
State Street remains closed all the way to Third Street for backstage access even though closing State Street only to Fourth Street would provide approximately the same backstage space used at other events in previous years.
This year, those businesses on lower State Street were further constricted because event organizers moved the stage a half-block south on State Street, just past the museum steps, presumably to prevent people from taking in iconic rock acts like Jackyl, April Wine, and Dokken from heights reserved only for VIPs. At Celebrate Erie, the museum steps serve as the VIP space, while front stage belongs to the people. Moving the stage south on State Street completely cut off Scully's Pub and The U-Pick 6 Tap House from the foot traffic so common at these, eh-hem, public events.
Walking North from 12th Street, observing the bikers parked in four lanes across State Street down to Perry Square, and doing the drunken two-step with some motorcycle momma and her old lady, it's clear that Roar on the Shore is a draw and we've never disputed that. But as the event gets bigger, it's also becoming less inclusive to the community it claims to be serving.
"We want the city to do well," Augustine says, "but not at the expense of the people who have to live here and make it happen every day."
Jim Wertz can be reached at jWertz@ErieReader.com, and you can follow him on Twitter @jim_wertz.