Acclaimed Pianist Simone Dinnerstein Joins Erie Philharmonic
Nationally recognized pianist Simone Dinnerstein will be accompanying the Erie Philharmonic for their first-ever performance of 'Piano Concerto No. 2'.
January 21, 2015 at 5:00 AM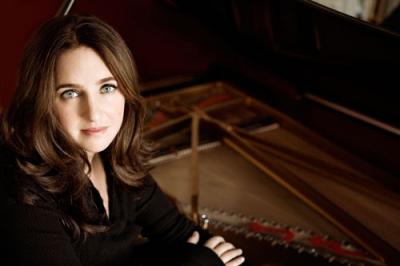 Beethoven composed an abundance of pieces during his lifetime, many of which the Erie Philharmonic has performed over its long history. On Jan. 24, the orchestra is about to add another one to the list.
For the first time ever, the Philharmonic will be playing Beethoven's "Piano Concerto No. 2", and will be joined by acclaimed pianist Simone Dinnerstein in an evening that also includes pieces by George Walker and Bruckner.
Beethoven's concerto opens with strings, but the violins and flutes lead the way into a dance – at times dizzying and frenetic – upon the ivory. The playfulness of the first movement is hearkened back to in the last, while the second, middle movement is peaceful in stark contrast. All throughout, the piano is in the spotlight.
And front and center in that spotlight will be superstar Dinnerstein. Since her 2005 debut at Carnegie Hall, she's toured internationally, released four solo albums and has been lauded by critics from NPR, The Washington Post, The New York Times, The New Yorker, and O, The Oprah Magazine (And if something is good enough for Oprah, it's good enough for you).
While the music starts at 8 p.m., get there early to join WQLN classical music host Brian Hannah in a pre-concert chat starting at 7 p.m. Once the musicians take the stage, the program includes George Walker's "Lyric for Strings," followed by Dinnerstein and Beethoven. The second half of the evening is Bruckner's Symphony No. 4, "Romantic," a piece that the Philharmonic calls "transformative," and one that "will captivate and inspire."
Sounds like the perfect alternative to another cold night indoors with your Netflix, doesn't it? 
8 p.m. Saturday, Jan. 24// 811 State St. // eriephil.org