AK's Take: An Introduction and the NBA Finals
Introducing AK's Take: A new blog series from an everyday dude here to put things in terms we can all understand.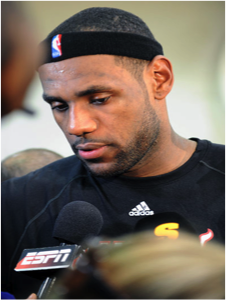 My name is Adam Kelly, and I'd like to welcome you to AK's Take. This is where I will write about the things that interest me and hopefully provide my readers with insight on things he or she knows nothing about, or another opinion on things that might already interest the reader.
First of all, here's a little about myself. I was born and raised in Erie, and I currently attend Duquesne University in Pittsburgh. I am now spending the summer as an intern for the Reader – hence, the blog. 
Most of my interests lie in music, movies, books, cars, watching sports, mountain biking, attempting to skateboard, and food.  The interests I will touch on in the blog will be sports, music, movies, and books – if I ever get around to reading.
AK's Take will combine my interests of watching sports, critiquing music and film, and reading – yes, I do get around to it – all into one weekly series. Why listen to me, though? Am I an expert on any of these topics?
The answer is no, I am no expert. And that is exactly why you should want to read my blog. I'm just an everyday dude that's here to put things in terms anyone can understand and hopefully expose you to new interests.
I'd like to focus a portion of my blog on the NBA playoffs. I've never been the most athletic person outside of my pre-teen years when I was a baseball "player" that flinched every time the ball came within 20 feet of me. I used to play basketball with my friends at this time, and I "played good defense." (This is what people say to you if you aren't very good and they want to spare your feelings.) Nonetheless, it got me interested in watching the NBA.
For the NBA, I will explain the playoff matchups, players, key statistics, and a recap of what has happened so far. Basically, I will be writing this as if you have no idea what is really going on in the playoffs..
For starters, there is no NBA team in Pittsburgh or Buffalo, and the Cleveland Cavaliers have fallen on hard times. For these reasons, the NBA is not Erie's most popular sport.
However, this is the time of year when people that wouldn't normally watch the NBA might tune in. The NBA now has its most exciting and polarizing player since Michael Jordan in LeBron James. A lot of people tune in simply to root for or against this guy, and he's again in the thick of a championship run.
Right now, the NBA is in its Eastern Conference Finals, which means there are four teams left that will play each other to determine who will play on the NBA's biggest stage: the Finals.
In the western conference, the San Antonio Spurs and Memphis Grizzlies will go head-to-head in a best-of-seven series to determine which will play the Finals.
In the eastern conference, the Miami Heat and the Indiana Pacers face the same scenario. They must play each other in a best-of-seven series to determine who will play the western conference winner for the championship.
The players to watch on each team: Tony Parker, #9 of the San Antonio Spurs; Zach Randolph, #50 of the Memphis Grizzlies; LeBron James, #6 of the Miami Heat; and Paul George, #24 of the Indiana Pacers.
Tony Parker is the on-court leader of the Spurs and usually the quickest player on the court of either team. He is the Spurs best playmaker, and his play could decide who wins the series.
Zach Randolph embodies the heart and soul of the Memphis Grizzlies. He is a big and strong player with an attitude that epitomizes a rough and tough style of the defensive-oriented team. Randolph is the best offensive player on a team built on great defense. He gets most of his points close to the basket.
LeBron James is not only the Miami Heat's best player, but he's currently the best on the planet. He is always interesting to watch, but he will be especially interesting in this series against Indiana.
The only way to really beat LeBron and the Heat is to be physical and push them around with hard fouls. Essentially, make the Heat afraid of getting hurt or get them flustered so they start fouling.
Athletically, it is just about impossible to beat them, so getting in their head is a team's best bet. Indiana is one of the better teams in the league at doing this, so LeBron will need to be at his toughest.
Paul George is a rising star in the NBA. The 23 year-old is already an NBA all star, and he now has to be a part of the toughest challenge of his young career by playing the Heat. He is key because he will more than likely be defending James.
 In future entries, this blog will be split up into two sections. The first section is the "Need-to-Know Info," which is the information I gave above. These are the facts and information that I feel the casual audience needs to know. In terms of the NBA, this is the information that the casual fan would need to be aware of before watching the games.
The next section of the blog is "AK's Take" which, of course, is the same name of the blog series itself. Just think of it as the title track of an album that's also the lead single. This is where most of your focus should lie. I will give my opinions and predictions in the "AK's Take" section. For this entry, I will simply give my NBA Conference Finals predictions.
East: Heat defeat Pacers in 6 Games (4-2).
West: Grizzlies defeat Spurs in 7 Games (4-3).
Okay, so my Western Conference prediction was dead wrong.  The Spurs in fact have shut out the Grizzlies 4-0 in the series, sending them back to the Finals for the first time since 2007 – a place where they've never lost.
Keep in mind, I wrote and edited this before the series ended. And rather than going back on my original prediction as I watched the Grizzlies let one, two, three, four games slip away, sending them packing for the summer, I wanted to stick true to my original prediction since part of making these picks is learning to deal with the growing pains that come with being wrong.
And it's even more of an indication that although knowledgeable, I am no expert. In the Eastern Conference, the series currently stands 2-1 in favor of Miami, so my prediction of that series is holding true so far.
When I write about music, film, and books, the "Need-to-Know Info" will feature plot, main characters, artists, producers, actors, and so on. "AK's Take" is where I will provide an opinion/review about what I thought of the subject.
The purpose of this blog series is able to turn people on to new pieces of entertainment that they wouldn't normally think to experience. As with any blog, the insight of my audience is also very important to me.  If anything, hopefully this blog gives you an enjoyable five-minute break from the day's monotony.
If you are on a computer at school or work, take the little bit of time behind your boss/teacher's back you would normally be spending on Facebook and use it to check out AK's Take. It might help you figure out what to watch, listen to, or read when you're home free.
Adam Kelly can be contacted at aKelly@ErieReader.com.