Alice's Wonderland
Presque Isle Printing is looking good.
September 30, 2015 at 11:00 AM
Presque Isle Printing's new digs on West Ridge Road are as bright and welcoming as owner Alice DeGeorge's personality. Home of the former Grode Florist, the expansive interior of the farm-style house is freshly painted. The walls hold original artwork, a large tie-dye wallhanging graces what was the dining room, and each room is flooded with sunny natural light.
It is evident DeGeorge is proud and thrilled with the new space as she cheerfully gives a tour. With good reason. She and her husband Dave have been working hard to turn it around since they purchased the building in March. The property had been empty for three years and had some challenges. They found leaks, mold, poorly executed repairs, and a host of other surprises, including frogs living in the damp basement. "It took us a while to figure out where they were coming in. I escorted many frogs out the door until we did," she relates with a laugh.
Now, though, the place is filled with bold colors and the happy buzz of people who like what they do. "This is a creative industry," says DeGeorge. "We did not want this place to be a typical stuffy business office. Clients need to see artistry at work here."
By design, it is a very individual space and DeGeorge operates the business in a personal manner. She even names the machines. Stop by sometime to meet Louise, Thelma, Bonnie, and Big Mama. The offices and workrooms feel friendly and relaxed and employees seem genuinely contented.
Those happy employees are Marlee Malpiedi, who has a BFA in Graphic Design from Clarion University and has been with the company since 2012, and Michelle Zewe, who came on board in 2013, with a BFA in Applied Media Arts-Graphic Design from Edinboro University.
The growth is a testament to how far Presque Isle Printing has come from its start in 2008. DeGeorge had just begun working for a company that was soon acquired by another firm, and suddenly found herself jobless. Although she was discouraged, an idea started rolling around in her head. After years of working in the print industry, she saw some gaps in service. "Small or startup companies and customers who had minor printing jobs were often left to fend for themselves. They need things to get done as quickly and economically as the next person and were oftentimes forced to resort to big box retailers, where they found the service lacking and the work disappointing. They are why I started Presque Isle Printing, to serve everyone no matter how small the job."
Although she had a solid reputation for good graphic design, she had no business experience and learned along the way. Her experience in numerous other industries helped as she had contacts and friends who filled gaps in her knowledge. She also had a few guardian angels. "One of them was Bob Melani, owner of Flexi-Hinge, who graciously offered me space in his building to get started. And he even gave me the first two months' rent for free, saying 'someone helped me out once, now it's my turn to help someone else.'"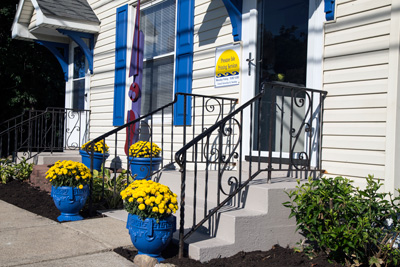 She also struggled getting a small business loan. "It was 2008 and the financial world was crashing down," she says. DeGeorge persevered, though, eventually getting a loan for equipment and hanging out her shingle on Asbury Rd.
The expansion of Asbury required a move to West Ridge Rd., where the business flourished. But by 2014, another move was in order.
"We were growing and needed more space," says DeGeorge. "We felt we needed 2,000 square feet and to rent it was not financially possible for us." She and her husband started looking to purchase a place to house her business, and store equipment and supplies for his contracting business.
Today, Presque Isle Printing has about 400 regular customers and a lot of one-time "walk-in" clients. They make everything from business forms to restaurant tent cards and wedding invitations. They've added equipment with more sophisticated capabilities reducing job times tremendously. "A job that used to take a half a day, now takes half an hour," DeGeorge explains. "It frees all of us for more design and planning duties."
Which for DeGeorge means spending more time with her customers, something she is very fond of. She says it's important for her to learn the customer's style so they can produce a product the customer will find pleasing. "Sitting down with them in a relaxed atmosphere allows us both to explore their needs more thoroughly," she adds. Accordingly, she now has a large airy office for client meetings.
And when it comes to serving her customers, DeGeorge doesn't stop there. She likes to educate them about the printing process so they can feel more confident. "If my customer understands the difference in file types or what photo resolution is, we have a better experience throughout the process."
Even a casual observer of DeGeorge and the way she operates will notice how much of people person she is.
Even a casual observer of DeGeorge and the way she operates will notice how much of people person she is. Having worked in a wide range of businesses from food to human services, she knows a little something about how many industries work, and she applies that knowledge — along with the people skills she picked up along the way — to connect with her customers.
This comes easily for DeGeorge, who has a big heart. She gives her time to volunteer efforts, supports arts and music events and organizations, and is generous with her charitable giving. "It's not just cool, it is important to support the arts scene," she says. She is also willing to work in trade with someone who has a limited budget but has something to share with her.
The bottom line for DeGeorge is reputation and integrity. When renovating their new home, she chose small local contractors because she believes small businesses need to support one another. She also believes each customer's job is the most important and customers must trust the business. It's the old saying, she tells me, "If you look good, we look good."
Mary Birdsong can be contacted at mBirdsong@ErieReader.com, and you can follow her on Twitter @Mary_Birdsong.