All Appeal, No Excuses
Popping into Mi Scuzi Ristorante Italiano
January 30, 2019 at 10:30 AM
By: Cara Suppa
Here's a 10-year challenge for you: In 2009, the citizens of this city voted on Erie's Choice for Best Fine Dining Establishment and Best Italian Food. In both categories of the Erie Times-News' annual contest, there was one winner: The Olive Garden.
I'm not here to hate on the Olive Garden, or restaurants (chains) like it; they are more than serviceable, and I'd be lying if I said I didn't downright crave Zuppa Toscana or Cheddar Bay Biscuits at times.
Instead, it seems to me that the bulk of Erie hadn't yet started to push past the Peach Street familiars with much regularity, and the "support local" trend hadn't quite taken off, because if they had, surely restaurants like the now-vanished (and much-loved) Danny's Restaurant and Lounge or Erie-favorite Alto Cucina would have nabbed either of those top spots.
I'm happy to report, however, that this blip on Erie's voting record has passed — let's hope for good — and recognition of independent and locally owned businesses has been on the ascent for a few years now.
Case in point? Mi Scuzi Ristorante Italiano, nestled in the neighborhood adjacent to Saint Vincent Hospital, and the winner of the Erie Reader's 2018 title for Best Romantic Restaurant.
Though this fine dining and Italian establishment has been on the block since 2006, when owner and chef Michael Farsace purchased the restaurant in 2011, the adulation really started to fly. With the rise of online rating sites making popular local opinion visible for all to see, Mi Scuzi has clearly carved out a place among the very best that Erie has to offer.
But what's so romantic about Mi Scuzi? If you haven't been yet, the romance is in the details. Bell-shaped fixture shades nestled in wrought-iron sconces give off a gentle glow just overhead, inviting patrons seated against the wall to lean toward one another in intimate conversation, while garlands of ivy affixed over the windows which look out onto Myrtle Street add a rustic touch. The exposed ceiling beams — a truly unexpected feature if you've only ever driven by the building — makes it feel as though you are dining under a pergola in a Tuscan garden after sunset, your table awash in lantern-light.
"We pride ourselves on connecting with our customers," Chef Michael said. "We are so blessed to be a place where people celebrate, meet and — yes, at times — romance each other."
My husband Bryce and I stopped by Mi Scuzi briefly for a few cocktails and appetizers, and we were enchanted by the overall atmosphere, as well as the superior service. The cozy dining space, which is sectioned off from a luminescent bar area gleaming with glasses and bottles, is unfussy and casual, though dressier patrons on a weekend date would not be out of place by any means. It being early on a Tuesday, the dining room was not busy or noisy, and slightly lowering the pitch of our conversation made it possible not to be heard by tables adjacent (though they were welcome to hear our romantic conversation concerning the electric bill).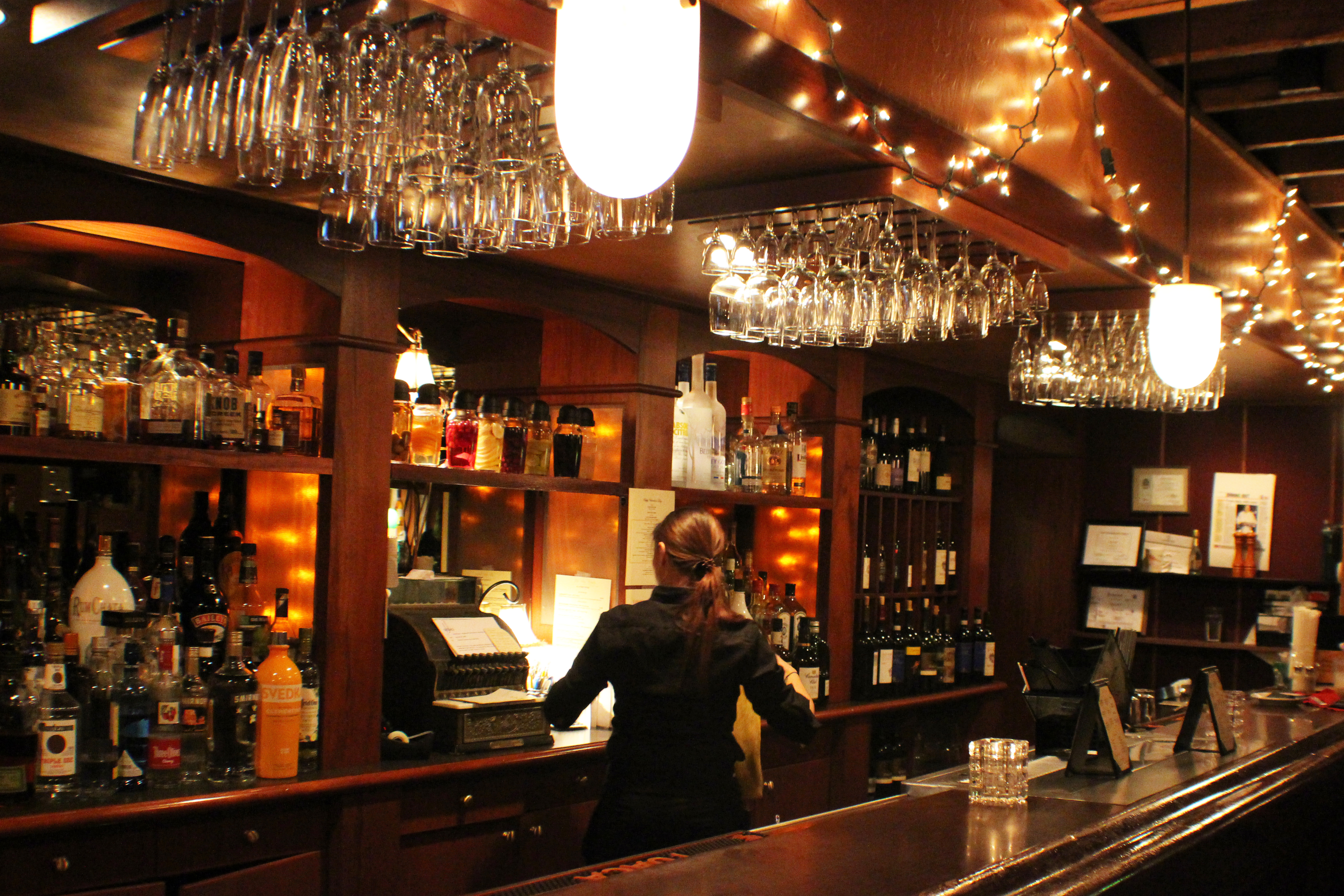 Photo by Nick Warren. 
My extra dirty vodka martini — hazy with olive juice and punctuated with an exclamation mark of a skewer holding two blissful bleu cheese-stuffed olives — was savory perfection, and when our stuffed poblano peppers, "Sicilian" with chicken pizzette and garlic knots arrived, the latter two topped off with decadent shavings of parmesan, Bryce and I both exclaimed with pleasure at the sight. Chef Michael's food — about which he personally inquires, stopping by each table — invites visceral anticipation from the moment you notice the waitstaff coming toward your table with plates.
The peppers were divine, a worthy take on an Erie favorite (with plenty of sauce leftover for dredging those garlic knots through — not my classiest moment, but I have zero regrets), and the shared pizzette was more than delicious; it was fun to eat, and an unparalleled upgrade from our usual shared Hot-N-Readies.
Like any Best Romantic Restaurant worth its rose petals, Mi Scuzi is holding its annual Valentine's Day dinner event, where couples can enjoy a four-course meal — soup or salad for primo, ravioli for secondi, a number of entrees to choose from for piatti, and an Italian inspired dessert selection for finito, plus complimentary verdi and chocolate-dipped strawberries — for $99.
"[This] was developed to get the novice, as well as the seasoned couple, to enjoy a Valentine's evening," Chef Michael explained, "with multiple courses and the offerings kicked up a notch."
"It has proven a crowd pleaser," he added, hinting that patrons might want to make reservations sooner rather than later.
Indeed, to make reservations for this event (and any other night) more convenient, Mi Scuzi is now on OpenTable.com, the online reservation service where guests can check to see what is available, book their table, alert the staff to any special requests, and make changes to or even cancel the reservation, all from their smartphone.
Further, if the thought of dining al ristorante sounds like too much work, Mi Scuzi takes carry-out orders, and their website boasts, "Take-out orders guaranteed ready in 20 minutes" — a perfect option for a night on the couch in sweats with your sweetie. Mi Scuzi is that rare gem which caters to all different variations of romance — just pick your pleasure.
Mi Scuzi Ristorante Italiano is located at 2641 Myrtle Street and open 5 to 9 p.m. Tuesday through Thursday, 5 to 10 p.m. Friday and Saturday, and 1 to 5 p.m. on Sunday. To view menus, visit miscuzirestaurant.com. To make reservations, call (814) 454-4533 or visit opentable.com