Allison Miller's Music is Alive and Ticking
And she's bringing her ensemble Boom Tic Boom to Mercyhurst.
April 27, 2016 at 12:45 PM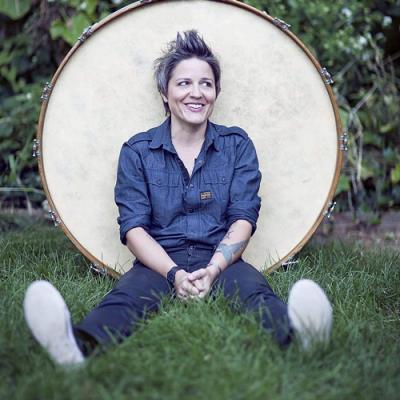 Thursday, Apr. 28
Otis was a polar bear – at least for the duration of his nap. 
"He just looked so powerful and mighty when he was dreaming," said drummer, band leader, and U.S. Jazz Ambassador Allison Miller of her dog.
In the months after the arrival of Miller's first daughter, Josie, the 12-pound Havanese experienced difficulty adjusting to his demotion. "[Otis] wasn't the big man on campus anymore." 
While Josie provided much of the inspiration for Miller's latest album, Otis can at least lay claim to the title track. Otis Was A Polar Bear is the most playful, groove-oriented of her albums with Boom Tic Boom, no doubt attributable to the new life that has sprung up around her. Miller opted to compose for a sextet this time around, with cornetist Kirk Knuffke and clarinetist Ben Goldberg joining regulars Miller, Myra Melford (piano), Todd Sickafoose (bass), and Jenny Scheinman (violin). The new recruits impart an undeniable sense of mischief to the proceedings, which Miller says especially reflects the personality of Goldberg. 
"[Goldberg] very rarely starts a solo on a note that fits the chord. He intentionally plays a note that clashes with Kirk's notes," explains Miller. "He loves imperfection and I love imperfection. I love finding beauty in something that is not conventionally beautiful." 
Such chaos is sustainable because of the aptitude of her bandmates, who "don't need a lot of direction. I don't actually have to write chord changes – they all can sort of take it and run with it." Between Miller's astute sense of pitch (she learned piano before picking up the drumsticks at age eight), her diverse musical influences (ranging from the world music she studied at University of West Virginia to the funky stylings of the recently-deceased Prince), and the intuition of the other members, her compositions ooze creativity. "I like the tradition [of jazz], but like to have fun, too, mixing and fusing genres." 
Otis opener "Fuster" carries a distinct Latin rhythm and a melody plucked from an Eastern European marketplace. The title track has the carefree feel of afternoon recess or a dance in a village square, highlighted by the seesaw of Scheinman's violin. "Shimmer" glistens with the glissando of Melford's piano and the tinkle of chimes for a tune as beautiful as the Northern Lights. In contrast, "Staten Island" and "Hoarding the Pod" are frantic, unsettled pieces more in the vein of avant-garde and free jazz. Throughout, there is a pervasive spirit of exploration which embodies Miller's daughter.
"[Josie] loves this record. She recognizes it when it comes on, dances to it. It's very much hers," says Miller. 
With music already central to Josie's life, it's inevitable she will follow her mother's footsteps at some point. "In my dream, she's a bass player. But in reality, she'll be a vocalist. She's already keen on melody and singing in pitch." 
But what about other children who do not have that luxury, especially girls? Music programs are being uprooted while gender norms remain firmly implanted, making it especially difficult for female musicians to establish themselves. 
Female instrumentalists suffer from a lack of encouragement and a lack of visibility compared with their male peers, although they just as often display an interest early on. "I think around the age of puberty a lot of girls drop off. Before you hit puberty, you don't think about peer pressure. Then all of the sudden, girls are more interested in clothes and makeup. I had no interest in those things, but forced myself to conform. I thought I wouldn't be accepted."
Even after they accept themselves for the musicians they are, society remains slow to catch on. "I didn't want to play a toy. I didn't want it to be pink. I wanted to play the drums."
Miller, Melford, and Scheinman amply demonstrate that female instrumentalists are not to be underestimated. In tandem with the male half of Boom Tic Boom, they also demonstrate that jazz is not to be underestimated as a young, vital platform for self-expression, regardless of gender.
"A lot of kids think of it as 'old people music.' [That's why] every time I tour, I try to go to as many high schools and colleges as possible. And not charge $40 a ticket."
Mercyhurst University's Walker Recital Hall is one such stop on Miller's latest tour, and true to her word, the entry fee is set at just $9 for students and youth. If she can make a lap dog into a polar bear, surely she can make you a believer. A girl can dream, right? 
7:30 p.m. // 501 E. 38th St // miac.mercyhurst.edu/events/allison-miller-s-boom-tic-boom // adults $15, seniors & military $12, students & youth $9
Matt Swanseger can be reached at mswanseger@eriereader.com. You can follow him on Twitter @SwazzySwagga or read his blog at squanderoza.com.