An Entire Building as an Art Project
The FEED Media Art Center brings an ambitious vision to Erie's downtown
September 12, 2023 at 7:00 AM
The FEED Media Art Center is absolutely massive. In technical terms, it encompasses 50,000 square feet in a downtown space once occupied by Epp's furniture store. But that description doesn't capture the dizzying experience of walking through it. Its three floors each seem to expand indefinitely, offering boundless eccentric opportunities for artists. Expect plenty of exposed brick, passages with 30-foot ceilings, and multiple balcony overlays perfect for installations, pop-up shops, and performances.
This is not your typical "white cube" art gallery.
"The building itself is very beautiful, and a lot of artists respond to it in its raw, gutted state," says FEED founder Benton C. Bainbridge, who grew up in our region (Edinboro and McKean, mostly) and returned in 2021 after decades of art-making in New York City. When I toured the space in mid-August, Buffalo-based artist Bello Bello's interactive sculpture "Between Hue and Hair (2023)" greeted me near the entrance. This multimedia "self-portrait" consists of 24 rectangular cubes, featuring a combination of screens and physical objects. It's also interactive, engaging with the viewer electronically through video and sound, and utilizing machine-learning techniques as the experience takes shape. Taken as a whole, it stands a little taller than the average art lover — evoking the stacked amplifiers one might find at a stadium-sized rock concert. And there was room for about 10 similarly-scaled art projects on the entry-level floor alone.
Contractor Rob Shearer describes FEED as "a canvas and an innovation lab at once." His team (from Shearer and Son Contracting Services, Inc.) are in the midst of a multi-year renovation project in the space, dry-ice-blasting their way through decades of local retail history. "The process is as important as the product," according to Shearer, who is careful to preserve the architectural eccentricities he discovers along the way.
Benton C. Bainbridge got the idea for FEED as he was concluding a six-year artist's residency at the Andrew Freedman Home in the Bronx. As a multimedia artist fond of sculptural forms, he had been amassing a collection of old tube televisions – and running out of room to store them. Finding a cheap space near New York City proved impossible, which led him back to Pennsylvania. "I imagined I'd find a space big enough to store my TVs and make my own art. Maybe something where I could set up a cot to sleep on as well," says Bainbridge. Instead, he began monitoring a much larger space at 1307 State St. on Zillow. After a substantial drop in the owner's asking price, he drove out to see it, fell in love, made the purchase, and committed to establishing a media art center in Erie.
Bainbridge speaks with great affection about his early days in our region. "The art scene in Erie was very supportive," says Bainbridge. "I learned quite a bit about all kinds of art. Amongst other things, I was involved with the local performance art scene. I even showed work at Edinboro's Bruce Gallery when I was a teen, maybe 16 or 17."
Through WQLN, he was introduced to seminal video and media artists like Nam June Paik, Mary Lucier, Shigeko Kubota, and John Sanborn. This led him to begin experimenting with "moving image media artwork," as he puts it. "I would use whatever was available to me at that time, which meant checking out equipment from the high school AV department, or using the 'want ads' to buy whatever gear I could find. My stepfather actually had two VCRs because he liked to copy movies to watch again. So I would use that as a way to make video art — I would record TV commercials, and edit them together." MTV had just emerged around this time, which was also encouraging: "A lot of artists that me and my friends were into assumed that video was a medium equal to any other. Devo, Laurie Anderson, the Residents – all these artists had video incorporated into their live shows."
As fond as he was for our local art scene, his interests ultimately led him to New York City, where he earned a bachelor's degree from NYU's Tisch School of the Arts. Afterwards, his multifaceted career included exhibitions in faraway destinations like Indonesia, live performances at the Whitney Museum of American Art, a faculty position at Manhattan's School of the Visual Arts, and even a stint as the Beastie Boys' VJ during two world tours.
Since coming back to Erie, he's been as busy as ever. Presently, FEED manages two ongoing residency programs. About a dozen artists from places as varied as Berlin and Colorado have participated in their visiting artist program this summer. Concurrently, FEED's locally-focused Sandbox residency provides space to regional artists for a month at a time.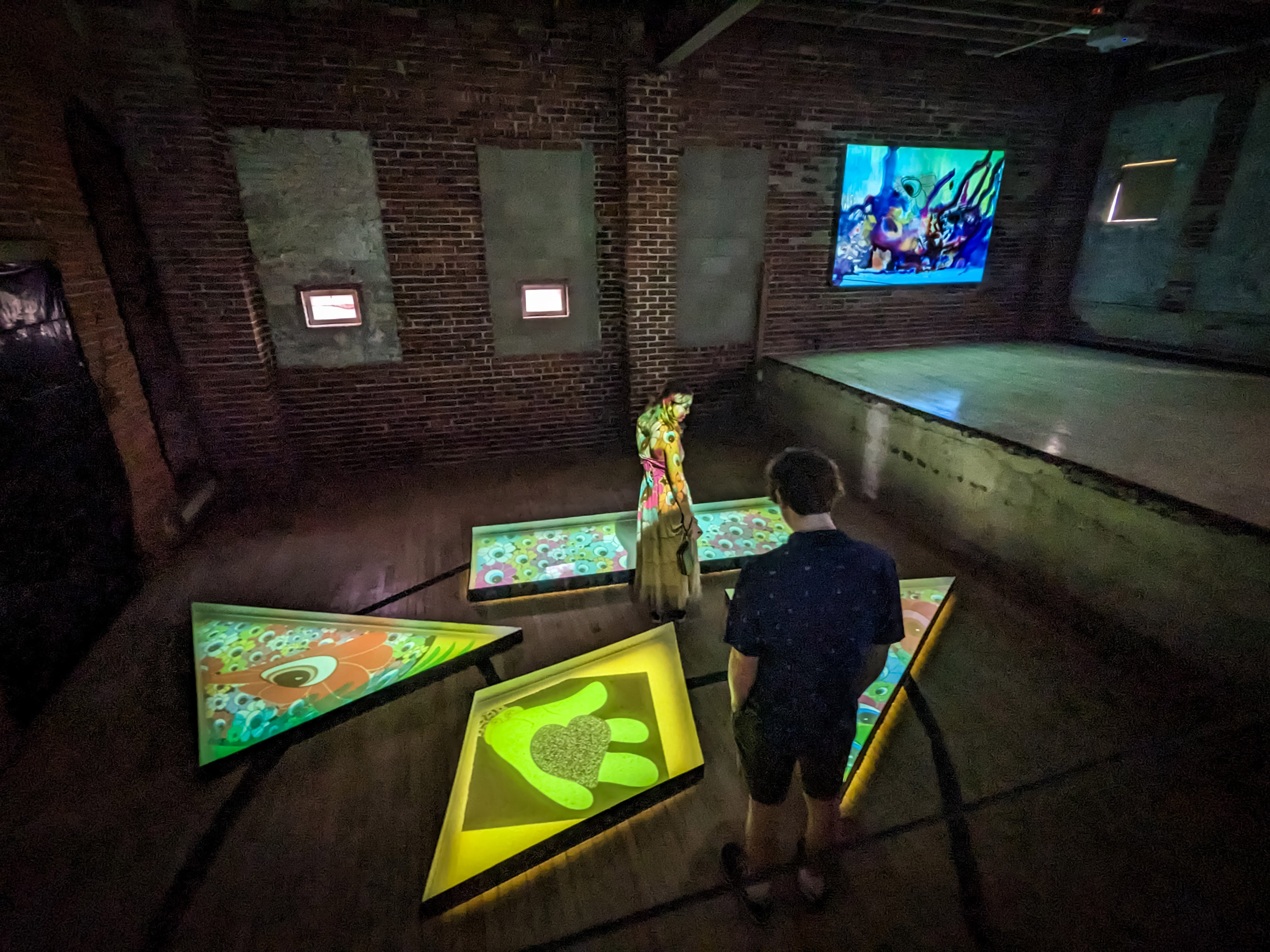 Noté Peter George, a Liberian multidisciplinary artist from New York City, recently showed his "Little Flowers" installation at FEED. Noté was the visiting artist in residence for Erie Arts and Culture in April 2023. (Contributed photo)
"Our motto is that life and art are one," says Bainbridge. "We focus on media art because there are other spaces in Erie to support plastic arts and the performing arts. And this is the one thing that didn't have a home previously. But we have an expansive idea of what media art is. And media art plays very nicely with other art forms. We have shows where media meets dance, poetry, music, painting, and sculpture."
As I type this, renovations have closed their main space until Labor Day, but a smaller, pop-up space titled FEED TOO is featuring work a few feet down the road. On the corner of East 13th Street, Statik Garments is currently running a pop-up shop of recycled and upcycled clothing. While you peruse the fashion, you can also check out video art by Betty Sweaters and Jetset.
Collaboration is essential to much of the work at FEED. Take, for example, the recent residency of Walter Wright, who Bainbridge describes as "one of the original visionaries of video art." The FEED founder was first inspired by Wright, unknowingly, at the age of six when he would watch the spin art animation included in episodes of The Electric Company, a classic 1970s kids show. As an adult, Bainbridge would learn that Wright was "one of the special effects artists making animations for the show with a device called the Scanimate." This summer, Bainbridge invited Wright for a residency where, a few weeks back, he collaborated with local musicians Joe Popp and Adam Holquist (aka onewayness) for a night of improvised electronic music. As the trio filled the giant space with sound, visitors could also explore media art by a variety of local and non-local innovators.
According to Bainbridge, "The building itself is an art project." Having made my way across its three floors, it appears to be an ambitious and expansive one. In its first year, partnerships with artists, musicians, designers, and innovators have put FEED on the map for local culture. Given its current momentum, it's exciting to imagine how it will fill all those square feet in the coming years.
FEED is located at 1307 State St. in Downtown Erie. Visit feed.art for more information.
Dan Schank can be contacted at danschank@gmail.com