Art After Hours at Scotty's Cigar & Martini Bar Features Eerie Eric Fargiorgio's "OUT OF MY MIND"
Get the low-down on Eerie Eric Fargiorgio'd upcoming art show. 
January 21, 2015 at 4:15 AM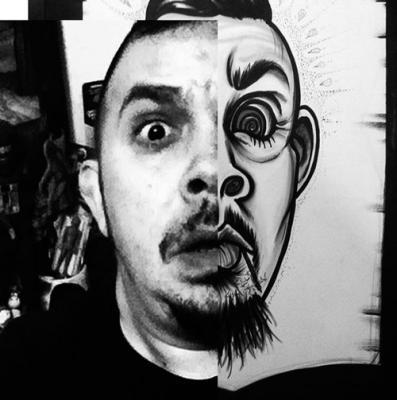 Amanda Ferguson has been a major force in Erie's art scene lately, promoting up-and-coming artists at events not associated with the usual gallery scene. One of our city's fastest rising artists right now is "Eerie" Eric Fargiorgio, and the event Amanda has put together for him is the inaugural night of "Art After Hours" at Scotty's Cigar & Martini Lounge. The plan for "Art After Hours" is to feature different artists at venues that will showcase their talents to people who might not otherwise see their work.
Eric takes his inspiration from the eclectic pop culture icons of his childhood – superheroes, Kiss, Lucha Libre wrestlers, and Betty Page, among others. His cartoon-esque paintings have earned him enough of a following that he was voted by you, our tasteful readers, the winner of Erie Reader Best Of Erie 2014 best tattoo artist and best illustrator (beating out yours truly for the latter honor). It's guaranteed that the walls of Scotty's will have some of Eric's famous Bigfoot and Mothman paintings for sale as well.
It is one night only and will have tons of pieces that have never been seen before including autobiographical comics from his younger days. Eric says that this show will be "a little bit of my mind poured out all over the walls." 
9 p.m to 1 a.m. Saturday, Jan. 31 // 301 German St. // Facebook.com/EerieEricF