Art Review: The Spring Show
Erie Art Museum recently unveiled the 90th annual Spring Show. What did Pen Ealain think?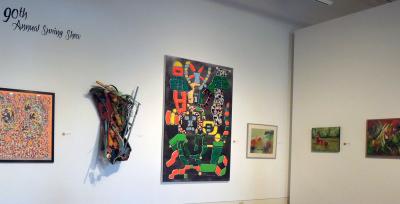 Acceptance into The Erie Art Museum Spring Show has, for 90 years, been the be-all and end-all realization of artistic achievement for any artist who takes him or herself seriously in the Erie region.
Did you get into The Spring Show this year? you hear asked wherever artists gather. The responses vary from delighted affirmations of, Yes, I have a large painting hanging just inside the first room, to dejected sighs of, No, not this time, to the often-heard, I've tried so many times that I've just given up... Well, maybe I'll get something ready for next year. You never know.
To sculptors, painters, and craftsmen within 250 miles of Erie, being in the Spring Show is equivalent to playing in the major leagues or performing on Broadway. It is confirmation that you have arrived – that you are a true professional and that you have been recognized as such.
Everything beyond the Spring Show is just icing on the cake.
Needless to say, everyone involved in this show approaches it with considerable seriousness. To the staff of the Art Museum, it is the centerpiece of an ambitious year of performances, art shows, movies, and educational programs. For Edinboro University of Pennsylvania, it is a chance to involve their students in a widely respected professional enterprise. For patrons of the arts and the community as a whole, the Spring Show represents all that is great about the Erie arts scene.
Year after year, when the Spring Show is viewed, people can't help but say, Wow! Erie really has talent, doesn't it? What an amazing display of ability, creativity, and passion!
Year after year, the Erie Art Museum Spring Show impresses and amazes, showcasing local artists whose talent matches or surpasses that of any city anywhere.
Until this year, that is.
Comments this year from artists and patrons alike have ranged from the tactful and circumspect, There are some good pieces here, to the outraged, What the [redacted] was this juror thinking?
Indeed, based on reports from connoisseurs who saw the work that was rejected by this year's juror, the opportunity to fill the gallery space with treasures of ingenuity and skill was frittered away. It appears that the show was picked based on whatever amused this year's juror rather than more objective criteria such as originality, craftsmanship, or narrative content.
This year's juror, Alexis Rockman, knows how to handle paint. He knows how to tell a story. He knows how to connect with an audience. His art is full of movement, depth, and fantasy. The size and scope of his paintings could be called epic. Several pieces in the Spring Show this year strongly reflect those traits and can be included in the category of great art.
It would behoove lovers of painting to come see the Spring Show just to see Jamie Borowicz's five-foot tall diptych, which depicts nature's infinitesimal detail with lyrical precision. There is a reason this painting won the NPAA award, which is voted on by an elite group of Erie's finest artists.
Rachel Burke also has a canvas that dominates a wall with layers of texture, grid-lines, and slashing brushwork that only resolves itself into an industrial landscape when viewed unobstructed from across the room. Another large work fires the imagination in a way that reflects the huge narrative paintings of Rockman: a tightly rendered graphite fantasy drawing of translucent dogs bursting into a room where a stag rears. Western New York artist Elizabeth Gemperlin leaves the viewer wondering where reality ends and fantasy begins and juxtaposes the structure of a manmade interior structure with the chaos of nature overtaking the space.
On the smaller side, but nevertheless just as intriguing, is one of this show's underrepresented three-dimensional pieces. Newcomer Corrine Ford is a college senior who was practically busting with pride after winning a Juror's Award for her soft sculpture, "David." With a rib-cage aluminum frame encasing viscera made of fabric and stuffed like a teddy bear, she explores contrasting ideas of hard/soft and repulsive/snuggly. A sculpture using such traditional craft materials to express such ideas is an exploration in contrast itself.
Such wonders are few and far between, however.  Of course there are many other pieces in the show that are worth spending time with, but unfortunately many of the photographs and paintings surrounding these are mediocre – and some can be called just plain awful. There always seems to be one piece every year slipped into the show that leaves viewers wondering how it got in, but in this year's show, such works seem to show up on every wall. There is a pen drawing of downtown Erie with no variety of line, depiction of depth, or interesting focus. If it was handed in for a grade in a high school drawing class, it might get a "B."
Presented in this show is a swirling, brightly colored painting of a lion and a lamb that is so cliché and amateurish that many viewers at the opening of the show walked by it, shook their heads, and chuckled out loud. They only stayed amused for a short while before being confronted with the unsightly monstrosity next to it: a doorway-sized painting of nude figures done in gaudy flat primary colors so distracting that it is hard to remember the rest of the artwork in the room. Why Rockman, a man intimately familiar with professionalism and quality in visual art, would pick such work for such an important show is exasperating.
It is hard to believe that Rockman took his job seriously at all. Witnesses to the jurying process reported that he dismissed wonderful sculptures with a wave of his hand. Paintings of sumptuous color and exquisite detail that could keep a viewer occupied for hours were barely glanced at. One would hope that an artist given the honor of jurying such an important show would respect the people of Erie who care so much about our foremost visual art showcase. That does not appear to be the case this year.
This is, however, a necessary risk the organizers of this unique show take every time the show is juried. A guest juror of national or international significance is always called upon to select a small number of works from hundreds of the best of our region.
Sometimes that juror gives it their all. The juror uses knowledge, skill and wisdom acquired from years in the vanguard of the art world to give due justice to other skilled artists.
But it is not a perfect process. Vanity, distractions, fatigue, hidden agendas, even the environment in the room where the jurying process takes place, can all effect what a juror picks for the show. Maybe next year, all these forces will align to give Erie a Spring Show that again will showcase the best that Erie's artists have to offer.
The Erie Art Museum is located at 411 State St., Erie, Pa., but the entrance is just around the corner on East Fifth Street. Museum Hours: Tuesday to Thursdays 11 a.m. to 5 p.m., Friday 11 a.m. to 9 p.m., Saturday 11 a.m. to 5 p.m. and Sunday 1 to 5 p.m.
Pen Ealain can be contacted at PenEalain@ErieReader.com.