Basement Transmissions: Counter-Cultural Center For The Arts
Kicking off with a fundraising event September 9 and 10, Basement Transmission looks to be a place for art and music to thrive.
September 8, 2011 at 9:48 AM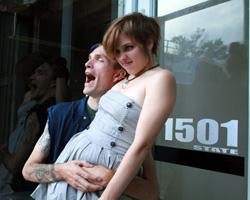 Enter the first door after the rail bridge on downtown?s State Street, just past the jagged white teeth and gaping jaws proclaiming Basement Transmissions in the window. Scrawled in red letters on Erie?s cultural main street is the culmination of a dream.
A gallery where unconventional and unknown artists can flourish. A venue to finally nurture the musical aspirations of the under-21 crowd. A studio space to share the many gifts of artistry with wide-eyed students. 
Standing outside 1501 State Street, dwarfed by the massive glass mouth of the building, BTR founder Bob Jensen and I had long finished talking business and gotten into our current prospects on luck and love.  It was before the signs were hung or the stage was built and just a couple days after I?d gotten the text message from Jensen saying, ?I have the keys.?
He deeply inhaled the city heat that comes in the throes of August and said, ?None of this would be happening without Jordan.?
Jensen started putting on shows fresh out of high school, crashing VFWs and even the 1501 space back in the day. He began BTR, quite literally, in his basement back in 1998. He started recording and releasing music, providing hand-sewn or metal-etched album cases in limited runs for some of Erie?s most influential bands the likes of Never Say Never, Black Rose Diary, Pegasus Unicorn, and The Magdalenes. At the collegiate level, art became an integral component in his life and he began to fuse the auditory with the visual.
?We were just putting art shows together on the fly and making exhibitions happen,? Jensen recalled, the excited tempo of his voice giving away his passion for the craft.
Caught up in a musical and educational tidal wave, Jensen passed the reigns of BTR to John Johnston back in 2003. Jensen continued crafting and creating music for such bands as Pegasus Unicorn and Jargonauts while completing graduate school at Edinboro University. Jensen made Loveland Hall the home of his metal-made fantasy realm and knew this would be the place he would find her.
Enter Jordan Walker ? artist, model, social networking guru and cofounder of the new BTR venue. Jensen is left speechless, or, well, stuttering. And Walker is smiling, having snared up one of the scene?s most eligible bachelors.
?[Jensen] and I are in a very tight relationship and obviously very much in love,? said Walker. ?We have the same thought frequencies and interests, so it makes it easier to work as a team.?
With the inspiration of love and the help of many dedicated artists, the physical incarnation of BTR stands tall and will host its first fundraising event, Unearthing The Underground, on September 9 and 10. Featured artists Eerie Eric Fargiorgio, Ken Johnson, and Justin Blair will present gallery displays. And, between the hours of 5 and 10 p.m. on both nights you can take in the ambiance with a soundtrack of local bands. Friday breaks in the brand new stage with Susan, Be Anthony!, Johnny James And The Absolutes, and Planet Claire. Saturday wraps up with Manslaughter Mourning, Graveyard Gorefest, Squid Vicious, and The Couchriders!
?[These artists] don?t typically fit into the gallery circuit in Erie,? said Jensen. ?They?re a little more into making art for the sake of art as opposed to selling art.?
And while this preliminary event features some of Jensen?s top picks, the gallery space will be available for rent to artists seeking exhibition, regardless of the opinions of the mainstream.
?Many local galleries tend to have a specific agenda and will only display work that caters to the potentially narrower mindset of their audience,? said featured painter Johnson. ?While this is perfectly understandable in the way of sales, I feel that in order to broaden the community's horizons, so to speak, an alternate gallery that doesn't follow the norms or trends of the day is needed.?
A permanent display will provide a place for lovers of the unconventional to find a multitude of work and merch from local artists and musicians. Live music for people of all ages will fill the space three weekends out of the month, with these time slots available to rent for promoters. The fourth weekend will be dedicated to BTR shows.
?[Art and sound] go hand-in-hand,? said tattooist Fargiorgio. ?I can?t even squeeze out oil paint from the tube without listening to music.?
BTR will also be releasing a compilation CD for Unearthing The Underground featuring many of the acts playing the fundraiser, as well tracks you may or may not have heard while roaming the bar scene.
Working on the artwork for the comp CD, Walker goes to painstaking lengths curled up to her sketchbook yet still manages to lounge against BTR?s ominous, glimmering windows. I can imagine myself standing outside this counter-cultural phenomenon regularly, scheming with Walker, plotting with Jensen, taking in the sights and sounds.
?Although this is such a new thing for the both of us,? said Walker, ?we feel it's going to conquer our dreams.?
Finally, a space for those who had no place. Let?s see what the artists from the darker regions of our city have to offer.