Celebrating the Possibilities
The Barber National Institute's Annual Art Gala kicks off on April 10.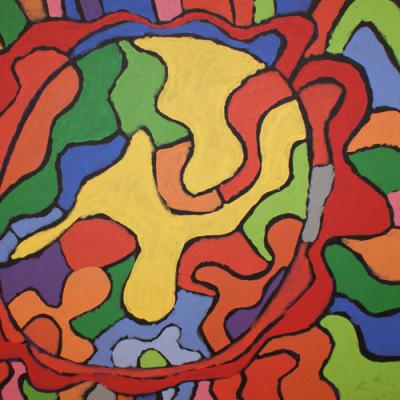 I just love the Dr. and Mrs. Robert Guelcher Art Show and Sale. Celebrating the visual arts in so many ways makes me all kinds of happy! Swirling abstract sculpture, decorated furniture, brightly glazed ceramics, masterful watercolors, and picture-window-sized murals all have a place in this show. All of it is from Erie-area artists. Five-hundred works: that's a huge show! And it's not too much to take in either, because the pieces are spread out in half a dozen spacious rooms with plenty of wall space to keep the show from feeling crowded. During the second weekend of April, the main building of The Barber National Institute becomes a showplace for artists ranging from preschoolers to Erie's elite masters.
What's not to love?
For art buyers, this is a great opportunity to discover up-and-coming artists who aren't yet confident enough to try to make it into the Erie Art Museum's Annual Spring Show as well as talented amateurs who have been working in obscurity for years. Paintings and drawings can be snapped up dirt-cheap. You could take home a painting from someone who is unknown today but could be the next golden girl of the New York gallery scene.
Gudrun Richter has some chops. The handling of color in her oil painting "Winter I," reminds me of the work of Joseph Plavcan.
Or maybe you are a serious collector who follows the careers of Erie's exceptional professionals. Here is where you can take home small, pretty nature paintings by John Vahanian, or one of my favorite paintings anyone has done in Erie recently, Joe Kroll's "Remnants." Michael Camp has hung a pastel called "Elk Creek Afternoon" that is the most fluid and smooth work I have seen him do.
And artists love this show because work here sells. That's great for the public who wants to see new and original art because it makes this show more popular with those who wish to show to a large crowd. Each year, creative people bring more art to hang. And each year, more people come to see it. That makes even more artists want to exhibit next year… It's the perfect storm: A hurricane of creativity feeding on the warm air of an Erie Spring.
This year's show should be even better than the last one, and next year's will probably have even more contributors and a tremendous audience to buy their work. And of course, the entrance fees and sales commissions all help support the Barber National Institute and their important work.
You probably know a lot about the work they do. Dr. Gertrude Barber and the organization she founded have been supporting those with special needs in our community since 1952. They have a worldwide reputation and should be a major source of pride for anyone who hails from this area. You may not know that one of the coolest things that happens at the Barber Center is the art being made there. And some of it is pretty dang awesome.
In this show, there are two pieces especially that I would love to hang on my wall. Both of them are 40 inches wide though, so alas, with my limited wall space, that is not to be. Maybe a restaurant, doctor's waiting room, or nursing home lobby could find space for the pulsating disc of "Psychedelic Sun" or the comforting American vision of "Home of the Free." Either of these pieces with their vibrant hues and cheery subject matter will certainly gladden any space. Made collaboratively by six to nine people in the Barber community, each piece was conceived by a lead artist whose creative spirit formed the template upon which the others painted. The results are quite stunning and would fit in well alongside anything in the Modern Wing at the Met.
If you are a teacher or parent and wish for inspiration for fun and inventive projects to do with the kids, this is the place to be wowed. Lots of local schools contributed their students' best work. Last year, I was particularly impressed with the creativity coming out of the Erie Day School. This year, Holy Family makes a particularly strong showing. You will laugh out loud at their second grade collaboration, "Aliens Love Underpants." There are a pair of fifth grade mosaics called "My Theory of the Revolution" and "Freedom Tree" from Erie School District's gifted program that have professional finish and thoughtful progressive messages. The art of photography has a bright future if the youth photos are any indicator. Carrie Biebel from General McLane impresses with a bold composition and rich tonality in her work "Muscle Car."
Many other youth works are worth seeking out: "Nature;" a mixed media by Norah Dana, "Fall: Pile of Leaves;" a bright wooden collage by Norah and Jack Dana, "Colorful Blocks;" a small architectural landscape painting done at the Neighborhood Art House by Shaan Patel, and Collegiate Academy freshman Audrey Ward evokes the spirit of the Day of the Dead with her clay candy skull.
A piece by ninth-grader Andrea Hecker is an especially fitting metaphor for a show that brings together so many varied and special people from our community and shows off so many diverse talents: It is a collage of a tree growing tall and strong with hundreds of puzzle pieces for leaves. Like that tree, this show itself is a metaphor for the Barber Center: Strong and useful, branching out to cover our whole community, drawing strength from and in turn nurturing the thousands of colorful lives it touches.
The 8th Annual Dr. & Mrs. Robert Guelcher Art Show and Sale: "Celebrating the Possibilities" // 10 a.m. to 8 p.m. Friday, April 10 (public wine and cheese reception from 5 to 8 p.m.) Saturday and Sunday, April 11 and 12, noon to 3 p.m. // Monday, April 13, 1 to 6 p.m. // Thew Barber National Institute, 100 Barber Place (near the foot of East Avenue) North entrance
Pen Ealain can be contacted at PenEalain@ErieReader.com.