Charles "CEE" Brown Speaks His Heart
Breaking through barricades in hip-hop
February 3, 2022 at 4:00 PM
When it comes to Charles "CEE" Brown, his musical and creative talent is only the beginning of the story. Those who know him best describe Brown as an artist, entrepreneur, and Renaissance man. From writing, producing, and creating music, to directing videos and performing, Brown has a clear vision of who he is and what he wants to say. And he finds plenty of avenues to speak his heart. Active in the community, advocating for mental health, uplifting other artists through journalism, and modeling for local clothing companies, it's clear Brown is not afraid to love Erie — or hard work. And his perseverance, drive, and determination, keep him propelling forward in a tough industry.
Brown first gained traction as an artist by transforming his poetry into songs and making hip-hop beats. The grandson of local jazz legend Mary Alice Brown, music became part of his life at a young age. He began playing keyboard and piano at the age of eight, which he still plays to create music today. Drums started later at 10 years old, but Brown says he never took them seriously. He credits his best friend Jeremiah (Jerry) Mook, a former rapper he met when he was eight years old, with encouraging him to start rapping. "He really pushed me into rapping and for that alone, I thank him," said Brown.
Mook and his cousin Sean Knox were actively rapping and needed original beats. Brown became their beat maker and producer at the age of 12. Fast forward years later, Mook and Brown started writing a song together just for fun. "I could always write, but I was scared to rap," said Brown. "Jerry insisted that we recorded the song at Sean's that night. After that session, I fell in love with rapping."
Legendary local rapper Hectic (Hector Perez), asked Brown to be on one of his singles in 2010, which pushed his name to more people before he began releasing his own projects. "When my first two CDs dropped in 2011, I was doing whatever to get those mixtapes out to people. I used to leave a stack of them in the men's bathroom at Blasco Library. I would go to other artists' shows to have people familiarize themselves with me and network. And I was a frequent collaborator. I would hop on a track with damn near anyone to tap into their fanbase," said Brown.
Brown began marketing and promoting himself across town by attending open mic nights at places like The Crooked I, a former State Street hot spot. He collaborated with bands outside of the genre such as Teatime For Three, This American Song, Six Year Stretch, The Trohoske Trio, The Galactic Duo, Falling Hollywood, and others. He began building a fan base that crossed all ages and genres. Brown credits Iggy of 2189 and Jon Box of The Box as two people who booked him for multiple shows that allowed him to have more recognizability in the city.
While many artists have struggled during the pandemic, Brown had planned to step away from the stage and has used the time away as an opportunity to thrive, often retreating into his studio for hours to create. "I had to sacrifice some things and also not be around those who aren't as passionate as me, as well as [those who are too] controlling, in order to get to this mental place that I'm in now where I can create freely and uninterrupted. I love it. I'm finally home," said Brown.
During the past few months he has released a new single and video, "The Barricade," as well as the "7am on Bridle Path Remix" video on YouTube. "'The Barricade' was just a single. I wasn't trying to hint at a future project upon releasing it. It was just me being creatively free and wanting to give the people something even if they don't want it. I love doing random songs and music videos, " said Brown.
His latest release, due out soon, is a sequel to his popular 2011 Love Tales project. "I didn't expect to go in this direction but I started getting that old groove back with certain themes and I can't stop. Another project might be on the way too. As long as I stay away from people who don't care about music, people who want to try and control me musically, and other distractions, this could possibly be my best year as an underground artist," said Brown.
Known for his creative story-telling and introspection, Brown is a conscious rapper, and his music often features deep emotional subjects such as suicide, heartbreak, and loss. He has addressed losing both of his parents, police brutality, his experience with homelessness, and other pressing societal issues that many artists tend to shy away from. "The beauty of being an independent artist is that you call the shots," Brown said. "There is no one over you trying to take creative control. I keep my artistic integrity."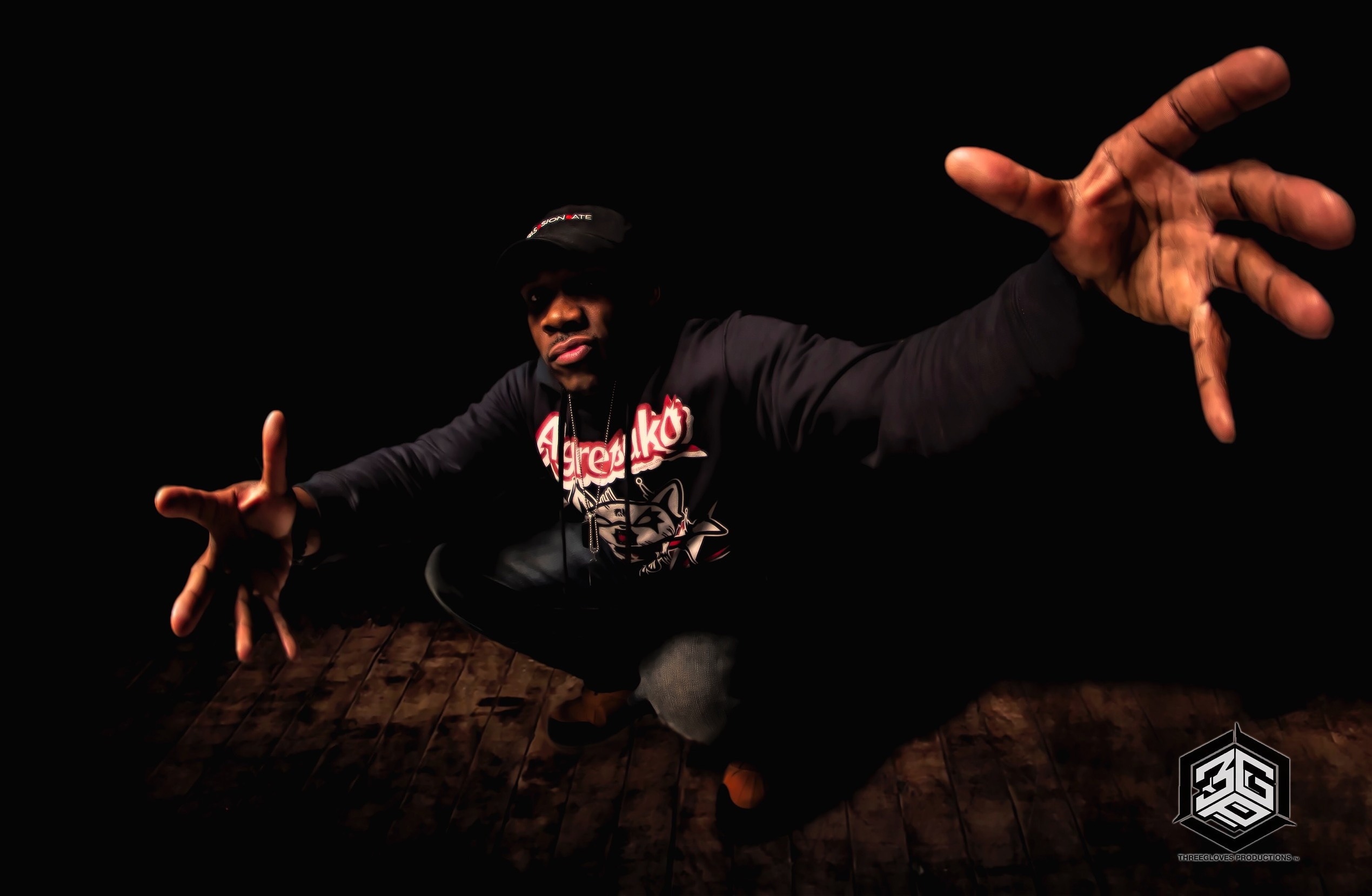 Photo by Howard Glover/Threegloves Productions
He writes many of the treatments to his videos in a cinematic style, taking you on a journey full of rich symbolism, much like a movie. "Brooklyn videographer Howard Glover, also known as ThreeGloves Productions, took my visuals to another level. I waited around two years to get a video done by him because he was in high demand, but I knew that we had to work together at some point. Now, I believe that we have the most videos together in the area," said Brown.
He's also working on his own movie, a documentary of his life, with Xhibit One Productions of Erie. "So far, we've captured a lot but we haven't gotten into the meat and potatoes just yet. But, it's been fun. I didn't want to do a documentary because who am I? But, I have accomplished a lot and I have interesting perspectives on life. I guess this is a good time to do one," Brown said.
Working with some of the biggest names in the rap business, Brown has opened for Ja Rule, Meek Mill, and collaborated with Ras Kass. Through his long-time close friendship and working relationship with Erie native and producer PA. Dre, Brown has most recently contributed to several projects with RJ Payne, a Brooklyn-bred, Philly-groomed battle rap legend who has been co-signed by Ice-T and Eminem. Brown also contributed to the highly anticipated upcoming solo alb​​um of Inspectah Deck of Wu Tang Clan, though many of the specific details are under wraps.
"When I do work for people such as RJ Payne and Inspectah Deck, I'm using other talents aside from rapping. I'm usually asked to sing a hook or create a skit/intro. It's a true blessing, but I'm really waiting on that text or phone call saying 'We really need a verse.' After all, that's what I'm here to do — rap! At the same time though, I don't let any of these opportunities get to my head because I still work regular jobs and it's so frustrating knowing that you've worked with someone legendary but still have to 'push a mop.' It's a tease. But definitely be on the lookout for what I did for Deck. I played a few different roles in his album. I'm super grateful," said Brown.
Not only has Brown created for some big names, he is also a big name in his own right. Due to his relentless work ethic, Brown has garnered many local music awards and accolades, becoming the only Erie hip-hop artist with 13 music awards (including Best MC in our Best of Erie Awards each year from 2015-20). He performs as a solo artist and with his band, The CEE Brown Experience, with whom he plans to do more. Throughout the years, he has acted in movies and commercials, performed voiceover work, produced music for commercials, hosted events, and is also a public speaker. Brown has worked with the Erie Philharmonic for their youth concert and was a co-writer and main narrator to the short film This is Our Erie. Living an entrepreneurial life, Brown works several jobs that allow him the flexibility to work on his music and take on creative projects. He is also a freelance journalist and regular contributor to the Erie Reader, Erie Times, and Validated magazine.
"I look at my life now and realize that I don't want this to be it forever, juggling certain jobs that I don't necessarily like, dreading to go into work, boss calling you about bullshit, trying to manage money that isn't enough, living unfulfilled, etc. I'm in a better emotional state than before but I'm not completely happy with my life. I love music! I'm an addict for it and that should be my main profession. I'm not here to be employee of the month or work a bunch of hours to receive vacation time and my vacation time at that. Some of these jobs don't care about us anyway. My callings are these rhymes and beats. If I don't push for it, then I'll always live a life where I'm borderline miserable and regretful. I would rather die than not live out my dreams," said Brown.
Since 2011, Brown has released numerous singles, videos, and ten projects (mixtapes and EPs). "I've never done an album before because I've always been scared to, honestly. An album is a well-thought-out project both lyrically and sonically. I would hate to call something an album and it doesn't reach the standards of what an album should be," said Brown. Ever humble, he attributes his success to hard work, his love of music, and the ability to market and promote himself well, especially in a town that is not always easy on independent, original artists. Brown says he has no plans on slowing down and is really just getting started.
"I am who I am. I have embraced the fact that I'm an artist. I've been one since I was a child when I used to do illustrations in my sketchbooks. I create. No more shying away from that. So, to the reader, you shouldn't shy away from who you are either."
To keep up with CEE Brown, subscribe to his YouTube page and follow him on Facebook, Instagram: @ceebrown88, Twitter: @CEEBrown814, or log on to his website at ceebrown.com
Discography
​​The Conviction (2011)
Love Tales Vol. 1: Love Hard to Lose Hard (2011)
Delirium (2012)
Delirium: Revelation (2013)
The Charles Brown Project EP (2014)
Looking Down at the Sky (Collaboration with PA. Dre, 2014)
The Feels EP (2016)
The Evaluation EP (2018)
Sunset: The Charles Brown Collection (2020)
Note 2 Self. Note 2 You. EP (2020)
Amy VanScoter is a certified yoga and meditation teacher at PACA and SchoolHouse Yoga in Erie, and a marketing and communications professional. She can be reached at avanscoter@gmail.com