Christmas Chestnuts get Roasted
PACA presents Every Christmas Story Ever Told (and then some!)
December 10, 2014 at 8:15 AM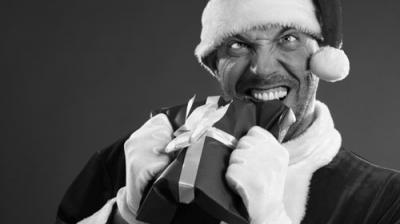 Warning: You may not want to bring the youngins.
On Dasher, on Dancer, on Charlie Brown and the Grinch. Wait, what?
Every Christmas Story Ever Told (and then some!) starts out innocently enough with a community theater gearing up to produce A Christmas Carol by Charles Dickens… for the umpteenth time. Three actors, dead set on trying something different, steal the show (literally) and decide to roll a bunch of holiday favorites into one big, fast-paced extravaganza that parodies just about all the beloved holiday classics, from Victorian tales to more modern day television favorites. They throw in some send-ups of holiday traditions around the globe and add music to boot. 
What results is, according the official event description, "a madcap romp through the holiday season." "This play is ridiculously funny and zany", says Mark Tanenbaum, PACA's director. "Like the Keystone Kops meets The Three Stooges at Christmas."
Three well-known local funny men, Ken Falkenhagen, Aaron Pacy, and Jeff Rodland take on these hijinx, and, of course, hilarity ensues with a lot of pratfalls, skewering of holiday icons, and much merriment. Santa gets a little tipsy, fruitcake is discussed in terms that may not be suitable for children, and, let's just say that you may have never met this Frosty the Snowman.
 Written by Michael Carleton, James FitzGerald, and John K. Alvarez, Every Christmas Story has been performed across the country to rave reviews (and at much higher ticket prices). From what other reviewers have mentioned, it makes fun of the holidays and our traditions, but shows us how valuable those traditions are at the same time. Tanenbaum adds, "It's spoof, but it means no disrespect."
Whether you like your holidays full of reverence and gravity or you sometimes see the ridiculousness in it all, you'll find something to like here. Who doesn't like a few roasted chestnuts?
 Hurry. Only two shows left. 
 Doors: 7:30 p.m., curtain: 8 p.m. Friday and Saturday, Dec. 12 and 13// PACA, 1505 State St. // $10, $5 Students w/ID // BYOB w/ ID // PACA1505.com/tickets