Christmas Comes Early with Holiday Tour of Homes
Celebrate the holidays early through the Erie Philharmonic's Holiday Tour of Homes.
November 8, 2017 at 11:15 AM
Saturday, Nov. 11
No need to wait until December when you can celebrate the holidays early through the Erie Philharmonic's Holiday Tour of Homes.
The annual self-guided tour, which serves as one of the area's first holiday events, features a mix of local businesses and private homes, decorated for the holiday season.
"I think people should attend to start the holiday season on a great note," said Lisa Herring, the Erie Philharmonic's director of community impact. "I love that we are the first holiday event in Erie; it kicks off the holiday season."
A revival of the area's "Holly Trail" (in the 1990s), the Holiday Tour of Homes has consistently brought in sizable crowds. Last year, just under 1,000 people visited eight local homes and businesses during the two-day period. As the event enters its third year under the Erie Philharmonic, Herring expects a similar crowd to visit the seven participating locations this year. When attendees purchase tickets, they receive a brochure with a map. They can stop by each home within a set period on either day at their own pace.
On the business side, participation includes the Otto Becker Mansion/Kingdom Financial Group on W. Sixth St., decorated by Esther Elliott; the Woman's Club of Erie on W. Sixth St., decorated by participating local florists; and the Mizner Law Firm on W. Sixth St, decorated by Trellis.
Four private homes include those of Bob and Diane Banks in Erie, decorated by Allburn Florists; Sandra Jarecki in Fairview, decorated by Potratz Floral Shop; Duane Bennett of Erie, decorated by Larese Floral Design; and Mark and Rae Jean Catrabone in Millcreek, decorated by Gina Paris Design.
"They open for us to use at no cost, and we bring professional decorators," Herring explained.
The decorators — including Sandy Blazek, the owner of Trellis — are volunteers, too. An experienced designer, Blazek has been decorating since 1991 and owned her own shop for nearly nine years, but it's her second time participating in the Holiday Tour of Homes.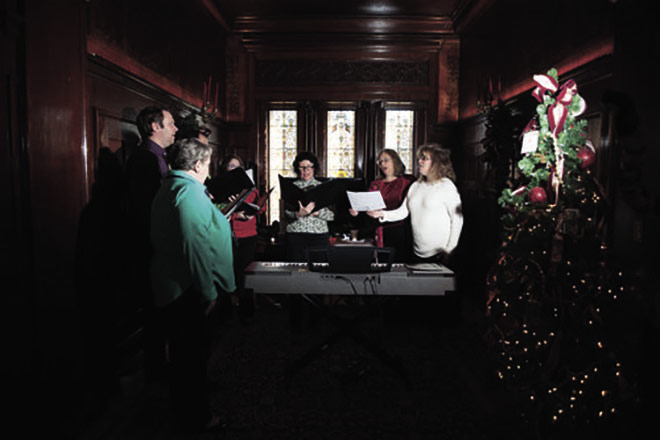 "Because [the Mizner Law Firm] is Victorian, I didn't want to reinvent the wheel," she said in regard to the decorations she's chosen.
She intends to use rich warm colors and "nothing really modern or lavish."
Additionally, some locations will feature live music like the Junior Philharmonic or carolers.
Tickets can be purchased online in advance or at either the Mizner Law Firm (311 W. Sixth) or the home of Mark and Rae Jean Catrabone (5426 Pepperwood Circle, Millcreek) the day of the event. Proceeds benefit the education and outreach program through the Erie Philharmonic. — Tracy Geibel
Saturday 11 a.m. to 4 p.m., Sunday noon to 4 p.m. // Various locations // $15 in advance, $20 day of // 455-1375 // eriephil.org/hometour