Christopher Bell to Redefine How a Cello Can Be Played at the Rook
Christopher Bell isn't who you'd imagine when you think of cellists.
April 15, 2015 at 5:00 AM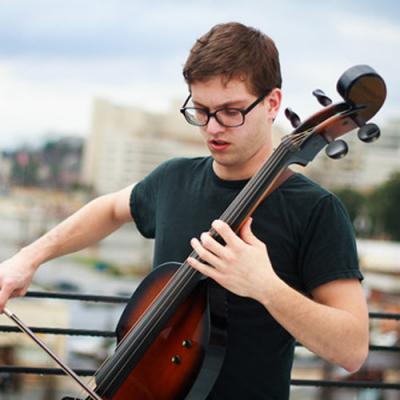 When you picture a cellist, you probably imagine a classical musician, in an orchestra, seated and dressed in a button down and black slacks.
Now wipe that picture out of your mind and check out Christopher Bell, who's playing at the Kings Rook Club Saturday, April 18. He wouldn't look out of place at your local bar – beard, glasses, hoodie. And yes, while he does remain seated for some of his songs – how else do you convey the appropriate gravitas of a slowed-down rendition of AC/DC's "It's a Long Way to the Top (If You Wanna Rock 'n' Roll)?" – he's just as likely to treat his cello like a guitar.
Standing, he slings his cello against his body, plucking the strings, striking the body, every once in a while tapping a loop pedal with his foot (Jimmy Fallon's been known to use the technology on his show – like looping "The Lion Sleeps Tonight" with Billy Joel). The effect allows Bell to layer sounds while he plays and sings. Want to see him in action before the show? Look up his cover of Paul Simon's "You Can Call Me Al." And then smile the rest of the day.
Fair warning, the show is open to members and their guests only, but you can pick up a yearly membership at the door for $10 (I mean, $10 for a show is practically a steal, but for an entire year? Do it. Consider it an investment in your musical future.). Christopher Bell will be joined at Kings Rook by local violist and vocalist Abby Barrett of Potwhole, so get ready for a night of toe-tapping, unconventional string music. — Sara Toth
9 p.m. April 18 // Kings Rook Club, 1921 Peach St. // Tickets $10