Coming Full Circle
Legacy, community, and pop-culture theology at the Erie Philharmonic  
January 3, 2018 at 2:00 PM
Walking into the stage door of the Warner Theatre is an exhilarating experience, whether the stage is empty and dark or whether stagehands and roadies are bustling under the lights, setting the stage for one of the many rock and roll bands that have come and gone or a traveling Broadway production that utilizes all of the stage at the soon-to-be 87-year old movie house-turned-performing arts theater.
There's an energy that permeates the theater anytime, curtain down or up, footlights dark or aflame. But there's a particular energy that permeates the Warner stage when it's filled with 60 professional musicians, many of whom travel to Erie to join their local peers in the Erie Philharmonic. Musicians in rehearsal have a particular anxious ease to them as each note they play bounces back at them from the distant walls of the empty house. It's a sound they can appreciate at dress rehearsal, but it's a sound they loathe on performance night.
Erie Philharmonic Executive Director and Erie Reader "40 Under 40" alum Steve Weiser understands this. "I know what it's like to be a musician and look out to see that the hall is only half full of people and I don't want that feeling to pass on to any other musician," says Weiser. "I take it personally."
Weiser's been leading the business end of the 104-year old orchestra since 2015. Prior to that he played percussion for both the Erie Chamber Orchestra and the Erie Philharmonic. As a musician who moved into the management of a large organization, he appreciates the tension that exists between an organization which literally performs its basic function hoping that seats will be filled and the expectation that an organization like the Philharmonic will continue to build an audience as it meets its mission and builds its brand.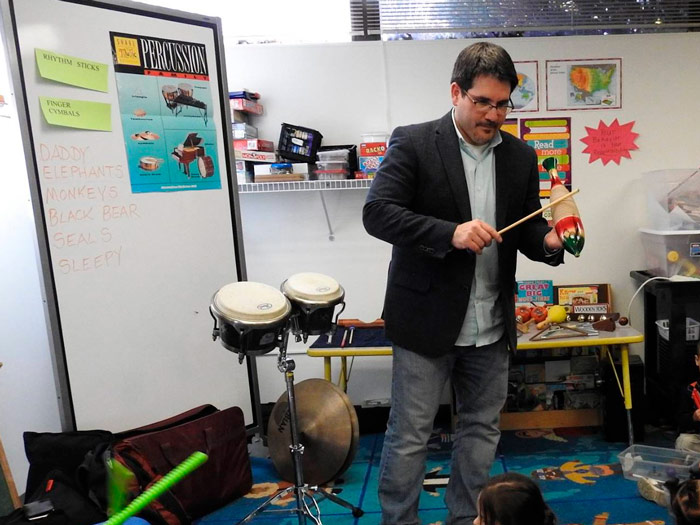 For the past two years, Weiser and the staff of the Erie Philharmonic have retuned the mission and work of the orchestra by engaging in community outreach and programming world class performances, which has led to record ticket sales and national recognition for the orchestra and the organization.
"The Philharmonic has always engaged in various forms of outreach," says local attorney W. John Knox, who has been involved with the Erie Philharmonic for more than 30 years and now serves as president of the organization's board of directors. "However, the outreach that's being done now is much broader, much more robust, and in many ways has become the focus of the organization on par with giving incredible symphonic and pops concerts. It's much more involved with the community than it ever has been."
Among its myriad community outreach projects, the Philharmonic offers master classes for young musical standouts to work with artists like renowned pianist Emanuel Ax and Broadway star Lisa Vroman, among others. But Phil outreach isn't just focused solely on those hoping to one day accompany such virtuosos. It's more often about introducing new audiences to orchestral music and enriching the lives of those in a community that is too often recognized for the negative effects of economic downturn and the trials of postmodern life.
That's why the Phil orchestra in 2017 played free youth concerts for nearly 6,000 Erie County elementary and middle school students, offering free busing to all public schools in the city of Erie. Those concerts are the culmination of an academic curriculum designed by Weiser & Co. and delivered to area music teachers at the beginning of the school year so that, by the time these students arrive at the Warner Theatre, they know the instruments that comprise the orchestra, they've built an appreciation for the music they will hear and, perhaps most importantly, they are offered ways to connect the musical performance they hear to some other aspect of their life. The curriculum is rooted in common core standards and includes pre-test and post-test materials as well as interdisciplinary lesson plans and listening guides.
When the kids aren't coming to the Phil, the Phil goes to them with visiting artist programs and long-term residencies in community centers across the city. Between August 2017 and February 2018, teaching artist Melany Myers will visit classrooms at the Early Connections Learning Center more than 60 times fostering musical skills and appreciation in preschool students, which research has shown to impact cognitive development in other areas, including speech and reading as children prepare to enter kindergarten.
"The only caveat of bringing in Emanuel Ax for five days was basically that we had to abuse him," Weiser quips. "We had to show him that if he was going to come to Erie for no money, that we were going to effectively utilize his time."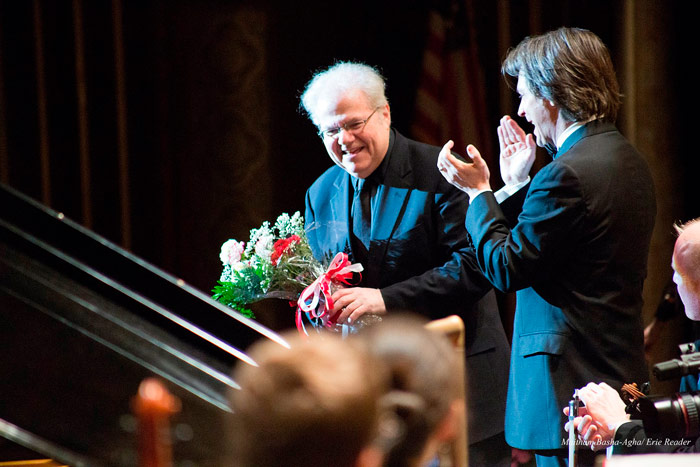 Ax is one of the most sought-after and renowned pianists in the world. He came to Erie for a week last March for no fee as part of a community outreach program that ultimately led to the Philharmonic's first symphonic sell-out in 26 years and a $100,000 gift from Erie Insurance Chairman Tom Hagen.
Less than an hour after arriving in Erie, Ax found himself inside Emerson Gridley Elementary School, which wasn't necessarily a forgiving environment for a classical pianist. He played there for 200 kids in a wrestling gym on an upright piano that had just been donated to the school by the Erie Phil the month before.
"Here you have a living legend playing on a crappy upright piano to a gym full of kids," Weiser remembers. "He had a bandage on his face because he had cut himself shaving, he had the flu, and his nose was running. He goes to play something to get everyone's attention in a room full of mostly minority students, who definitely have no idea who he is, and he asks, 'Who has a birthday today?' It instantly disarmed the crowd. Then he plays variations of "happy birthday" to get everyone involved. They were hooked. Then he went into a Mozart variation. When the class was over he came off stage and asked, 'Do you think that was okay?'"
The Ax tour of Erie schools last March, Lisa Vroman's equally well-received visit this fall, and Grammy Award-winning guitarist Sharon Isbin's arrival later this spring are the outgrowth of a larger success matrix that Weiser and his team have forged during his tenure as executive director.
"Steve and his staff don't hesitate to think 'why don't we ask the best piano player in the world to come to Erie and see if he will do it for free?,'" says Knox. "It's these almost crazy 'you're too big for your britches' ideas that have really panned out. And I think it works because a lot of these big name guest artists get a sense of the outreach efforts and what is trying to be done here."
And that "crappy upright piano" that Emanuel Ax played — crappy only in comparison to the Bösendorfer or Steinway Ax might be accustomed to — was donated to Emerson Gridley as part of a piano donation program that brought refurbished pianos into public schools and community centers across the city of Erie and to any other organization that needed one. The program was so successful that, having met its mission to serve the schools, it has expanded the program to deliver donated pianos to individuals, mostly elementary and middle school-aged children who take piano lessons but can't necessarily afford to have a piano at home.
Two years ago, Wattsburg Elementary fifth grader Taylor Balogh received an electronic keyboard as a gift from her grandfather. It was the impetus for her to take piano lessons from her school's music teacher, Leslie Lopez. But Taylor's keyboard didn't have the range of a traditional piano.
"Taylor had just started to use the foot pedals at her lessons, but she didn't have that to practice on at home," recalls Taylor's mom, Sarah. "So I started to look for pianos, but it wasn't really in our future financially to buy a piano. Then Taylor's teacher sent me an email about the piano program at the Erie Phil."
Sarah says she emailed Weiser about the piano donation program and information about Taylor's lessons. Less than two hours later he replied and asked what size piano she had room for. "By the end of the day," she says, "I had to go home and tell my husband we were getting a piano and we needed to start making space for it."
The piano donation program covers the cost of delivery and the first tuning of the piano as well as a guide that tells the now owners how to properly care for their new old piano.
"In an ideal world, these kids will fall in love with the piano and even if they don't go into a career in music later in life, music will always be a part of their lives," says Weiser. "Whether or not they become a huge benefactor, a board member, a volunteer, a ticket buyer or a subscriber, you guarantee that music will always be a part of their life."
"It's kind of like the line from Terminator 2," he chuckles. "'There's no fate but what you make.' If we want an audience, why aren't we building it ourselves? If we give a kid a piano, we're building that audience. One way or another a kid in that family will always remember what you did."
That pop-culture theology infuses much of what's being done at the Philharmonic these days. Weiser is never short on references to Star Wars or comic books to undergird his professional philosophy or the direction of his organization. It's a common trait for those of us of a certain age and it helps to explain some of the bravado that Knox alluded to when talking about the chutzpah it takes to pick up the phone and ask the world's best musicians to travel to a town they've likely never heard of to feed the cultural appetites of a diverse cross-section of stakeholders.
"It used to be said that 'I'm going to the Philharmonic' as if it was some lofty Victorian high culture event to go to," Knox remembers. "Steve has, in essence, flipped that script and taken it to the people. The Philharmonic has literally gone to the streets on a number of occasions with free concerts and other events that are so much more connected to the community. We've broadened the base without cheapening the product."
Despite his success, Weiser humbly references his accomplishments — the broadening of the Philharmonic base, ongoing community impact programs that are recognized by the National Endowment for the Arts, and the cavalcade of stars that have come to Erie for the benefit of ticket holders as well as the community at large — and notes that although he produces most of the organization's marketing and social media content, redesigned the Phil website, developed a smartphone app, and works in a seemingly tireless cycle of promotion and production, it is in fact the team that surrounds him that keeps him honest about his work and the future of the Phil.
"I remember at the beginning someone in the orchestra saying, 'Oh, you're going to be hands on.' Well, I don't know how to not be that way. In the same way that being a musician with the orchestra first meant that this had always been a passion of mine," he says.
"Also having a staff around you that is as crazy as you are, but is also not afraid to be 'no' men. I don't want 'yes' men. When George Lucas made Star Wars episodes 4-6, he had Steven Spielberg over his shoulder saying, 'Come on, you can't do that because…' But when he did episodes 1-3, no one would tell him he couldn't or he shouldn't. You don't want to be in that position."
According to Knox, the Philharmonic staff is "kind of this street gang of musical people who really love their job. It's a unique blend and it really works. Steve and his staff do everything together. They go out together, they're friends. It really has become this project that they all enjoy working on instead of a job that they don't want to do anymore at 5 o'clock."
It's a closed circle philosophy that prior Phil staff didn't necessarily share. But by the time Weiser and company took the reigns, the organization was in need of a distinct mission that could be articulated and carried out. That's translated to the work being done in and out of the office as well as the music being performed with music director Daniel Meyer at the baton.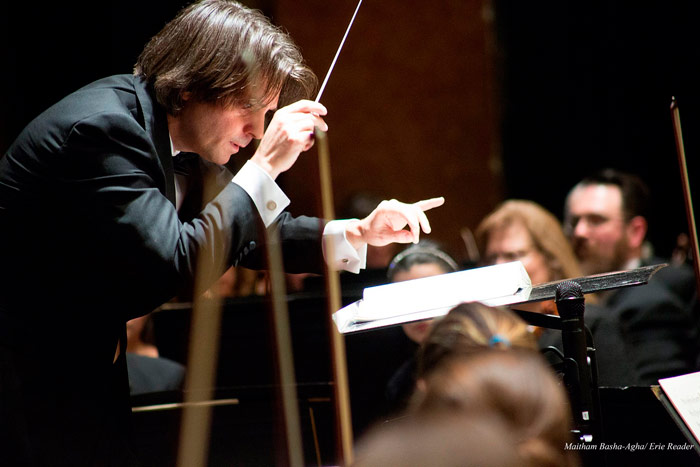 "Before it was as good as any similar orchestra doing similar things," Knox says. "Now, it's really become quite remarkable."
The night before the Erie Philharmonic Christmas Concert, I met Steve Weiser in the semi-lit lobby of the Warner Theater to discuss the recent past and future of the Erie Philharmonic. We sat and talked at a table situated amid the darkened ornamentation of the historic landmark discussing what might come next, the sounds of the orchestra in dress rehearsal echoing with pleasant eeriness throughout the cavernous halls. That night the rehearsal included the General McLane High School vocal ensemble, which had been a part of a master class offered by Lisa Vroman just weeks before. The students were returning the Phil's favor by participating in this year's holiday show. As they rehearsed their songs, Weiser told me about their experience with Vroman and the work she had done with these students.
"It's kind of come full circle," I said in reply.
He smiled.
"It always comes full circle," he said. "Luke always meets his father."
Jim Wertz can be reached at jWertz@ErieReader.com, and you can follow him on Twitter @jim_wertz.