Community Blood Bank's Blood Shortage Amidst COVID-19, Community Impact, and More
Q&A with Executive Director sheds light on often forgotten, but critical, community resource
March 19, 2020 at 1:00 PM
With one confirmed case of COVID-19 in Erie County, the Community Blood Bank of Northwestern Pennsylvania and Western New York are already feeling the strain of the pandemic that has exploded across the nation. 
In a phone interview (for the sake of social distancing, per CDC recommendation), Executive Director of the blood bank, Deanna Renaud discussed how COVID-19 has already affected the bank — ergo the community as a whole. Renaud also discussed the steps being taken so things can return to a place of normalcy, as she put it, "when we get out on the other side."
Hannah McDonald: Can you tell me a bit about your job, and a normal week at the Community Blood Bank? Aka, not the last month. 
Deanna Renaud: Right! So Community Blood Bank is the exclusive blood supplier to many hospitals in northwest Pennsylvania and western New York. In total we service 21 hospitals and 8 STAT MedEvac bases in the area ….  We see about 600 to 700 donors a week, ideally. It has been a little bit lower in recent years. There have been some shifts in the age demographic of donors that we're seeing. Typically the older generation are the ones that really support the blood supply. We're not seeing quite as much participation from younger people traditionally. So, that has been something that has been concerning for the blood industry for the last few years. 
Traditionally there has been a push toward making sure everyone understands the importance of the blood supply, and the role it plays in medical care in our communities. 
Prior to all this, that was the emphasis: Trying to reach new donors — younger donors — and trying to make sure that we have the younger generation prepared to give blood. 
We operate where we have one fixed site, one donor site in Erie, and everything else is collected through mobile blood drives. About 75 percent of our donations come in through mobile blood drive events in the communities we serve. Obviously, with the changes that we've seen here in the last couple weeks, that is a major hurdle for our blood center as well as blood centers nationally now that those (blood drives) are being disrupted. 
HM: How does a blood shortage impact a community? 
DR: Blood shortages, unfortunately, do happen. A lot of times you see them in the summer months and usually after the holidays, maybe January. Typically that is because the schools are out of session. For many blood centers, school students are sort of the backbone of the blood supply when they're in session. 
When we do see shortages, that can be anything from just a lower supply on hospital shelves, it can be a change in the surgery schedule, and certainly from a blood bank standpoint —  (an increase in) recruitment efforts. 
It certainly is something every blood center wants to avoid and we're no different, but right now things are a little...it's a different reality for all of us. 
HM: Can you explain that different reality and how that is impacting you this week and in recent ones? 
DR: Everything is happening pretty quickly. About a week ago, we just started to become more aware that this was closing in on Pennsylvania and started putting out messaging to donors that this was going to be something that we needed to maintain the blood supply throughout. 
By the end of last week, we began to get some cancelations, and then schools were canceled in Pennsylvania over the weekend I believe. 
Starting Monday, we had to really rethink what a mobile blood drive looks like. We've had to change our calendars. Typically we ... schedule blood drives anywhere up to a year in advance. So if we were working with a group, there might be dates throughout the entire year that are scheduled. 
What we're seeing now is, obviously, places that are closing are not available to have their blood drives. Other places are restricting staff and visitors and things like that. The blood drive schedule has been significantly altered. What we're doing right now is trying to figure out alternatives for that.
We are driving as many people towards our donor center here in Erie. And we're making sure that any drive that we can maintain, that we still have them. Anything that we have to replace, we're trying to do so with community drives in each of the areas we serve.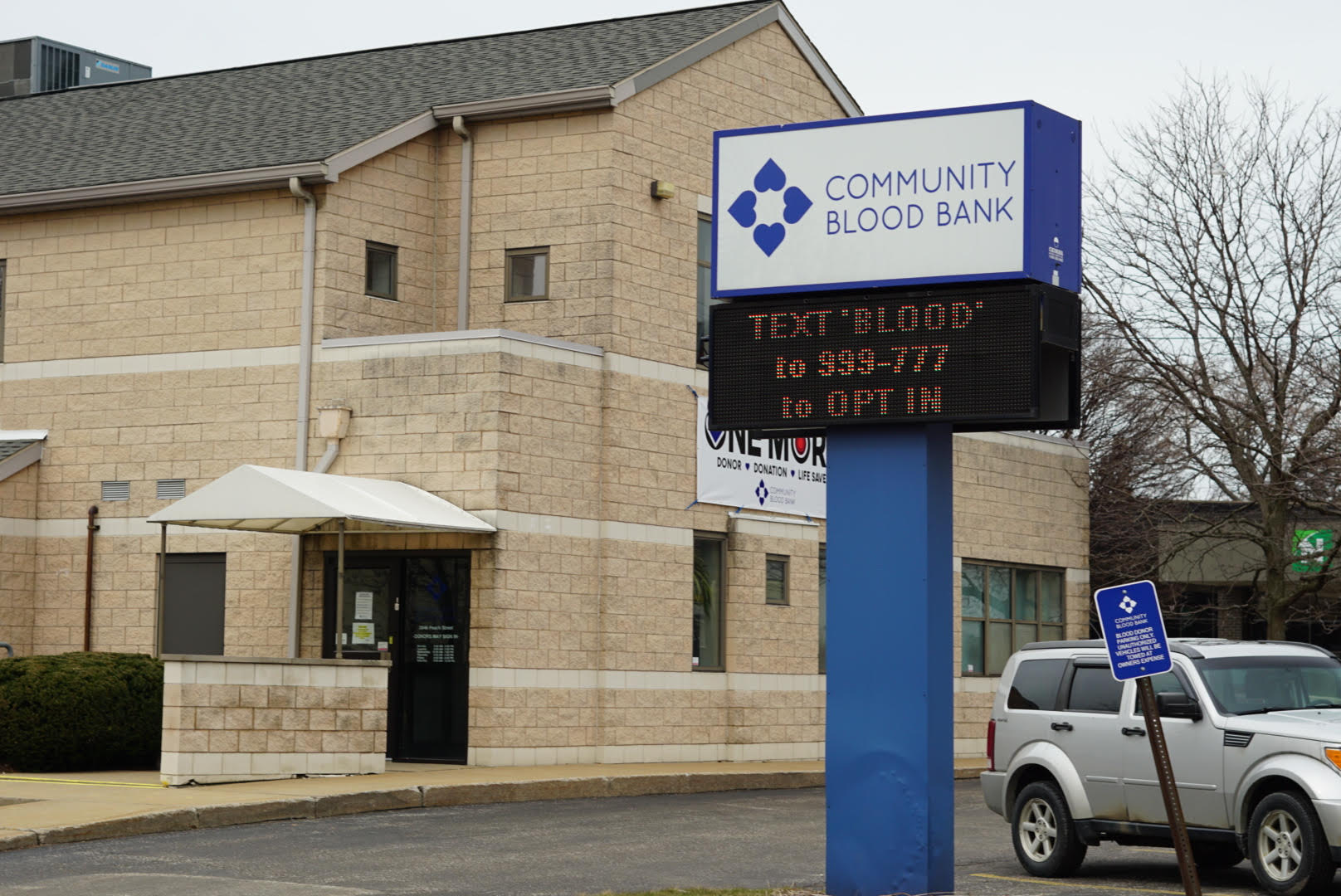 The Community Blood Bank, Peach Street, Erie. Photo by Hannah McDonald
It's important to note that blood drives are not considered mass gatherings. I know there is a lot of conversation about the number of people in a room, so we are trying to maintain those standards and make sure that we're processing people with enough social distancing — moving chairs away from each other, trying to space out appointments, things like to maintain that — but we still need to make sure people are coming in. 
It's safe to donate blood. There has been no evidence of any transmissions of COVID through blood donations. So really, right now is a lot of communication with our hospitals, with our donors, even with our staff, and really just trying to make sure that we have donors coming in.
The need does not stop, unfortunately. People will still have premature babies that might require blood. Cancer patients who are relying on platelets are part of their chemotherapy treatment, they're still going to need those platelets. Accidents. Regardless of how many people are staying home, things are still going to happen. It is imperative that we maintain this blood supply through what is an unprecedented event. There are so many things that we have never seen before in all of this, but certainly, I don't believe the blood supply has ever been strained the way it is right now.
So that for us in the industry is priority 1; to make sure that we still have donors coming in. 
HM: How long does it typically take to recover from a blood shortage? And as this goes on, do you have any idea what the lasting impact is going to be on your supply? And, I guess, another question would be also; How long does blood stay (viable) on the shelves? How long does it stay fresh? 
DR: When you say blood donation, really what most people are giving are three different components. The red cell portion of that has a shelf-life of 42 days. That is something that has to be replenished constantly. Those are the products that are used in surgeries and accidents and things like that….Then, platelets are really important and those are only a 5-day shelf-life. We have been fortunate. We have a really strong, dedicated group of platelet donors that we have scheduled regularly. We need to maintain that, but the bigger concern is really the red cells at this point. Those are the predominant products that are used, and certainly the ones that are needed on a greater scale.
In terms of what this looks like on the other side … We've all had blood shortages over the years here and there. Really it just depends on how quickly people respond, what that looks like, and the prolonged response … It's not just, 'Oh we had a good day so now we're through it.' It might take a couple of days of strong donations.
We're going to come out on the other side of it and life will resume as normal, but we don't know when that is going to be so right now we're just asking people to continue donating and if there is a blood drive at your location, please make it a point to go. If you're a healthy individual, this is an absolute need in our community.
As long as we can continue having people come in, then we have that constant replenishment of the blood supply.
HM: Correct me if I'm wrong, if there's a blood shortage, after 42 days…. Even though you are a blood bank, you are not like a bank. I mean, you cannot go into debt at all, you just don't have it (blood). Correct? 
DR: Yes, so ultimately that's what we're working to avoid. 
HM: Okay. 
DR: People are coming in every day. (It's) important to note, we have not had a day where there has been no collection. And we don't anticipate that there will be because people are responding. It's just that we need them to continue to respond and respond for quite a while.This is going to take, very likely weeks or months of dedication from our donor base. 
So the idea that one day there just wouldn't be anything, that's not what we're anticipating. Every day that we have a donation, that's another set of 42 days that we can work through. It is just paramount that healthy individuals maintain the blood supply for us. 
This is the time when new donors are very much needed. We tend to rely on the regulars and we know that they're dedicated and they're loyal, but there is going to be a period where we need new people coming in to help supplement the people that have given and now aren't eligible for a period of time. I know it's not something that people are probably thinking about with all of this going on, but if ever there was a time for people to give donating blood a try, this it. 
This is an unprecedented event and we certainly need all the help that we can get. 
HM: … How is the Community Blood Bank — besides at your drives and things like that — how are you preparing for potential positive cases at your office and with your supply? 
DR: We work through supply chains and vendors to make sure we have what we need in terms of supplies and personal protective equipment, things like that. And you know, we're doing all of the things that have been recommended. Certainly, there is a lot of hand washing, limiting interactions and such. 
There's a personal element, of course, to all of this. Everyone here is mindful of what is being recommended and following it. Again, what we're focused on is that we're providing a safe and healthy environment for our donors to be in. That includes the way we conduct ourselves at home and making sure that we are safe and healthy as well. (14:20)
HM: So, my last question is; Is there anything the public should know? Anything else they should know about donating blood through all of this, or is there anything else that you would like to add?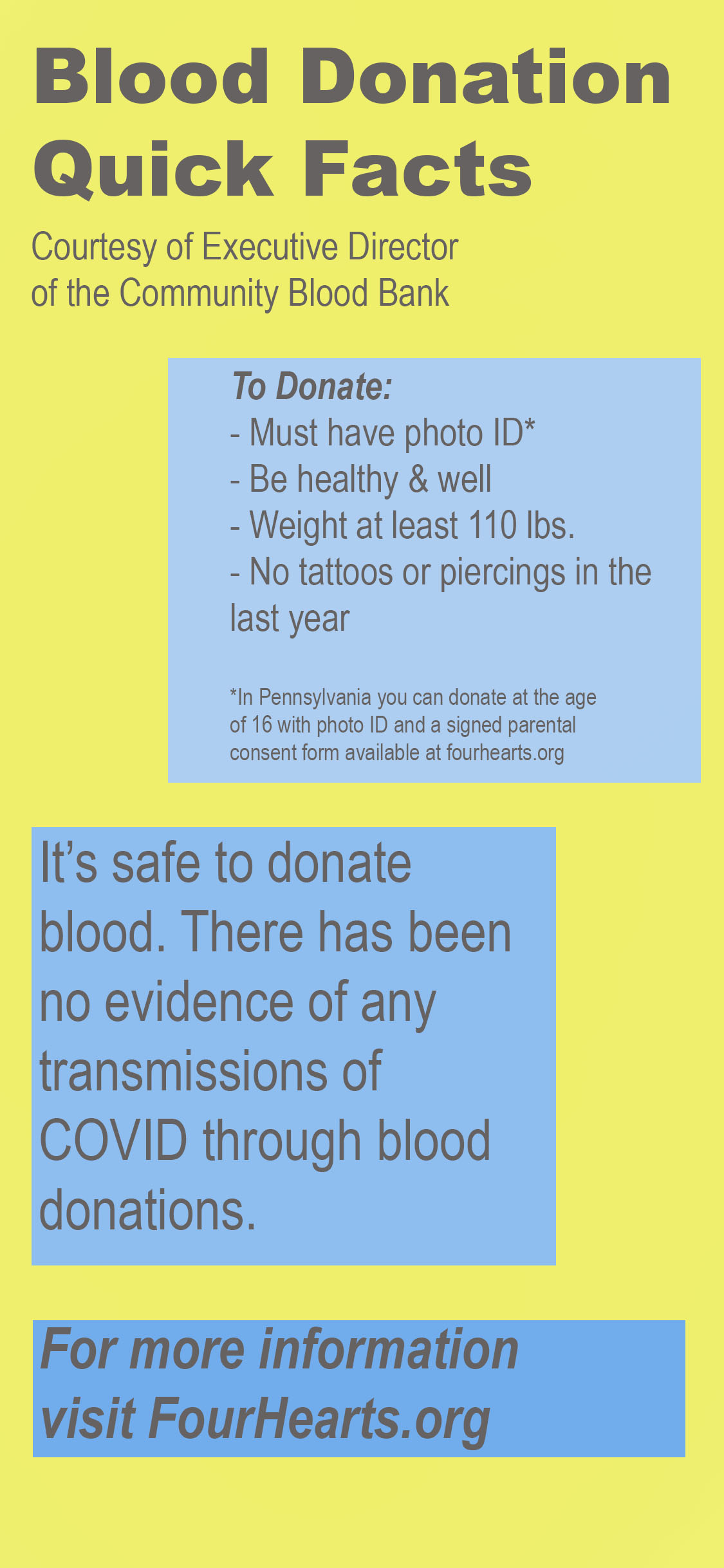 DR: I think the main point in all of this is that donating blood in the midst of COVID-19 is safe. There is no evidence that suggests COVID is transmitted through a transfusion, and so if you are healthy — and there is no reason to believe you would have any exposure risk — we absolutely are imploring you to come in and donate. 
As I said, we have one donor center in Erie, but we are working through our mobile schedule to make sure we are accessible throughout the area. Fourhearts.org is our website. 
We've had 31 blood drives canceled between now and the end of April and that accounts for about 850 donations. That is a significant impact to our existing supply. 
We're working every day to restore some of those donations — as many as we can — but in all of this, we just need to remind people that the blood needs to be replenished and we absolutely need your help.
Hannah McDonald can be found on Twitter or reached directly at hmcdonald@eriereader.com.