Company G's World War I Disaster
One hundred years ago this month
August 29, 2018 at 9:30 AM
By: Bill Welch
In August 1917, men from Company G, the National Guard unit headquartered in Erie, picnicked in downtown Erie courtesy of the city's wealthiest woman. Annie Strong was treating Erie's "boys" following a session of marching and drilling. It wouldn't be long before they headed "over there" for combat against Germany.
A year later many of those men were marching to a German prison camp. Company G and Company H, whose men were mainly from Ridgway, had met with disaster at a French village called Fismette on August 27, 1918.
Thirty-nine years ago, while a reporter for the Morning News, I interviewed three Company G veterans and the widow of another about their experiences in World War I. Now that we've reached the century mark for that night at Fismette, it's a good time to look back at what those soldiers endured.
At Fismette, the Germans killed 70 men, wounded 51 and captured 88 more. About 35 men escaped. Both companies were disbanded days later because of those losses and the scores more inflicted since early that July. Survivors — mainly men who had recovered from wounds suffered over those seven weeks — were assigned to other companies in the 112th Infantry Regiment, 28th Infantry Division.
I interviewed Carlysle "Lysle" A. Green in late March 1979. Eighty-four years old, Green moved his head side to side with difficulty because of the piece of German shrapnel embedded near his spine. Green said he was the company's head runner. This was before walkie-talkies. Runners carried commanders' messages back and forth. He easily recalled the day, giving details in a loud voice.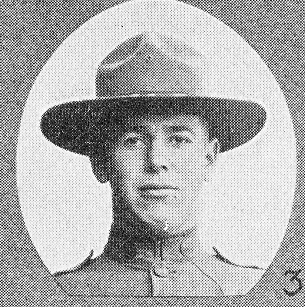 Carlysle "Lysle" A. Green served as a head runner for his company. 
The night of Aug. 26-27, some 280 doughboys from Companies G and H relieved 111th Infantry Regiment troops in Fismette. They picked their way across a wrecked stone bridge that crossed the Vesle River, which runs 45 feet across and 15 feet deep, and took their positions in the village's buildings. Just before dawn, German artillery hammered those positions. When the barrage lifted, about 1,000 German shock troops attacked. These were among the best the German army had left this late in the war. They came from multiple directions with proven shock tactics, using machine guns, hand grenades and even flamethrowers.
Company G's commander, Capt. Edward Schmelzer, "Cap Schmelzer" as his men called him, ordered Green to fire off red flares to call for artillery support. Green fired three and took fire from Germans each time. No response came from Americans across the Vesle just a couple hundred yards away. As the Germans pressed their attack in the early morning light, Schmelzer asked — not ordered — Green to cross the river for help. Green and a runner named Jimmy from Company H dodged enemy fire as far as the bridge. Green shot one German on the way.
"I wasn't more than five steps behind Jimmy when I saw him stop and the gun fall … and he took three faltering steps and fell. There were men all around. Americans. Dead," Green said. He managed to elude the heavy fire, ducking into cover when he could, and got across. Once across, a German airplane took a few passes to strafe at Green, who jumped out of the way each time. When he reached the nearest command post, Green couldn't believe what he saw.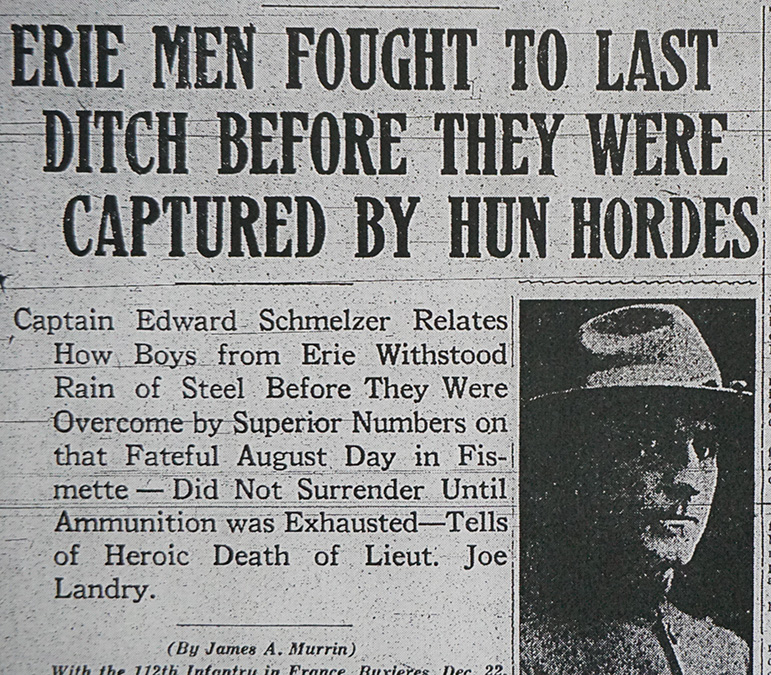 A newspaper article featured stories about the military men from Erie, Pennsylvania.
"Here they were. You would think they was [sic] at a Sunday School picnic," he told me. Frustrated at a lieutenant's lack of action, Green searched for Captain Lucius Phelps, who was asleep. "Don't you know there's a war on?" Green demanded as he woke Phelps. As he briefed Phelps, an artillery round hit nearby, wounding both men. That's when Green got that piece of shrapnel in his neck.
The rest of the 112th made no serious attempt to relieve the men in Fismette. I think you can chalk it up mainly to being caught by surprise. But about three dozen men escaped by ducking enemy fire, as Green had. Within a few hours of that dawn attack, the rest were dead or captured, spending the next two and a half months in a German prison camp.
I recently learned the story of another doughboy from Company G who was wounded a couple weeks earlier in August when Company G was taking another turn to hold Fismette. Each day, doughboys and Germans fired away at each other from houses and shops, the line between each side frequently shifting. In that fighting, Sgt. Edward Cribbens, age 19, was wounded. His grandson, Art Mills II, told me about it.
Cribbens, a company scout, was trapped in a building with other soldiers, trading fire with the enemy when a man next to him was hit. Cribbens reached over to pull the fatally injured soldier to safety and was hit himself, taking a couple bullets to the right arm and another to the neck. The other Americans in the building retreated, leaving Cribbens in the basement. He was there a few days, at times sharing the space with a German who had leg wounds. When the Germans fell back, leaving Cribbens, Americans got him to a French hospital where doctors planned to amputate his right arm. He begged them to save the arm. They did, but the surgery left it crippled. For the rest of his life, his hand was like a claw clutching his breast, Mills said.
As bad as Fismette was, worse was to come. The 28th Division took heavy casualties in the Meuse Argonne offensive that lasted from Sept. 26 to the Armistice on Nov. 11.
The 28th Division returned to the United States in May 1919. It left 2,165 dead behind. In four-and-a-half months in combat, Company G had 34 men killed and 237 wounded, according to Erie County in the World War, a book honoring those who served. That book lists 154 Erie County men who died in that short time. Total U.S. losses from all causes were 116,708.
This Sept. 15, neighboring commune and battle location Fismes will honor those who fought there. It will center on that bridge over the Vesle River that Green crossed. The bridge was rebuilt in 1927 thanks to funds from Pennsylvania and Fismes' sister city, Meadville. According to Debbie Corll of Meadville's city government, 32 people from Meadville, including descendants of its Company B, plan to attend.
Bill Welch was a reporter and editor at the Times Publishing Company for 29 years. He now teaches in the Intelligence Studies program at Mercyhurst University.