Conflict Kitchen Serves Foreign Policy on the Take-out Menu at Penn State Behrend
Conflict Kitchen reminds us that it's possible to live in a world where we break bread instead of breaking bones
March 30, 2016 at 1:15 PM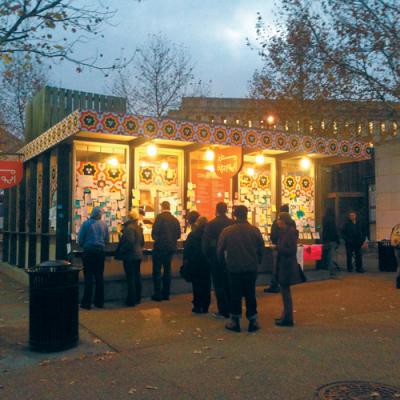 Thursday, April 7
Afghanistan. Venezuela. North Korea.
When you think of these places, what comes to mind? Foreign policy blunders? Human rights abuses? Global quagmires?
What if we looked at these locations through the culinary lens of lamb tikka kebabs, empanadas, or kimchi? Would we be less likely to rush to judgment when faced with a good meal instead of a heated argument?
On April 7, Dawn Weleski, the co-founder of Pittsburgh's Conflict Kitchen, will speak at Penn State Behrend about the need to cultivate cultural awareness through cooking. According to their website, Conflict Kitchen "uses the social relations of food and economic exchange to engage the general public in discussions about countries, cultures, and people that they might know little about outside of the polarizing rhetoric of governmental politics and the narrow lens of media headlines." Visitors to the restaurant aren't only asked to consider the Bolivarian Socialism of post-Chavez Venezuela, they're also confronted with the great taste of a bean-and-cheese arepa.
Conflict Kitchen began in 2010 as the brainchild of Carnegie Mellon art professor Jon Rubin and artist/curator Dawn Weleski. Their idea was to offer take-out cuisine from nations with which the U.S. was in conflict. For example, Iranian food is their current focus. This means that when you visit their storefront in Pittsburgh's Schenley Plaza, you can try out Khoresht-e Fesenjan, a chicken dish marinated in walnuts and pomegranates. And as you eat, you might be tempted to learn more about Iranian and Persian history.
Conflict Kitchen is much more than a restaurant. Each design of the shop is approached in conjunction with members of Pittsburgh's ethnic communities, and the restaurant hosts a variety of cultural events intended to increase awareness about the country and culture in focus. Conflict Kitchen doesn't simply fill bellies – it also organizes film screenings, cooking lessons, solidarity dinners, and social media blasts on Instagram. Even your meal's paper packaging features texts written by thinkers and activists from the featured region.
If Conflict Kitchen sounds familiar, it may be because of a controversy in 2014 that made national headlines. At the time, the restaurant was serving food from Palestine, and the Jewish advocacy organization B'nai B'rith International took issue with the restaurant's perceived reluctance to consider pro-Israeli perspectives in their packaging and programming. B'nai B'rith eventually contacted the Heinz Foundation, which awarded Conflict Kitchen a $50,000 grant, to express their concerns over what they believed to be "Anti-Israel propaganda" featured on the food wrappers.
Soon after, conservative news outlets began sensationalizing the controversy. For example, the reliably hysterical Breitbart.com ran an article titled "Report: John Kerry's Wife Funds Radical Anti-U.S., Anti-Israel Eatery." By November of 2014, the restaurant was forced to close temporarily in response to death threats.
Rubin, who is Jewish, defended Conflict Kitchen's Palestinian offerings in an interview with Guernica last year. He acknowledged that much of their featured content was critical of Israel, but that the design and menu were in keeping with their mission to "use food as a way of bypassing people's defenses in order to pull them into narratives that are sometimes foreign and not always comfortable." Roughly a month after Conflict Kitchen's temporary shut-down, Rubin was awarded the Pittsburgh Foundation's Carol R. Brown Established Artist Award. Things have been getting back to normal at the restaurant ever since.
One of the encouraging things about world history is that recipes often outlive regional conflicts. The wars of the 20th century haven't prevented us from enjoying German pilsners, Japanese sushi, or Vietnamese Pho. Twenty years from now, the name "Afghanistan" might call to mind chickpea pakoras rather than Taliban insurgents. Conflict Kitchen reminds us that it's possible to live in a world where we break bread instead of breaking bones. – Dan Schank
4:30 p.m. // Penn State Behrend, Metzgar Lobby // 4701 Behrend College Dr.