Considering the City: Let's Manufacture some Prosperity
We know how to make things here.
January 20, 2016 at 12:00 PM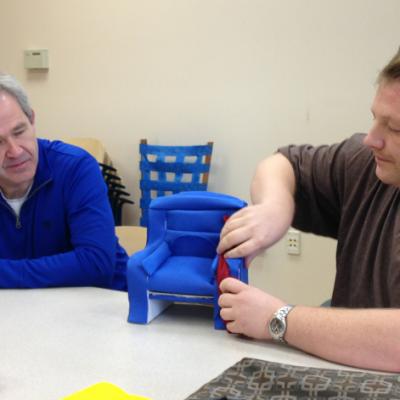 Despite a litany of recent closings, including grim news from GE, manufacturing remains at the core of Erie's economic life. One in five area jobs is in manufacturing, about twice the national average. We know how to make things here. Erie's romance with manufacturing dates almost to the dawn of the industrial revolution. Forges and foundries provided decent jobs and related businesses sprouted up to support this industry.
Today's Industries
Erie still boasts an impressive number of tool and die, metal forming, machining, woodworking, and fiber-related businesses with a talent pool rivaling any city. For example, about 10 percent of all plastics processed in the U.S. are, in one way or another, touched by companies in our region. This is really a staggering number.
Infrastructure and Distribution
Such a history and resource profile point to one very important fact: Erie has fantastic industrial infrastructure. Jason Williams of Penn State Behrend points out that the plastics industry can get anything it needs within a 100 mile radius of the city.
But the challenge of economic development is a puzzle with many parts. A distribution system is critical, and Erie has rail, air, water, and road networks. We're at the intersection of two interstate highways, for instance, though a dearth of direct flights from major U.S. cities is a negative for  businesses considering a local presence.
Failure: the Path to Success
Innovation and entrepreneurship are critical to economic health, and successful cities have been able to marshal the energy and creativity of all members of the community.
In his book Adapt, Tim Harford, senior columnist for the Financial Times, outlined three steps to success. Try new things and expect some failure. Make failure survivable ("Don't put all your eggs …"). And, know when you have failed, while learning from the failure. We need to create opportunities for entrepreneurs to try ideas without risking everything while learning from failures and trying again.
Innovation Erie
The Innovation Erie product design competition (co-founded in 2007 by Civitas, Edinboro University, the StART-up Incubator, Penn State's Plastic Technology Center, and the Erie Art Museum) invites novice and established entrepreneurs to "compete" for legal, marketing, and manufacturing help – and some cash – to bring new products to market. Despite its small purse, Innovation Erie has fostered the creation of almost a dozen businesses and several jobs. Erie needs to expand this model.
Nearby Cities
Cleveland, Buffalo, and Pittsburgh have achieved impressive renewals with a few common threads. These cities invested in open spaces to attract private development and retain highly adept, energetic, creative people. They leveraged a skilled workforce for new business development and repurposed older infrastructure for emerging opportunities. Erie should embrace these models to provide our own unique spin. In a technological economy, this will entail private and public investment in R&D, as well as continual modernization of the educational infrastructure. We need to make ourselves stand out.
Why We Buy
Think about why you buy one product over another. Of course price is important. But it's deeper than that. We try to surround ourselves with objects that make us feel something: a favorite chair, a mug that feels just right, a clock that pleases our visual sense.
Design connects with emotions. It's often the interface between the product and the human senses that determines success or failure.
So when the nuts, bolts, and code lines have been carefully assembled, the inventor shoots a hopeful glance to the market, confident that the product will do what is intended, but not always quite assured that it will "connect" with the customer. Despite technological excellence, the result often hinges on emotion. Products may live or die on the elements of design.
Therefore, last year we developed a series of workshops to provide a venue for entrepreneurs, inventors, educators, or tinkerers to learn about industrial design, share experiences, and unleash their creative energy.
Making Erie a Manufacturing Destination through Better Design
The industrial design needs of our community are not being met. Universities and industrial development organizations have an obligation to address this. Supporting entrepreneurs and innovators could benefit the region for generations.
If this community can marshal its industrial, educational, and enabling public sector mechanisms, we may reach a time when Erie is known for excellence in design. Allied with the manufacturing infrastructure, this would be an unstoppable combination. Imagine a time when consumers, shoppers, and connoisseurs alike react to a beautiful design by saying "I bet that was designed and made in Erie."
2015 Workshops
With support from our institutions, the StART-up Incubator Fund, Erie County Library, Ben Franklin, and Civitas, three workshops were held in the Blasco Library last fall. They were led by Devin Roberts, who was trained in Industrial Design at the Cleveland Institute of Art. He holds a Masters Degree in Marketing and has 14 years product design experience.
Other contributors included: Case Western professor Henry Adams, who presented a historical overview; Lisa Austin, who reviewed the elements of design; Greg Dillon, who considered cost in product design; Penn State Behrend professor Shraddha Sangelkar, who discussed "empathetic" design; and Erie Art Museum director John Vanco, who analyzed a selection of chairs from his personal collection. Participants' feedback was very positive.
So, we decided to offer another series this year. The workshops will again be at the Blasco Library and led by Devin Roberts. Our fervent hope is that this series will be looked back on as the germ of an idea that blossoms into something special.
To learn more about the 2016 Made in Erie spring training, the public and media are invited to a press conference on Friday, Feb. 5 at 11 a.m. at the Blasco Library, 160 Front St., Erie. Greg Dillon, Penn State Associate Professor of Engineering, can be reached via email: dillon@psu.edu. Civitas member Lisa Austin, Edinboro University Professor of Sculpture and 3D Design, can be reached through civitaserie.com , via Facebook at CivitasErie, by email at Lisa@civitaserie.com, or by scheduling a Friday morning meeting at the Civitas office in the Masonic Building.