Critical Mass Rolls through Erie
Some do it to make a statement. Others do it just for the thrill of the ride. We sent Ben Speggen to see what it's all about.
August 24, 2011 at 1:27 PM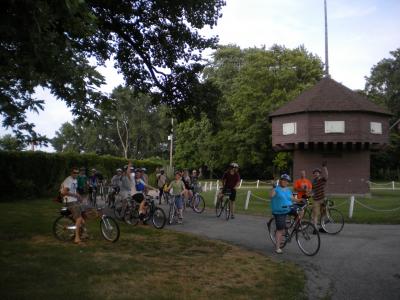 We check our tires, strap on our helmets, and mount our bicycles to set off for the steady cruise downtown. My wife and I are off to do Critical Mass Erie.
The sun's beaming and a slight breeze that feels less like a breeze and more like a hairdryer to the face blows as we cruise to Perry Square the July Critical Mass.
Half a dozen or so people are gathered around Perry Square. Some stand with their bikes between their legs. Some have their bikes rested against them. One guy white-knuckles the handlebars while he balances himself at a standstill.
We exchange greetings as we push our front wheels into the closed circle. It opens immediately, and before I can get my name out a bubbly redhead approaches. She speaks in bursts, and when she pauses she giggles. No one's telling jokes but she's laughing anyway. Maybe because a mist from the fountain at the Square floats over in a wave, cooling us off feels surprisingly refreshing after a day of morning clouds. Maybe it's the anticipation of doing something 9-year-olds do all summer overcoming us: in a couple of minutes, we're going bike riding.
Over 30 people shove off, some on mountain bikes, some on BMX bikes, some on homemade bikes. We make a circle.
We're right back where we started. Was that it? Are we lost?
No. We're building momentum, gathering more people. A guy sipping from a Starbucks cup joins up as we take another lap. And before I know it, we're rolling down State Street. We stick together, moving as one big awkward clump of happy people with stupid grins stuck to our faces.
We ride out State Street and circle the tower before taking a bike trail toward Frontier Park. By the time we hit that trail, it's made its way through the crowd: I'm with Erie Reader. A fellow rider asks if I'm Cory, the Upfront guy. No, I tell him. The editor, here to get a feel for Critical Mass. Oh, OK. He's good—that Upfront guy. He bikes on. Then Matt, a guy riding a homemade single speed rolls up beside me. He's giddy and wears the biggest child-like grin here. He speaks in bursts too, and he tells me he's married to Dorothy, the redhead.
He and fellow cyclist, Eric, have been doing Critical Mass for a while now, he tells me as we pedal along. He asks if I've seen the YouTube videos. I have. Erie's Critical Mass isn't completely like other cities', he say quickly. He references the video in Boston where a driver inches his car up to a line of bikers. A biker, who doesn't take kindly to being inched up to, smashes in the car's headlights with a U-lock. Erie's Critical Mass definitely doesn't do that, Matt says, as we pull up to Frontier Park.
We stop for a minute. Are we done? No. Are people quitting? No. There's dissension in the ranks. No, not that either.
Apparently, we can't decide which way we want to go. If only there was a leader. But there's really no leader, Matt tells me. We just follow whoever happens to be in the front of the pack. Some folks, Matt explains, like the scenic routes and prefer the solidarity of the ride. Others try to use the ride as a form of awareness, he says. If more cars see bikers and recognize their rights to the road, the city might become more bike-friendly with bike-lanes and such. And after our leisurely roll through the park, we're about to get a dose of the latter vision.
We head east on Eighth Street, destined for 10th Street. Stay together, folks yell over their shoulders. Move as one, they say. We hit a cross street and then get ready to turn left on 10th. A rider dismounts and stops oncoming traffic so that the 30 or so mountain bikes, beach cruises, etc. can all stick together.
Now we're all on 10th Street. And now there's a car, the first one whose path we're impeding. It's behind us. And edging closer. And not to cheer us on, I assume.
Stick together, I hear from the front of the pack. I'm riding near the end so that I can take this all in. Not the best place to be riding now, though, as a long steady blare of a beat-up S-10 pickup jolts me. Now the battle cries ring out again. We have a right—don't move—stick together all blend together in a chorus accented by the steady stream of short beams and obscenities coming from behind us. He jeers us and demands we move. No one yells anything to him, not even a hey, you don't have to honk again, we hear you because clearly we do. And no one's reaching for their U-locks. Instead, we recognize our rights to the road and continue on but a bit divided about what to do.
Some start suggesting we move over. Others remain adamant about using this as an opportunity to speak to the city: if you build it—a more friendly bike town, that is—they'll come. As this guy lays on his horn again, a long, drawn out wail, he leans out the window. C'mon, man, just move starts the phrase that ends with more obscenities than I can count as I try figuring the number of side streets he could have turned out to go around us instead of relentlessly following us.
Just as he's about to yell again, C'mon, man…, something changes things: a bus. We don't want to delay public transportation, we agree, so we move over.
The trucker rolls through. Slowly. As if he's trying to take the time to give each one of us a piece of his mind, since now, he's in no rush. But in a few seconds he's beyond the group and the bus passes us too.
We reevaluate, regroup, chat a bit. Our group changed. Some folks darted off on their own paths. They'll be back later, someone says as folks pass around water bottles. Oh, hi, there! Others say to new faces. Some people saw us biking and decided to join. We're headed East. Want to come? Someone asks. And before they can say sure we're off again.
We ride to Parade Street and down to Sixth and encounter more cars but no more obscenities. Generally, people respect us, and if we hear honking, it's accompanied by the friendly waving, not the one-finger kind.
People on porches wave too. Someone laughs, telling us we missed Roar on the Shore a few weeks ago. Someone points out the coolest bikes here. Do you see that Swinn with the motor!? Do you see that double-jointed one?! But mostly people ask: what's going on? We take turns answering. It's never the same, but we get this gist out: it's Critical Mass, a bike ride to raise bike awareness, we're having fun.
We pull up to Sailors and Soldiers Home to be greeted by the: No Bikes sign. But before we move on, a security guard welcomes us in and tells us we're welcome to check out the paths. So we do. People outside on chairs and benches wave, and we wave back. They're smiling, probably because a group of bicyclists jammed together looks funny. We're smiling because we're having fun—and we've just been let in somewhere that says: No Bikes.
We finish our ride back into town, riding down Third, up French, and end at the Brewerie. The group's whittled down. More than a dozen still, and most are going in to grab a beer and a burger. Everyone's smiling, laughing, and sweating. We're happy and content because at 6 o'clock on a Friday that started out cloudy and raining with most of us cooped up somewhere that wasn't our first choice to be, we rode bikes around the city, something 9-year-olds do often and probably too often take joy of for granted.
###
Critical Mass Erie happens once a month. Eric, Matt, and several others with the balls to say the hell with the cold, I love biking and I love Erie, start as early as March and ride as long November. Butfor the most part, Critical Mass rides occur during the summer. The number of riders has ranged from three to 150. Riders gather at Perry Square on the last Friday of the month, and ride throughout the city as long as people want to. The next ride takes place August 26. Stop by and give it a try. You'll see Erie Reader there.