Cultivating Moments of Joy
The multifaceted creations of artist and musician Anthony Carson
November 17, 2022 at 9:00 AM
Stop for a moment and think about what brings you joy. Just the thought may bring a smile to your face or conjure up images of a favorite memory with your loved ones or pets. Joy is most simply defined as a feeling of great pleasure and happiness. Experiencing a moment of mindfulness when you think about your joy is usually, in itself, quite joyful.
That unadulterated bliss is exactly what local artist and musician Anthony Carson seeks to capture. You may have seen Carson set up with his chair and easel at area events and pop-ups, offering to "draw your joy" — creating whimsical watercolor illustrations showcasing those moments that bring you happiness.
"I get to watch people dig deep and really think about what brings them joy and I personally enjoy the people who really dig deep, '' said Carson. "It's a shift in focus. Instead of giving people free range, it's giving people an opportunity to look at something positive in a world, in a societal structure where we see a lot of negativity." He creates pieces of joy that are short, sweet, and meaningful in a minimal amount of time, allowing him to reach many people in a day, creating smiles and even more joyful moments.
Carson is a multifaceted, self-taught artist who started creating like many of us: by doodling stick figures in the borders of his homework in elementary school. These days, he creates professionally full time as an illustrator and graphic designer, living a life of full self-expression. His work spans the creative spectrum from poetry to progressive music to art that can be found on everything from logos, illustrations in children's books and comic strips, chalk drawings, and NFTs. He is often commissioned for his work and also puts on live performances that merge media, such as poetry with illustrations or music with art.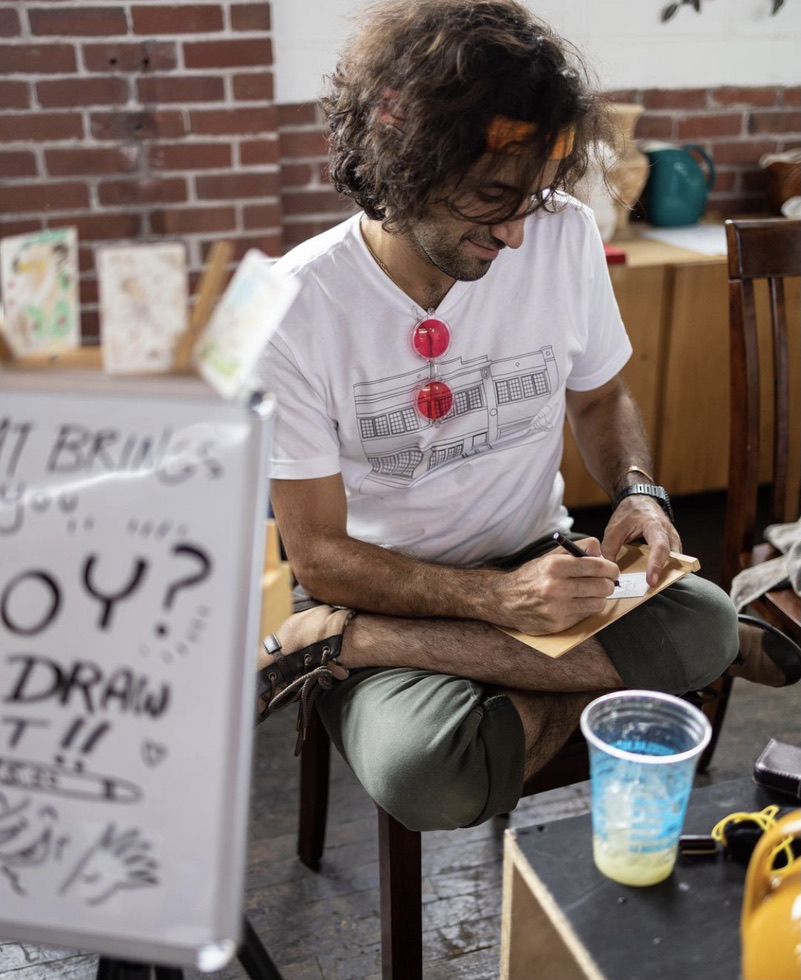 Artist Anthony Carson will offer to "draw your joy" at the upcoming Western PA Maker Market on Saturday, Nov. 19 at FEED Media Arts.
Whether through art, poetry, or music, Carson often tackles the natural world, the emotional, and the existential in his subjects. He says he's most interested in finding ways to empower and inspire people into their own authenticity. "I hope to help other people to find themselves, and it's also medicine for me while I'm doing it," Carson said. "Inherently for me, when I'm playing music, any false identity that I create to exist in this society often falls away. Often, when I'm in a good place, and I've warmed up and I'm making music, I don't feel like I have to hold up a veil. Making music and also going out and doing drawings for people gets me out of my head and thinking about more than just myself."
Carson says his music takes him more into a spiritual realm, whereas his drawing puts him into a state of service to others. "The intent in all of it is to live a full life as Anthony, and do my best to keep him happy and fully expressed, even in his low moments, and to be present enough to observe those moments so that I can translate them into art, translate them into music, and poetry and lyrics, in the hope that somebody else might find themselves inside of it. That's the reason I share it. I want my work to empower people, to help them to find their joy, and encourage them to be more free, and I know I don't get to dictate how it is received," Carson said.
Carson says he wants to "be that force that gives somebody a tinge of themselves, like it's okay to be themselves. They have power and they are not alone in their struggles."
You can find Carson hosting an open mic night at 10/20 Collective (1020 Holland St.) on November 9 and drawing at the Western PA Maker Market on November 19th from 10 a.m. until 3 p.m. at FEED (1307 State St.).
Carson is available to hire for drawing at events by emailing anthonycarson143@gmail.com. You can follow his work on TikTok and Instagram at @antsarthouse and @thesoundserem. He has original music at anthonycarson.bandcamp.com as well as on Spotify and Apple music.
Amy VanScoter is a slow, mindful yoga instructor with a passion for wellness and the arts, and a marketing/communications professional. She can be reached at avanscoter@gmail.com