Dafmark Preview: ?Missing, Remembering; a Tribute to 9/11?
There were three dancers, two hanging pillars, and one writer. Ben Speggen checks in with the Dafmark Dance Theater's upcoming production: "Missing, Remember; a Tribute to 9/11."
November 3, 2011 at 10:00 AM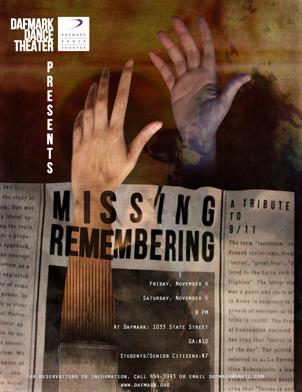 Three dancers. Two hanging pillars. One black cloth. And one writer as the audience sitting in the dance hall.
Choreographer Dafna Rathouse-Baier slides out a chair and sits down beside me and suddenly the room doesn't feel so empty. Dafna, a small but strong woman who carries herself with confidence, begins telling me about the scene as together we watch part of Dafmark's upcoming production: "Missing, Remembering; a Tribute to 9/11.
The dance begins and now the room doesn't feel empty at all—maybe close, intimate even, as the room likely can hold a hundred or so viewers but I'm sitting right in front.
Two of the dancers move to the suspended pillars—the Twin Towers—while the other dancer occupies the center. The music and dancers move beautifully together, but it's hard not to watch these Towers created by Marsha Cisek. The dancers swing these pillars—back and forth, back and forth—and something very beautiful comes from the dancers out of something so tragic that it's difficult to believe I'm smiling at the art, the grace, the poignant moves, turns, lifts, drops.
Music plays but there's something more to it, something in the foreground: voices, reading messages, messages, Dafna tells me, that were sent that day, ten years ago when we were suckerpunched in our mouth and the world changed course forever out of a mixture of fear, anger, sadness, and myriad other emotions words can only grasp at.
There will be poetry read here, Dafna, Dafmark's Ballet Mistress and Artistic Director, explains at a point in the dance.  "All the years we've been choreographing and creating all original works," she says, pausing to watch the dancers, and I pause too. "I love poetry."
And that love led Dafna to find people who wanted to write poetry to be part of this "creation of a memory of a reflection." Dafna turned to Gannon University's Paula Barrett, a member of the university's theater department. She recommended two students: Cristen Manion and Keefer Kopco, two 19-year olds who both wrote the poetry and will serve as actors during the performance as they read their original works.
"What is so beautiful is that I was inspired by the music, they came and saw what I did, they were inspired," says Dafna, "and they had their own input so it's really a work that came together through one another inspiring each other, yet keeping our own voice."
But originally it was the music that inspired her. She and her husband were driving home from Cleveland to Erie and Jean-Marc, the company's co-founder and executive director, had the CD.
"I felt that I was really being inspired by somebody else's art form—music—and I was so taken by the fact that it so poignant and it doesn't try to be pretty, it doesn't try to be easy, it is how he felt. John Adams (one of the three composers the company is using; the other two are David Eggar and Anton Arensky) is very, very well known as a composer. And I felt that he did something very intimate by using bits and pieces and these words that stick in your mind and repeat themselves and repeat because that's exactly what the media gave us is this."
She pauses again. "I saw the second plane hit." The words fall into my lap. "These are images that just stay in your mind, so I was very taken by it."
Undeniably some will find the topic of terror attacks controversial, but Dafna believes the work speaks to the audience in a way that they will appreciate it.
"I hope," she pauses again. "I hope it affects each other in a different way. It's for people to take whatever touches them. It's a creative endeavor; it's not a McDonald's. You don't know what you're going to get, but you know it's going to be creative. People know when they come here that it's creative, it's very creative, and every dancer puts their heart into it."
And Dafna believes in respecting the audience by putting her whole heart into this creative work and hopes that people can take away something from this production.
"It's nice to come and just experience because Erie is full of very good things," she says, with widening smile as the dancers continue in front of us. "It's very personal. It's not personal because I did the choreography; it's personal because [the audience will] take it and do something with it. It becomes theirs. The poets become part of it. What I love about it is that people are invested and want to be creative. What is important is when you are creative, you're respectful to your audience and that you care about what you do. And that's the one main thing: that you stand behind what you do and that it matters to you."
##
The performances begin at 8 p.m. both Friday, Nov. 4 and Saturday, Nov. 5. The performances will last approximately 35 minutes and will be open for discussion following the show. Dafmark Dance Theater is located at 1033 State St. For further information, including ticket prices, call 454.3993 or visit dafmark.org.