Dan Kern Has Something New to Say
The chef reflects on the decade of 1201 Kitchen and teases out his new venture
March 18, 2021 at 11:00 AM
Dan Kern does not want to keep going just because he can. 
Dan Kern also does not want to play the Greatest Hits of 1201 Kitchen just because he can.  
But most importantly: Dan Kern has something new to say. 
And he says it's the best thing he's had to say to date. 
But he won't say what it is. At least not just yet.
Instead, over the next six months, Chef Dan Kern will tease out the story — an Easter egg here, a trailer there — unfurling the tale to the community chapter-by-chapter until, well, we all finally know what the 36-year-old chef's next venture will be. All the while, he'll be closing his flagship restaurant, transitioning that team to Noosa — his other, seasonal restaurant — for the summer before then enlisting them in the chorus that'll sing his song anew come fall 2021.  
While we don't — and won't — yet know the what and where of that future plan, the path to here started in the mid-2000s when the Erie native was climbing the culinary ranks in Denver after having studied at Johnson & Wales University. Looking for further growth but not finding it in the Mile High City, he heard an opportunity knocking in his hometown.
So, Kern moved back east to Erie in 2007 to start as the opening sous chef at the then 1201 Restaurant & Wine Bar. But just six months later, along with his business partner J.B. Innes, he decided to purchase the restaurant to launch 1201 Kitchen at the age of 22, fulfilling the dreams he'd had since the age of 10 — to cook, and to own his own restaurant.
But after more than a decade of dishing out contemporary Latin-Asian fusion cuisine from the corner of where the city's east-west and north-south main streets meet, Kern announced via Facebook on Jan. 28 that 1201 Kitchen would serve its last meals on April 15. 
To be clear, this is not because 1201 Kitchen has become tired, worn out, and boring. Nor is 1201 closing because of the COVID-19 pandemic, as the kitchen has pivoted and adapted and kept cooking. 
On that, Kern explains shokunin. 
A Japanese term that does have a translation ("artisan" or "master of craft"), but like most translations falls short of the native word's true meaning and weight.  
"The term also translates into having a social responsibility to your craft and the importance that it provides for your community," Kern explains. "I feel a social obligation to cook food for the community."
From the onset of the pandemic, Kern says he's welcomed what's come — indoor-capacity restrictions, social distancing — as a challenge to adapt and evolve. 
"Whether that's in Erie or worldwide, it's like, 'Hey, here's an opportunity to let this spark some creativity, some concept that I never ever would have thought of and done before. And if that could get me fired up to do what I do, I feel like us trying to do things in a different way could hopefully fire up other people to do their stuff, too."
Pivoting comes somewhat naturally to Kern, as over the years, he and his staff have routinely refreshed the menu, rotating with the seasons, taking risks, and introducing new elements without sacrificing a commitment to cooking with fresh ingredients and a drive to achieve a high-quality consistency in each meal, whether they've served a dish once, ten times, or a hundred times a night. 
Ten years back, if you asked about ramen, an Erieite might've pointed you to a corner store to fetch a cellophane-wrapped block of dried noodles with a packet of seasoning for less than a buck. But ask today and they'll tell you how Kern introduced it to his menu seven years ago and helped redefine something familiar into something artful and delicious.  
"It's those little 1,000 things a day that you just have to show up for every single day and just do right," Kern says. "I've never taken that for granted, because people come and spend their hard-earned money and it's something that I always want to give them — not only the best experience but show them my passion and why I'm there."
To Kern, 1201 still means a lot. He wants the last dishes he serves there to be "the best dishes that people have had."
So until that door shuts, he'll be full throttle ahead.
"I don't want to ever play the 'Greatest Hits of 1201,' or of the new place 10 or 15 years from now," Kern says. "I want to grow and learn as a cook, and after 13 years of 1201, I have something new to say."
That new thing to say was the second half of that Jan. 28 Facebook announcement: A new restaurant coming in 2021.
It's cheap to write endings beget new beginnings — or that new beginnings must take the Phoenix flight out of yesteryear's ashes — but, something new lurks out on the horizon. And its birth owes some credit to its predecessor.
At 1201, Kern's been limited by the confines of the space, as the restaurant has lived inside of a building born before it. The husk pre-dating the restaurant dictated growth, design, and other elements — all of which forced that focus on those 1,000 little things.
For his new challenge, he wants no restrictions (I had to work in a kitchen in the basement because that's the only place it fit), no excuses (I had to focus on the problem of 100-year-old plumbing and pipes today and not on plating the steak). He wants to work in a space he's designed from the ground-up, built entirely for what it is he wants to do next. 
Kern's holding the details on the new venture close to his chef's apron. That's not because he doesn't know what, where, why, and when the new place will open. This has been an idea in the works for three years already. He knows the restaurant's style, has a name for it, has involved new partners, has been dreaming up the menu, and construction's already underway with an anticipated opening after Labor Day. 
"I really want to bring people along on this journey of understanding what we're trying to do," he says. "When you just let everything out, you open the floodgates up to people forming their opinion, like, 'Oh, it's this kind of place,' or 'Oh, it's going to be this.' I really want to try to curate that experience to where it's like, 'No, I'm going to bring you along here.'"
Over the coming days, weeks, and months, more information will come out. Perhaps even there'll be spoilers for which we'll want an alert. 
But what we know now: Dan Kern doesn't want people skipping to the last sentence of the last chapter of a book before they've read the rest. He values creating both the experience in cooking and creating — and here, he's creating something anew, from the ground-up for the first time.
We also know 1201 Kitchen's expiration date. While it's coming sooner than many would've ever wanted, solace can be taken in knowing we consumed it when it was still fresh.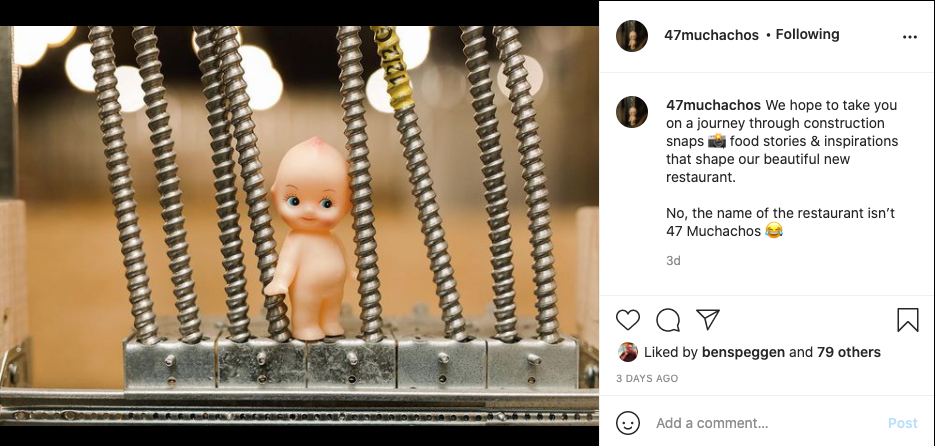 In the print-only version of this article, we were sparse on details of Chef Dan Kern's new venture, because, well, he's working on teasing details out, one piece at a time. Over the coming months, he'll be giving us the puzzle pieces without the box, so we won't know what we're looking at until it's darn-near staring us in the face. 
However, we do now know at least what the new restaurant's name is not: 47 Muchachos. 
But, you can now follow that handle on Instagram for "a sneak peek for our new restaurant space," Kern wrote Sunday, March 14 from his personal account. The message was also featured on 1201 Kitchen's handle, as well as Noosa's. 
In that post, Kern added: "We hope to bring you along side us on the journey of creating our new restaurant through construction snaps, food stories, and inspirations!"
And he added: "No, the name of the restaurant isn't 47 Muchachos." with a laughing emoji.
Head over to Instagram and find the account and you'll find the first cryptic post. And you'll find the bio space noting that this is a "new restaurant concept from chefs Dan Kern / Adam Williams opening Fall '21." 
Cheers to the first of what we assumed to be several tasty amuse-bouche teasers to come.   
Ben Speggen can be contacted at bSpeggen@ErieReader.com, and you can follow him on Twitter @BenSpeggen