Dance Education With a Social Conscious
How Dafmark is working to bring art to everyone
January 17, 2023 at 8:00 AM
When I think of the ballet, I tend to think of rigid standards, a certain body type (youthful, thin, white), and the constant vigilance (and mangled feet) of those dancers who dedicate their lives to the art. Dafmark Dance Theater has turned that preconception on its head. As I spoke with executive director Jean-Marc Baier as well as Dafmark's long time champion Jennifer Dennehy (who also happens to be a 2018 Erie Reader 40 Under 40 Alum), I learned that the vision for their studio not only includes the full artistic spectrum of performance (including dance, but also music, poetry, and visual arts), but also includes the goal of encouraging everyone to embrace what the art of dance (and beyond) has to offer, regardless of age, ability, body type, or income level.
In their gorgeous, historic dance studio on the third floor of what is known as the Lincoln Building at 11th and State, I learned about all of the programs Dafmark and its cohorts have created and maintained (within this studio and throughout the community), and what they've accomplished is remarkable in its quality and inclusivity. The creation and funding behind those programs are due, in large part, to the efforts of Dennehy and her ability to find community partners, create meaningful educational programs, and write the grants to secure the funding necessary to make the programs successful. She is tenacious and passionate about the full potential of her work and so many people young and old have benefited from her efforts.
Throughout the years, Dafmark has worked to forge community relationships with various organizations in the community like Erie Homes for Children and Adults (EHCA) by leading a program called MOVE for adult residents, allowing folks with physical and intellectual disabilities the opportunity to learn healthy, creative movement. Dennehy has worked with the St. Martin's Early Learning Center for the past nine years, teaching young children the benefits of dance, stretch, and movement.
But their most recent partnership with the Housing Authority of the City of Erie (HACE) and its director, Michael Fraley, resulted in the creation of the Dafmark Creative Arts Center located in the John E. Horan Garden Apartments (located at 2110 E. 10th St.). This center is shaping up to be a life-changing program for many children living in public housing who are able to receive high quality art education spanning genres through classes that are meaningful to their lives.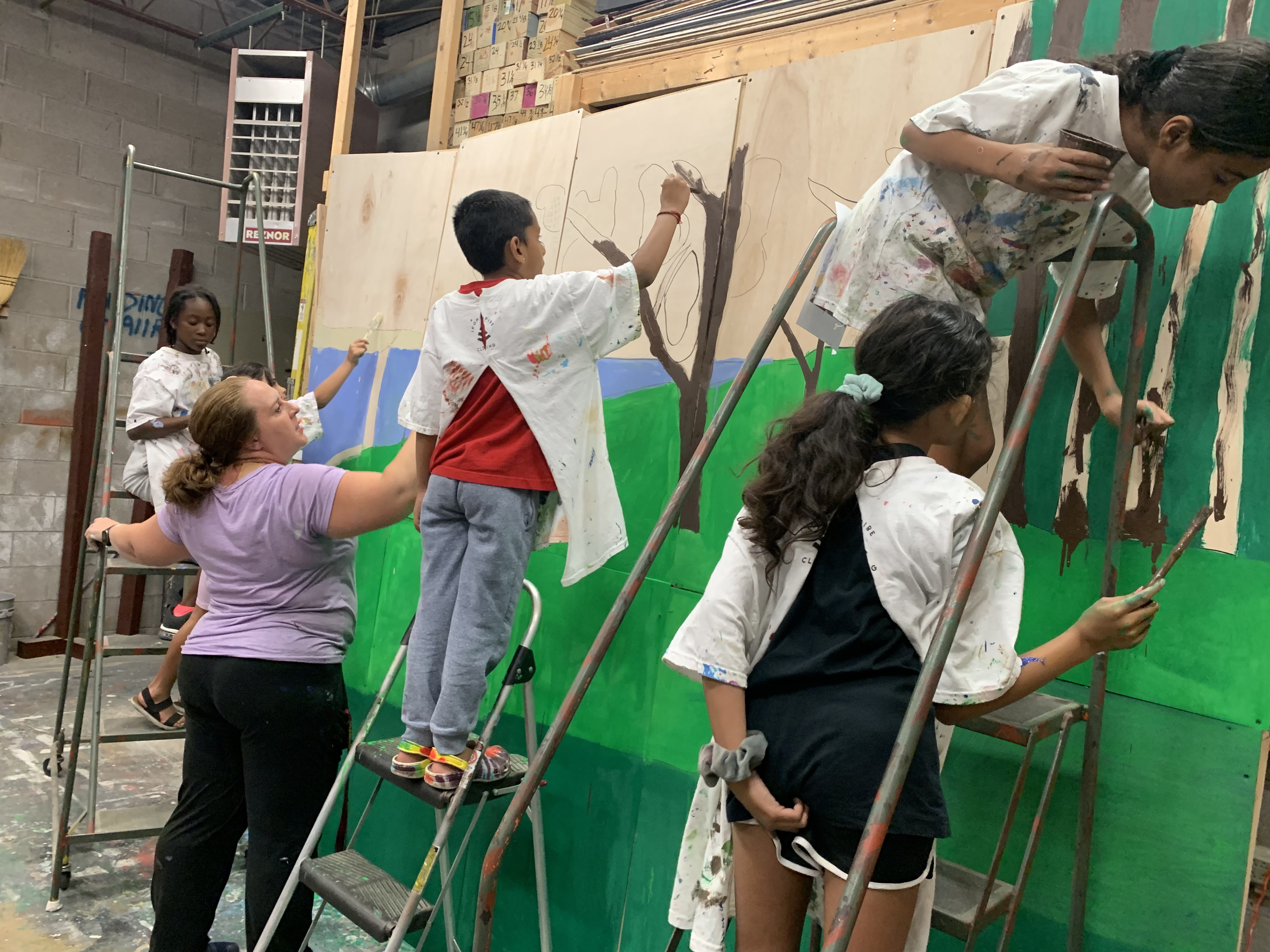 The Collaborative Mural class, facilitated by teaching artist Angela Howell, not only involves art instruction, but teaches the children to plan ahead, work together, and execute a collaborative vision.
For Jean-Marc Baier and his wife, Dafna Rathouse Baier (thus the amalgamation of the company name: Dafmark), bringing accessible arts to the community has truly been their life's work. Dafna was born in Tel Aviv, Israel and Jean-Marc in Paris, France. The couple came to Erie in 1984 when Jean-Marc was hired as the director of the Mercyhurst College Dance Department. They established Dafmark in 1990 and have been diligently pursuing their mission ever since: to offer a unique, creative, and educational experience in the art of dance that is steeped in social consciousness.
This doesn't just mean that they put on political performances (which they certainly do, most recently touching on the George Floyd murder as well as the overturning of Roe v. Wade) but now their efforts are working to bring about social change through accessible arts education. Jean-Marc reflects, "Education doesn't work unless it is connected to the art itself. So for children to learn how to draw by obtaining mechanical skill is not enough, without going to a museum and seeing what that drawing can end up as, its full value. This is what we've always had in the context of what we've been about. Dance is not just dance. Dance is a combination of all the other different art forms that allow for a voice to truly exist in connection to the community."
What Dafmark has done and continues to do is a reflection of that ethos. Jean-Marc continues: "What has happened with Jen, and her extraordinary capability to obtain grants, is to create programs that don't exist. We have gone from a place of small impact to a place where now children are not only learning, they are learning from people who are true professionals … The point is the connection to the individual and what happens around one in terms of society. As such, we've been unique in our comprehension of how you mesh education and art."
Meshing education and art is at the heart of the Dafmark Creative Arts Center. Located within the John Horan apartment complex, the after-school programs (which run daily from 2:30 to 6:30 p.m.) provide 10 arts classes each week across various mediums, employing over 20 teaching artists each year, and serving approximately 150 children. The program is open to children from all across the city, but the focus of the outreach is specifically for children living in public housing. The classes taught include poetry, painting, photography, theater, hoop dance, dance techniques, stretching, ceramics, stop motion animation, creative construction, and music. The after-school program runs from January to May, and they also offer summer programming.
Dennehy considers these arts programs to be truly transformative for these children, for whom creative resources are often lacking in traditional (and underfunded) public school programs. She reflects on the larger impact of some of the art education being provided through this program: "Right now, one of my favorite classes to pop in and watch is Sarah Howard's, who was a teaching artist with us this past fall (and will be teaching again in 2023). She's doing a class called Creative Construction: she uses found objects and upcycled materials to build things, empowering the students to use power tools in a safe environment. The first project they undertook was using these big metal pieces and learning how to drill through them, connect them with screws, nuts and bolts, and then wire them to make their own unique lamps. It's nice to see creative problem-solving in action. One of the kids built his structure and realized there wasn't room for the wires to go through, so he had to problem-solve: 'How do you fix that? How will this work?'"
Jean-Marc feels that this kind of programming fills in the gaps left behind when the arts were largely removed from schools, "We think the arts exist by themselves, but it's not at all what happens in reality. Art is a means by which we understand living and find ways to solve problems." And for the teaching artists at the Dafmark Creative Arts Center, rewarding experiences abound through helping the kids unlock their creativity, hone their own problem-solving skills, and realize their potential.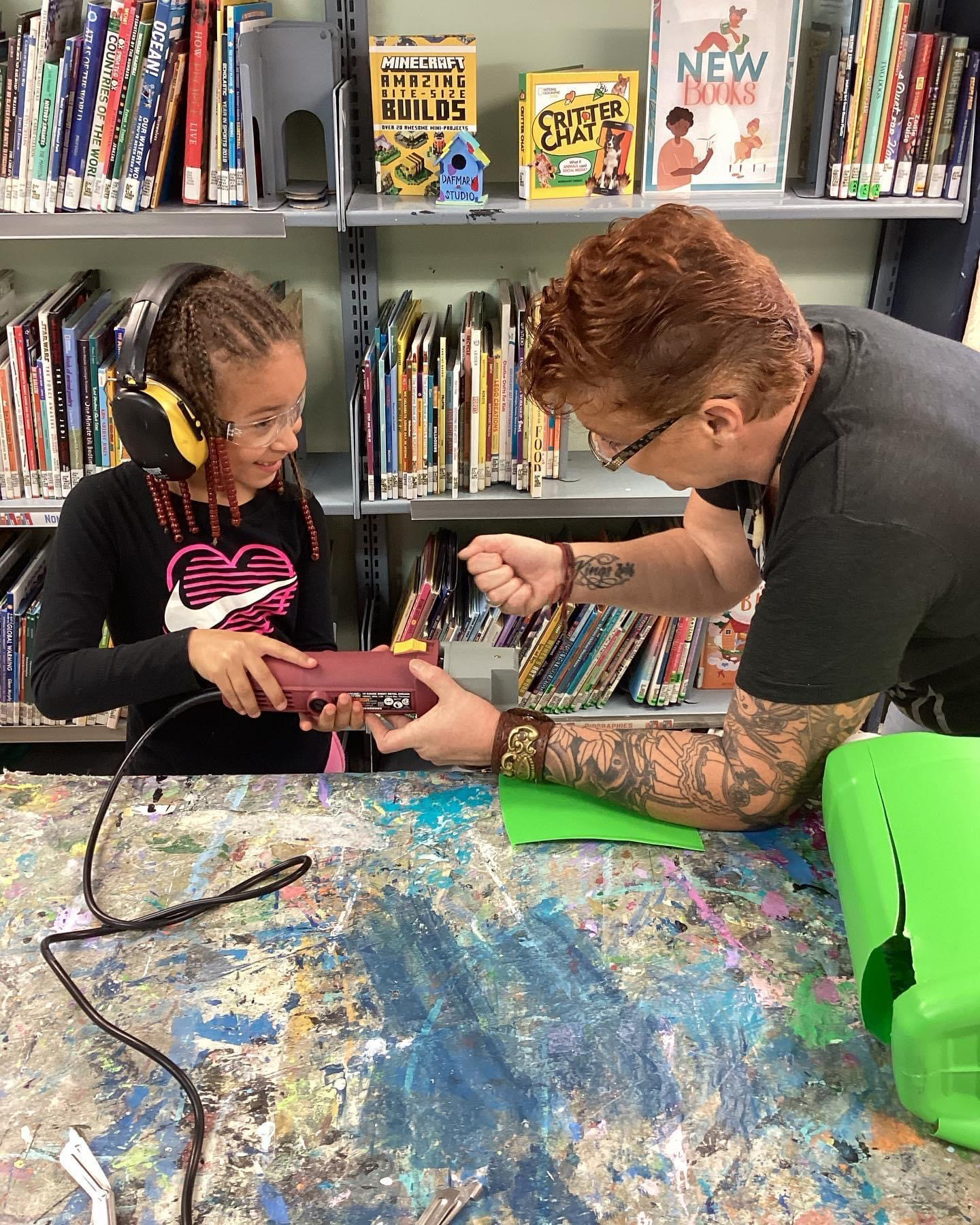 Teaching artist Sarah Howard instructs a student at the Dafmark Creative Arts Center how to use power tools to make art. Howard feels this instruction is empowering, especially for young girls.
Sarah Howard, the aforementioned power tool aficionado, reflects on the impact of these kinds of classes on the children, "I feel that the importance in my program lies in challenging the children. Most of what I use are tools the kids aren't typically allowed to touch, much less use. And the repurposing of objects, many they've never seen before, pushes their creativity to another level. I believe that teaching the children safety protocols and giving them a controlled environment to physically use a power tool empowers them. The tools are no longer scary but a means to help them create things they never saw themselves creating."
After seeing the positive impact of this art education, Dennehy noticed a missing link. The Dafmark Creative Arts Center also contains a 1,000 book library maintained by the Erie County Public Library System, and Dennehy realized that many of the children they serve in their arts program were struggling to read. So she got to work writing yet another grant, to expand the program to include an on-site educational specialist to tutor struggling students and get them the help they need to truly succeed. "I wrote this grant through the PA Department of Education to become a 21st Century Community Learning Center and we were awarded it to start this year. It's a five-year grant worth over half a million dollars, so it is allowing us to hire an education specialist to come in and provide a one-on-one tutoring component to assist kids at Edison and East who are performing below basic levels. We are slated to serve up to 60 kids each year. We are hoping by February at the latest, that we'll be able to officially launch this program, for which families will need to apply."
It is very unexpected that a small dance company would have such a broad reach and such a huge potential impact on the local community. This social awareness and the combination of various art mediums have been Dafmark's goal since the early 1990s. It has only been recently though, through the diligent work of Dennehy and the collaboration with community partners, that they have been able to see the true reach of their work in the community.
Jean-Marc sums it up, "The child is what matters. There is often a distance between getting to that creative problem-solving element in today's educational system. Here, the entire way of addressing our education is to make problem-solving the focus. You are actually seeing individuals who are taught to be creative, to think for themselves. It's not sufficient to teach dance or to teach art, it is how you do what you do. With children, it cannot work unless the artist is invested and we are invested."
Dafmark is a registered 501c3 non-profit organization and they accept donations to assist their work in the community through the aforementioned programs. Find more information on their website at dafmarkdance.org
Erin Phillips can be reached at erin@eriereader.com