David Murray and Kahil El'Zabar Talk It Out at Artlore
Enjoy a conversation between two local musicians at Artlore Studio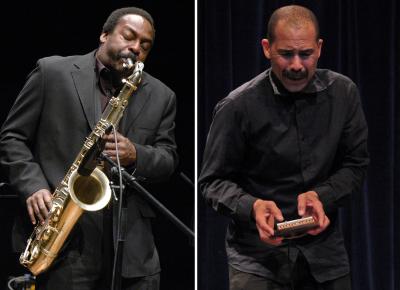 Tuesday, June 5
Did you ever eavesdrop on a conversation in a restaurant listening mindfully to the play of consciousness?
On June 5, you can listen to an engaging conversation at Artlore Studio between saxophone and bass-clarinet player David Murray and Kahil El' Zabar on percussion and drums. It's the perfect setting. Stephen Trohoske and Lena Logvina have created an intimate, relaxed and loving atmosphere. Romolo's chocolates and refreshments are also included.
Murray and El'Zabar's conversation will reveal a large vocabulary from the language of music and their shared African-American experience. It is an important conversation to hear. They are never boring and always intriguing. It's an articulate chat fest of the highest level. Even if you are unfamiliar with them — or jazz in general — bring an open mind and ears and you will be nourished and inspired. El'Zabar brings out Murray's relaxed and playful sides. He chants, hollers and propels Murray on hand drums and drum kit into exuberant solos or calms him into soft reflections.
El'Zabar has performed here many times as part of the Ethnic Heritage Ensemble and he is a wonderfully entertaining presence. He flies his "freak flag" high and is one of the liveliest new friends you'll ever meet.
Murray has over 100 recordings as a leader since 1976 when Flowers for Albert began my eavesdropping. His performance with the World Saxophone Quartet in Erie was a musical highlight for me that year. His openness to playing anything from free improvisations to Latin, Blues, Gospel, Afro-beat and Bop will keep you engaged. His ability to integrate tradition and innovation with an astonishing dynamic range is thoroughly entertaining. Listen to his tongue-in -cheek exuberance and control at the highest registers of the sax and bass clarinet. He just shares his joy in the moment. If we are lucky, they might even play "Jitterbug Waltz!"
To prepare, listen to their recording We Is: Live At the Bop Shop, or come with newborn ears. It may be the best eavesdropping and jaw-dropping experience in your life. — Michael Plasha
8 p.m. // Artlore Studio, 3406 Westlake Rd // $15 // artlorestudio.com (814) 520-8800