Don't Hate, Levitate with the HydroFlight National Tour
Gravity weighing you down?
Saturday, July 14
Gravity weighing you down? It's time to believe you can fly and touch the sky as the HydroFlight National Tour splashes into Erie's Presque Isle Bay, courtesy of Pro Watercross and the Erie Sports Commission.
The secret to getting off the ground in this case begins on the water. HydroFlight is an expansion pack one acquires for their personal watercraft (e.g. Jet Ski, SeaDoo, etc.), converting it into a movable launchpad. A hose is fed into the personal watercraft's propulsion system, re-routing pressurized water vertically into a device such as a jetpack or hoverboard. With 1,000 gallons of water per minute keeping the rider consistently airborne, jaw-dropping stunts that landlubbers could scarcely dream of are now possible.
HydroFlight became a competitive sport in 2012, wherein judges evaluate timed routines (similar to ballet or gymnastics) for their technical difficulty, execution, showmanship, and artistry. Some popular stunts include dolphin dives (arcing in and out of the water — not sloppily but with a sense of porpoise), the Superman (holding one's body in the air parallel to the water), and "threading the needle" (flipping to create a loop with the hose and gliding back through it). Professional competition begins at 11 a.m., with a Night Flight competition commencing at 8 p.m., adding lights and lasers for even more lavish levitation. Meanwhile, registered amateurs will crank those hydro-jets and Superman that hose from 2 to 6 p.m.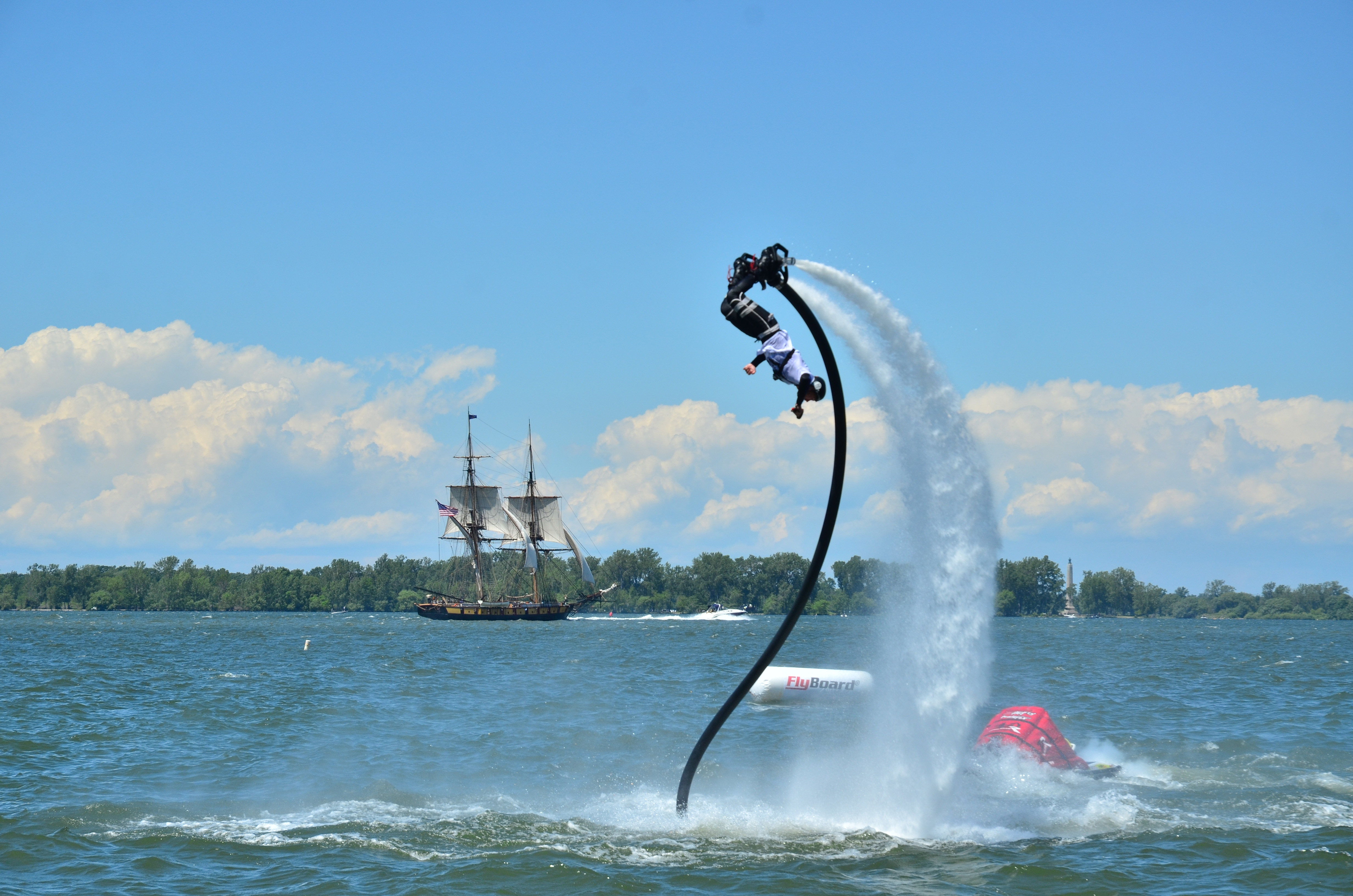 If you're still feeling dehydrated after all that, Sunday's SUPcross Tour promises plenty of fluidity in the form of closed course stand-up paddleboard racing. Paddleboarders will registered negotiate a circuitous race course marked by buoys. The pro race will initiate at 11 a.m.; amateurs can take their (twists and) turns at 2 p.m. The public is welcome to observe at either Dobbins Landing or waterside at the Sheraton Bayfront Hotel. — Matt Swanseger
Registrations check-ins both days begin at 8 a.m.; for complete schedules visit eriesportscommission.com // Sheraton Bayfront Hotel, 55 W. Bay Drive