Dramashop's "Race" Reviewed
David Mamet's play "Race" is currently being presented in our community at Dramashop - a community asset in and of itself. Read Ben Speggen's review of the production and then go see it for yourself!
January 23, 2013 at 1:36 PM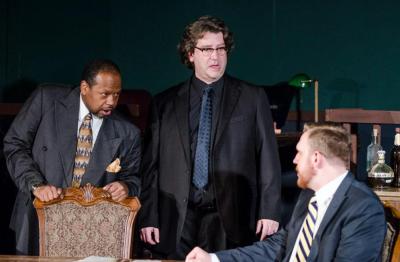 Warning: This isn't your "Les Mis" Shawn Clerkin. Within just a few minutes, you'll hear words like [redacted] and [redacted] peppered in amongst a whole mess of [redacted] coming from all directions, as David Mamet's "Race" features a healthy amount of colorful language.
But while the production – currently being staged by Dramashop – contains colorful language intended for mature audiences and typical of anything David Mamet, black and white take center stage in a play rooted in racial divide relevant and timely to our culture and a must-see for Erie.
Clerkin, in the role of attorney Jack Lawson, stuns and shines in his Dramashop debut, as he and legal partners Henry Brown – played by Bill Williams – and Susan – played by Rebecca Coleman – take on a case revolving around racial tensions that permeate our culture. Both Williams and Coleman also make their Dramashop debuts here, but it's Clerkin's Lawson that carries the brunt of Mamet's craftily-worded, buzzsaw-sharp dialogue that slices through the audience to expose guilt far beyond the who-done-it nature of any trial.
The white Lawson and black Brown and Susan, struggle in the opening scene, as they must decide whether to take on the case of the white Charles Strickland (Nick Kikola), who's been accused of assaulting a black woman, and who's already taken his case to other lawyers and left them as the case develops. As the characters grapple with the implications of taking on the case of the allegedly accosting millionaire, the actors balance each other's delivery beyond simply presenting two black people and two white people.
Lacking strong dramatic tension, "Race" – set in one scene for play's entirety – keys on dialogue to move the plot and develop characters. Kikola, who also makes his Dramashop debut, adeptly uses Strickland's on and offstage presence to heighten the drama and anxiety, as he shifts from the lawyers' office to their lobby, delivering his lines in bursts and pulses to pump the play along.
Clerkin's Lawson is energetic, constantly scheming, thinking, weighing the options in search of the best defense for his client, regardless of his guilt. Williams counters the exuberance with a measured, calculating Brown, whose blunt nature punctuates both Mamet's cutting one-liners in the opening act and the heavier exchanges in the second and third acts. Withdrawn and cool, Coleman's approach to Susan unfolds in a slow boil that erupts in the final moments on stage that conclude the work, not with a period but an ellipse.
Working in a small space with an even smaller cast, director Evan O'Polka serves as the play's scales, steadying and managing Mamet's very human characters charged and challenged by their own race. O'Polka at the control board astutely turns the volume knob at ideal times and adjusts the contrasts at peak moments in what results in tightly-squeezed interactions best captured in a pulsing exchange between Lawson and Susan when it's revealed how and why she was hired by the firm.
While Mamet's one-liners often result in a collective chuckle, if not side-splitting eruption from the audience, at times watching "Race" can be as easy as sliding your hand along a barbwire fence. But make no mistake: what Mamet captures Dramashop reveals, which is that the answer to these probing questions about race relationships lies within – something we can only see if we're opened, raw, and ready – be it from side-splitting comedy or barbwire-sliced hands at the mercy of drama.
So after we just celebrated Martin Luther King, Jr. Day – a Monday when our first black president was sworn into office for his second term and a day that ESPN's Adam Schefter tweeted that all game balls belong to Dr. King – this play and its topical nature matter. And while the colorful language stabs at us like thorns, it matters that you go see this provocative play, as it proves we still have a long way to go with this conversation and can thank contemporary theater for reminding of us that while keeping the dialogue moving.
Three presentations of "Race" remain: January 24 to 26 at the Renaissance Centre Theatre. All shows are at 8 p.m. For more information, visit dramashop.org.

Ben Speggen can be contacted at bSpeggen@ErieReader.com, and you can follow him on Twitter at @ERbspeggen.