EC3PA's Sophomore Year
Community college a learning experience for students, administrators alike
September 7, 2022 at 5:35 PM
Erie County Community College of Pennsylvania (EC3PA) President Dr. Christopher Gray and his staff spent their entire freshman year cramming for exams.
It's Year Two now, and the tests keep coming. There are policies and programs to pass, budgets to balance, facilities to equip, and faculty to hire. And then there's the ultimate test for Pennsylvania's 15th and newest community college — to prove its legitimacy and value where a degree of skepticism still lingers.
In short, it's a lot.
"I'll be honest — we're tired. We're exhausted," admits Dr. Gray. "This is a startup. It's the first time I've ever worked in a startup … it's been a series of win after win after win, but there's no rest for the wicked."
Among those wins? A near doubling of enrollment since the college's inaugural Fall 2021 semester. A near quintupling of available programs, from just three to 14. And soon, another campus — the former Villa Maria High Academy building at 2403 W. Eighth St. Full accreditation has been fast-tracked for 2023 or 2024. And perhaps most importantly, clear career pathways and pipelines into the local and regional workforce have been established.
"When I first got here, a lot of people wanted to tell me why we don't need a community college," Dr. Gray recalls. "I think we've changed that. I think people get it. We've connected incredibly well with our business communities. We've added programming right where we need folks to help rebuild our economy here."
Addressing Real Employment Needs
That additional programming includes eight new certificate options (programming, mobile app development, corrections, welding, CNC operator/programmer, industrial machine maintenance, and automated electrical systems) and three new associate's degrees (programming, mobile app development, and criminal justice). Guy Goodman, EC3PA's vice president of academic and student affairs, says the new offerings — as well their educational goals and structure — were very intentionally determined.
"Our first step is to look at the needs of our community. The industry partners we are communicating with, what are they telling us are their immediate needs?" Goodman explains, adding that a desire for more welders and CNC machine operators was one of the most commonly expressed. "We're out there, boots on the ground, meeting with leadership and having those conversations."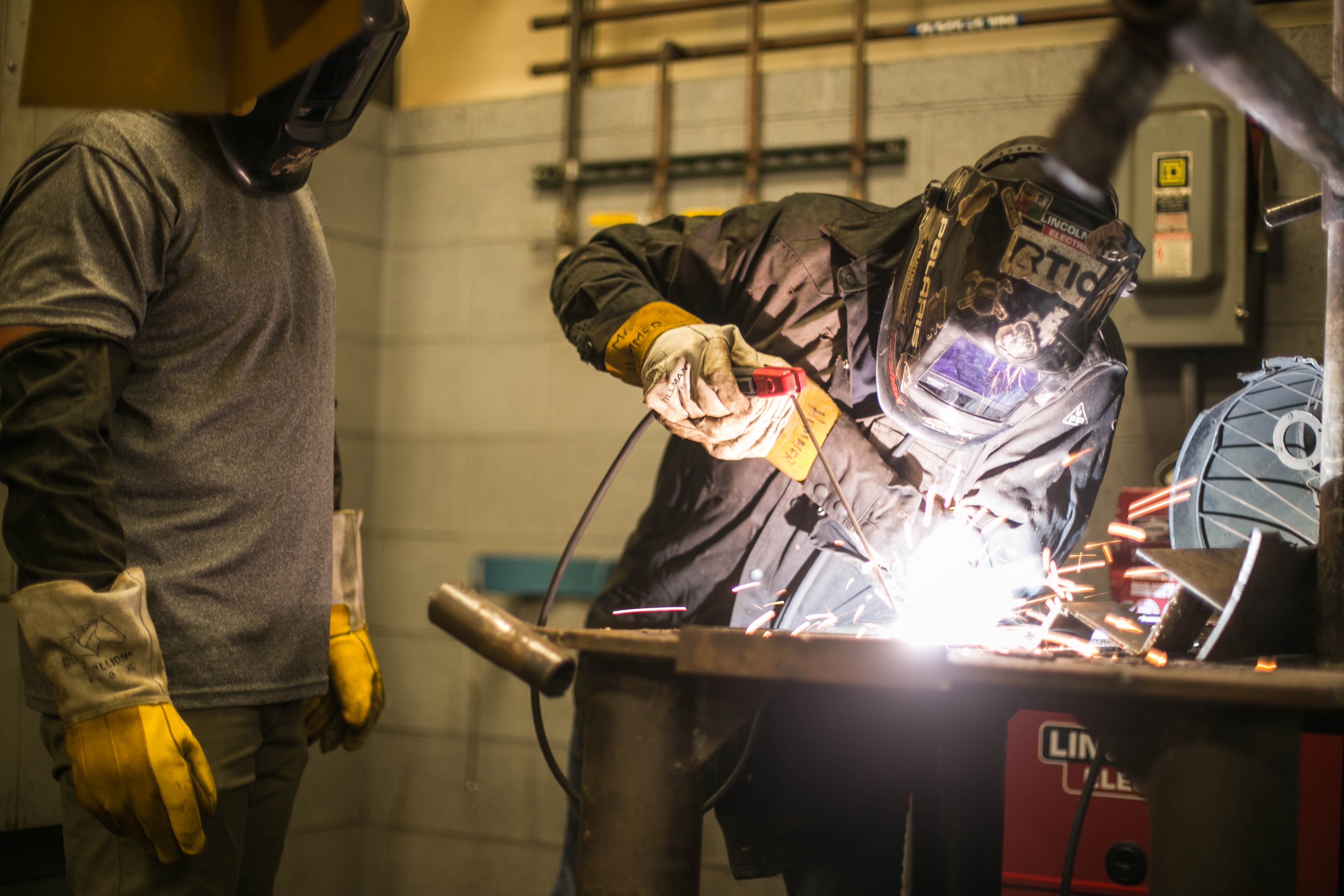 The other component, Goodman says, is tying those conversations to the Pennsylvania Department of Labor and Industry's High Priority Occupations list — those both in demand and capable of providing students with the means to effectively provide for their families. "All programs we've put in place are in line with a family-sustaining wage perspective."
To fill that demand and fill it faster, EC3PA is leveraging partnerships and resources at multiple levels. At the high school level, it is implementing a dual degree program with Erie's Public Schools, allowing juniors to spend their afternoons on EC3PA campuses, en route to earning an associate's degree in tandem with their high school diplomas. Numerous high schools both within the city limits and beyond have reciprocated, lending their facilities to community college students after hours (e.g. welding and/or CNC shops).
At the college level, it's aligning with local universities like PennWest Edinboro and Mercyhurst on curriculum in compatible areas, such as criminal justice. It's also constantly in discussions to share adjunct faculty, helping to facilitate an easier transition for the student from EC3PA to the receiving four-year institution. As of now, EC3PA has transfer agreements in place with all three PennWest campuses (Edinboro, California-Pa., and Clarion), Mercyhurst, and Penn State Behrend — once EC3PA is fully accredited, more universities are likely to join that list.
Connecting Career Pathways
Outside academia in the "real world," EC3PA is collaborating with economic development agencies such as the Erie Regional Chamber and Growth Partnership — as well as the employers themselves — to get students the skills and hands-on training necessary to be more immediately competent in their chosen professions. One prominent example is Lincoln Electric, who will be working closely with prospective welders this semester. Such arrangements are beneficial to not only the student, who learns exactly what the trade entails, but the employer as well, who more quickly relieves labor shortages.
This, says both Dr. Gray and Goodman, is illustrative of the special niche a community college can occupy even in an area well-represented by higher education — the nimbleness to adapt and respond to expanding needs by meeting employers halfway. Dr. Gray mentions the college's developing partnership with UPMC Hamot as another example. "UPMC came to me and said, 'Chris, I've got surgeons threatening to leave my system because they can't do enough surgeries because they don't have enough surge techs.'"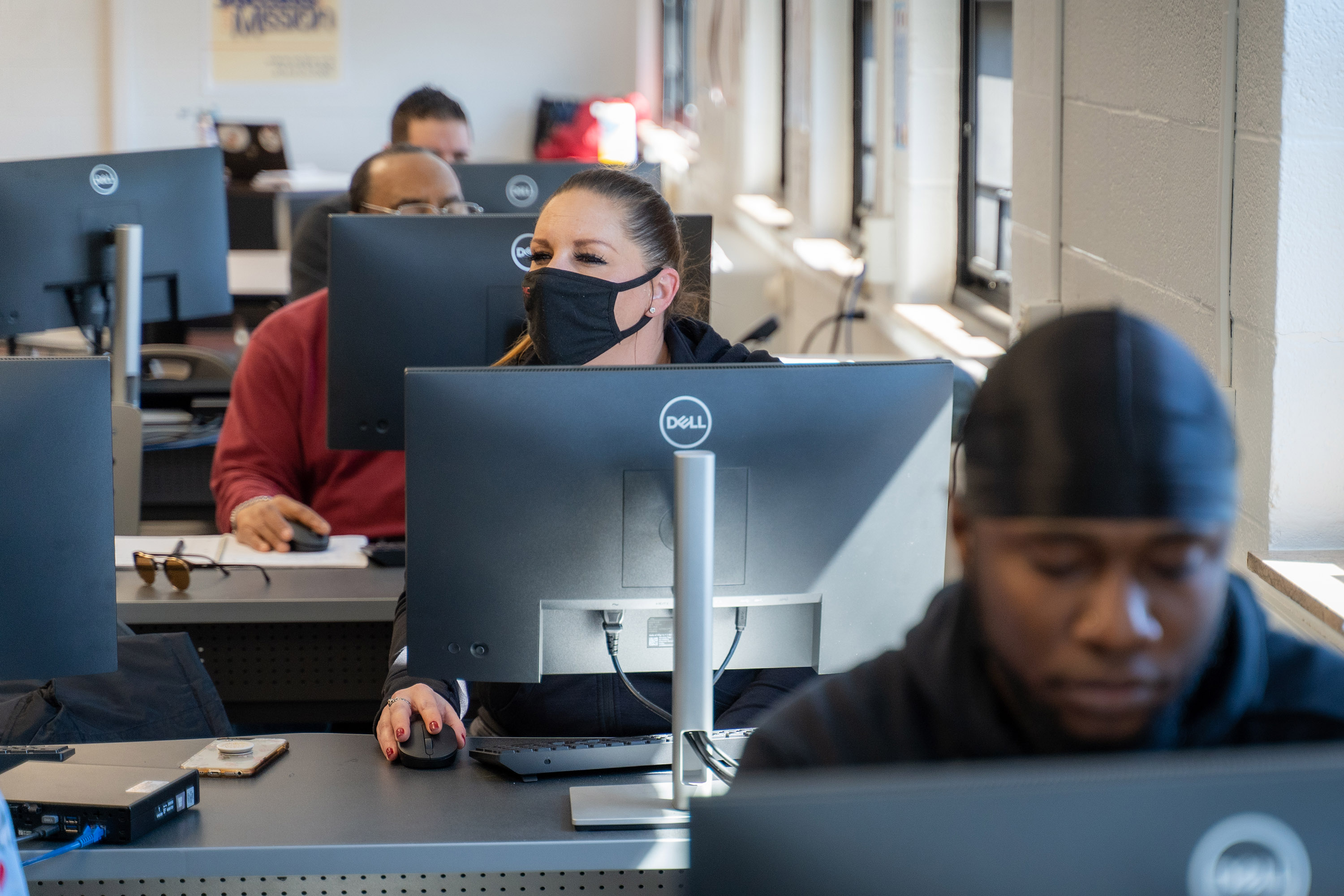 Surge techs, or surgical technologists, play a vital support role in operating suites and are clearly in urgent demand. Training them properly, however, requires accurately simulating that setting. Whereas a massively provisioned institution like Penn State might have the real estate and budget to build a mock operating suite on campus, community colleges are much more limited in their budgets and their facilities. So what instead ensues is creative collaboration — EC3PA teaches the baseline science and anatomy courses on their campuses and UPMC Hamot lends EC3PA students one of their state-of-the-art operating suites. Both parties are better for it.
"Our goal is to do college differently," expresses Goodman. "We are not going to look like our partners in higher education here. We don't want to look like them. We want to be that alternative. We want to share that we are producing individuals who can go into family sustaining wages, so that we can help turn around and enhance the economic condition of Erie County."
Dr. Gray adds: "Everyone's struggling to find employees. If we can't provide companies with the workforce, and they can't expand operations or take on new lines or be innovative, they can't even think about competing for bigger contracts. So one of the things I'm most proud of is how we've teamed so well with all our economic development agencies, particularly the chamber."
EC3PA's achievements over the past year have been more than passable. There are not only growing enrollment numbers and course offerings, but there's also growing belief in its value. Whether that belief is validated, though, ultimately comes down to students.
How to College
Early on, most of us learn how to count to ten. How to tie our shoes. How to ride a bike. There's a clearly defined order and procedure to these things, and we generally catch on quickly.
But some students never really grasp "how to college" — at least not right away. And many more simply cannot college given their current circumstances — at least not in the traditional sense of committing four uninterrupted years to full-time, rigorous study on a pristinely groomed campus.
"We have five major starting points throughout the year because our students don't have the convenience of packing up their cars and going off to college," explains Dr. Gray. "Our folks are working on trying to balance jobs and [lives]."
Those lives may include one or more children to feed. Or perhaps an illness or disability. Or potentially an immediate loss or tragedy in the family. And more often than not, not a whole lot of money. Whatever the case, it's incumbent upon a community college to "meet [students] where they are," says Dr. Gray.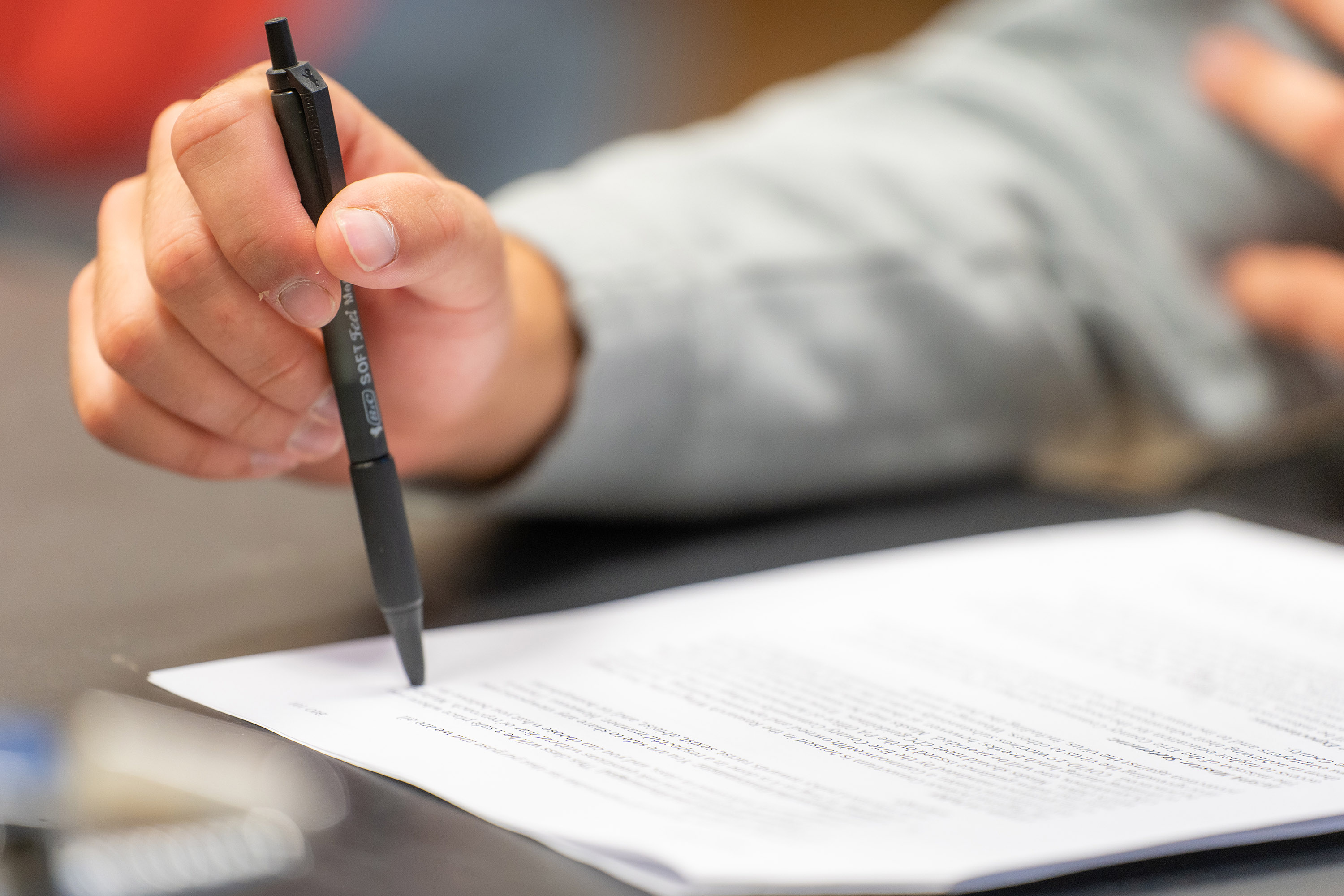 Financially, EC3PA has made good on the pledge by extending tuition waivers to Erie County residents (through the EC3 Empowerment Grant). Physically, they've done it by literally meeting them where they are, holding info sessions, registration events, and subsequently classes in accessible locations throughout the community — especially those in and around the city's lower east side.
"We've got to be there," affirms Dr. Gray. "Five of six students don't have access to a car. It's a dense population with a need" for access to higher education. "When you look at the fact that one in three of our students are people of color, and one in four identify as Black, that tells you we're serving a population that may not have been served [at a historically high rate] by the other colleges."
Education is wholly and unequivocally a socioeconomic issue, and the statistics bear that out. On average, those who attend a community college make 86 percent more annually than if they hadn't, whether they directly enter the workforce or transition to a four-year institution. Those are the kind of returns that can break multi-generational cycles of poverty and spur upward mobility. But if we are to graduate to something closer to equity, that door has to be held open.
Or, more accurately, doors. In sticking with its "30-minute promise" (Erie County residents will be no farther than 30 minutes away from an EC3PA campus by foot, bike, or public transportation), EC3PA offers classes at five locations:
EC3 Erie East (at the St. Benedict Education Center)

EC3 Erie West (at 2403 W. Eighth St.)

EC3 Summit (at the Erie County Technical School Skills Center)

EC3 Corry (in the Corry Higher-Education Council Building)

EC3 at TREC (the Regional Science Consortium at the Tom Ridge Environmental Center)
Additional labs and classes will be offered at other locations throughout the county as community college's network of partnerships continues to grow. Alternatively, the bulk of the coursework can be completed online for most programs.
Once students are in the door, the focus turns to keeping them there. And that involves removing barriers or relieving distractions that could be detrimental to success. In fact, embedded inside EC3PA classrooms are "success coaches," staff members who monitor for lapses in student engagement and attendance, seek to understand the root cause(s) of those inconsistencies, and connect the student with the community resources to work through those issues. The faculty is also allied in that goal, taking great care in getting to know each student's name and story in order to optimize their learning experience, according to Goodman.
Explains Dr. Gray: "I think of the thousands of students I've taught over my career, I can count on my hands the number that failed because they weren't smart enough. The vast majority of students aren't successful in college because A) they don't care, B) they don't have the tools, or aren't allowed to explore with the tools, and C) they aren't allowed to fail. We take the time to teach you 'how to college' — to give you confidence, to teach you to be inquisitive, to teach you it's okay to fail. And we take a lot of the pressures off our students."
Students should only become more numerous and diverse in the future, including all those graduating high school seniors who have relocated to stunning, sprawling university campuses only to discover it's not a good fit for them. "They're going to be back in Erie feeling like they let themselves down. They let their families down. They put themselves behind. That's not true," Dr. Gray. "Students can jump in and take some of their gen ed courses right here with us until they find a better fit for themselves in the long term."
Ideally, Goodman hopes the community college will be many things to many people, roundly utilized and embraced as a local and regional asset. As for Dr. Gray's wishes for the future: "I want to hear 'I went to EC3 and it totally turned my life around. My life is different because of it.'"
But tests remain. And although missteps and stutters are allowable for EC3PA students trying to find their way, failure is not an option for EC3PA administration.
"We're going to make it because I'm too damn stubborn for us not to," Dr. Gray predicts. "We have to. Our students need us."
Matt Swanseger can be reached at mswanseger@eriereader.com