ER Sports
After going 18-6 (14-6 in high schools, 4-0 in colleges) last week, JRL's back with Week 2 and 3 gridiron picks.
September 3, 2014 at 8:05 AM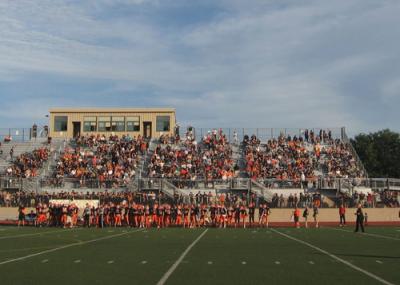 WHEN A PERSON loves high school football as much as I do, there's nothing better than opening night, especially when it's a perfect evening for gridiron action.  My biggest decision this Friday was which game did I wish to attend – an extremely tough choice for me.
After much deliberation I decided to make the short trek to Paul J. Weitz Stadium (one of my favorite venues for a sporting event) and view the Harbor Creek-Iroquois match, a game featuring first-year coaches at both schools. As a matter of fact, the HC position came down to finalists Ned Bailey, who got the nod, and Matt Morgan who ended up taking the Iroquois job.
I thought this would be an entertaining game, and I love it when I'm correct. This was a barnburner that thrilled the large crowd – the schools are just a couple of miles apart – on hand, the Huskies hanging on for a 38-35 decision.  However, the truth is there was no real loser and the fans of both squads should've been pleased, the future bright for both schools. 
Both teams were well-coached, played with enthusiasm and handled themselves with poise, and class despite the intense nature of the rivalry.
What a great way to open the high school football season!
TWO OF the biggest surprises on the first week of play were provided by McDowell and Cathedral Prep, both teams picking up wins that have to be classified as major surprises, as McDowell topped Canton McKinley, 30-21, and CP powering past Cleveland Glenville, 21-6. 
Normally, Erie schools do not fare well against Ohio powers, especially on the road. There may've never been a night in Erie grid history when two local teams posted wins over Ohio powers – and on the road. This had to open eyes of high school football experts in both Pennsylvania and Ohio.
The most surprising aspect of McDowell's win was the fact the Trojans were coached by Brad Orlando in his debut as the coach of the Blue-and-White, and they notched their win with a powerful rushing game. Orlando was the Offensive Coordinator at Cathedral Prep where the Ramblers were one of the top passing teams in the country, rushing the pigskin rarely.
Meanwhile, CP dominated an always physical Glenville team after falling behind, 6-0, early in the contest.  The Tarblooders are well-known for always being an extremely rugged and intense foe.
What does this mean? In case you haven't done it already, circle the McDowell-Prep contest on your football calendar, soon to be played at a stadium (Erie Veteran's Stadium) near you.
MEANWHILE, there is a Major League Baseball season still going on and the Pirates and Indians are certainly picking up their play at the right time, the Pirates closing rapidly in on the Brewers and Cardinals in their division while the Indians have made a surge that has put them in the chase for the division lead after a wild card spot seemed almost out of the question two weeks ago.
The Buccos are getting pitching and hitting while the Tribe may find the lack of hitting being their undoing.
Also, Pittsburgh is drawing great at the gate and the Indians' attendance is an embarrassment. 
James R. LeCorchick can be contacted at JRLSportsReport@gmail.com, and you can follow him on Twitter @JRLSports.