ER Sports: Size Does Matter
After every local team being defeated in the Buger King Classic, we are left wondering whether or not the size of our players is holding us back. Also, a Super Bowl prediction.
January 21, 2015 at 8:00 AM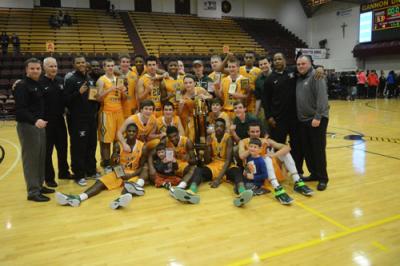 I HAVE BEEN watching the Burger King Classic (previously know as the McDonald's Classic) for 32 years now, and every year the same question pops into my mind when I view the top high school talent in the country, and that question is, "Where are the big men locally?"
I consider any high school performer in the area taller than 6-6 as a big man, and they are few and far between. As a matter of fact, a 6-6 hoopster around Erie is a rarity.
This is something many fans used to joke about, but it seems to be more than a coincidence that our area just doesn't have many "bigs," as college coaches like to refer to inside players. Further, area hoop followers would always joke, "There must be something in the water that keeps our kids from growing." But then everyone would chuckle and move on.
Now it doesn't seem as humorous as it once did.
To add more fuel to the fire, Andy Sisinni, a former star basketballer at Cathedral Prep and Duquesne University and a coach at Strong Vincent and CP, told me several times in half-jest many years ago, "I think the lack of sunshine in Erie is a hindrance when it comes to our young people adding size." I'm starting to think he may be on to something.
Year after year, teams show up for the BK Classic roster dominated by talented performers standing 6-7 or better. And this year's tournament is a perfect example of the difference between "our" kids and players from the major programs.
Let me show you some of the facts, and then you can judge for yourself if this is paranoia or actual fact.
Starting with Cleveland St. Edward's, the BK winner, the Eagles showcased a starting lineup that stood 6-9, 6-7, 6-6, 6-3, and 5-9. The 6-9 performer, Derek Funderburk, is just a junior and is being recruited by every Division I team in the country. The Eagles star doesn't just stand at 6-9; he has the wingspan of a seven-footer. SE also had a 6-7 sophomore on the bench.
Teammate Kipper Nichols, the 6-7 standout, is also going Division I.
Runner-up, Philadelphia Constitution High School, opened with a starting five of 6-7, 6-6, and a trio of 6-1 performers. In reserve, the Generals could bring in a 6-8 player, a 6-5 hooper, and three 6-4 players, one of these being a freshman.
Keep in mind, the Philly school plays in Class A and may not be tested in any playoff contest on the way to a state title. The Generals are a power at any level.
Meanwhile, New Jersey's Pope John XXIII arrived in Erie as the 14th-ranked team in the country and left our town with the third place trophy, the Lions losing the opener before bouncing back to maul Cathedral Prep in the consolation contest.
Are you ready for this?
That squad opened with a starting five of 6-9, 6-9, 6-6, 6-3, and 6-3. On the bench was a pair of sophomores, the duo standing 6-10 and 6-8.
Gannon hosts two tournaments every season, and I have yet to see a collegiate squad show up with a starting line-up that large for either one.
Moustapha Diagne, one of the 6-9ers, has already committed to play for the Orange at Syracuse, is a beast inside, and can shoot the three-pointer also. He is definitely one of the top players in the country.
And now for your Cathedral Prep Ramblers, the Erie team countering with a starting five that stood 6-2, 6-1, 6-1, 6-0, and 5-9.
Actually, the Orange and Black had a tremendous effort the opening night, as the Ramblers bowed to powerful Constitution, 61-56 before running out of gas the second night to lose to Pope John by 25. It should be noted, however, Coach Mark Majewski's program does have a 6-8 sophomore on the JV team with some potential.
BK CLASSIC CLIPS – I have covered a lot of the Classics, but I would be neglecting my duties if I didn't point out that coaches Robert Moore (Constitution) and Eric Flannery (St. Ed's) were two of the classiest coaches I ever witnessed on the sidelines, their courtside behavior being a model for all coaches. I sat next to Coach Moore the first evening and did the radio broadcast for the title game next to the St. Ed's bench.
I have to add that I've never witnessed anyone like the Pope Paul coach and not in a good way, the Lions' boss complaining on every call and numerous non-calls. As a matter of fact, he whined the entire contest, especially in the loss to Ed's. He was nice enough before the game, but the one word to describe his game-time antics is pathetic.
In the "It Never Fails Department," after reading my above comments, you know the one thing Prep needed more of was rebounding, so what happens? Charlie Fessler, who stands 6-4 and is one of he top rebounders on the team, had to go to a mandatory recruits' meeting at Northwestern University for incoming football players.
Constitution had two players I would pay to see every chance I could, as 6-7 senior Ahmad Gilbert and 6-1 sophomore Kimir Williams, one of the best young point guards to ever play in the Classic, were both sensational. This dynamic duo was unflappable, and they will make the Generals nearly unbeatable in the playoffs. The Philly school could put up some staggering numbers in post-season play, especially in Class A.
The championship game between SE and Constitution will go down as one of the best title tilts in the history of the Classic, the Cleveland squad defeating the Philly five, 70-63 in overtime. Williams hit a long three-pointer at the buzzer to tie the contest and send it in to an extra session.
I was stunned by the outside shooting ability of the 6-9 Diagne, the Syracuse recruit deadly from long range. He has a great stroke.
Prep point guard Jaryn Simpson is the son of former Gannon standout Bronze Simpson.
SUPER BOWL – With my selection stock soaring after picking Ohio State to defeat Alabama and Oregon, I know you are salivating waiting for my SB pick. Well, the wait is over. SEATTLE SEAHAWKS 24, NEW ENGLAND PATRIOTS 21.
Editor's note: I probably should inform you that I don't think I have ever picked a Super Bowl correctly, as far as the betting line is concerned. Just thought you should know this.
James R. LeCorchick can be contacted at JRLSportsReport@gmail.com, and you can follow him on Twitter @JRLSports.