Erie Art Musem's 22nd Annual Blues and Jazz Fest
Your Guide to Getting the Most Out of the Two-day Fest in Frontier Park.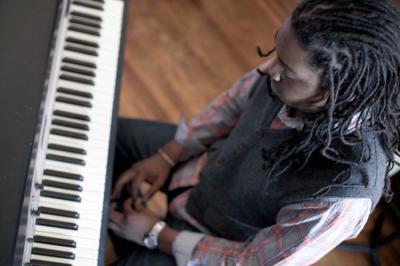 The 22nd annual Erie Art Museum Blues and Jazz Festival kicks off in Frontier Park on Saturday, Aug. 2, and if you're like many people around the region, you consider this event the peak of Erie's summer entertainment season; it's free, it's BYOB, it's clean, it's green, it's family-friendly, and it's fun – plain and simple. Ten performances will take place over two days, but aside from the music, there's a lot to get excited about.
This year, you'll find many of the same things that make this festival a hit year in and year out – there's a bicycle corral, and recyclable utensils, and the Erie Reader tent – where you can compliment/heckle your favorite/least favorite Reader writers and editors – however, one exciting addition you will find is that Three B's Saloon will join established food vendors Bite By the Bay, Connie's Ice Cream, Little Caesars, Lombardo's Pita Place, and Sadie's Concessions.
You'll also find many of the same do's and don't's as in previous years – don't start any fires, don't attempt to set up your tent before 9 a.m., don't attempt to sleep in the park overnight, and don't bring your cat, dog, pigeon, lion, llama, lizard, turtle, or any other creatures or they (and you) will be asked to leave.
In order to best budget your time and ensure you don't miss a minute of all the weekend's action, check out the performance lineup below and plan accordingly!
SATURDAY, AUG. 2
Old Songs New Opportunities
Saturday, August 2 at Noon
This one's for the kids. While not the most heavily-attended act of the fest, the OSNO project puts Erie's cultural diversity on full display and shares traditional Bhutanese, East African, Eastern European, and Middle Eastern songs with the children of Erie.
Duke Sherman Blues Band
Saturday, August 2 at 2 p.m.
Influenced by blues guitarists so famous that they need no last names – Buddy, Jimi, and Stevie Ray – Duke is one hell of a guitarist. Joined by Otis James on the harp, Rik Cass on the skins, and Mark Murphy on the low end, Duke always puts on a gritty, vigorous performance that leaves the audience sweaty and spent. Don't miss this one.
Vernon Jones Blues Cartel
Saturday, August 2 at 4 p.m.
Speaking of blues royalty, the immortal Robert Lockwood, Jr.'s longtime drummer – Vernon Jones – brings his formidable Cleveland-based cartel to the park this year to present you with their polished brand of party blues.
Heritage Blues Quartet
Saturday, August 2 at 6 p.m.
If polished ain't your thang, the Heritage Blues Quartet certainly is. Authentic and engaging, this rootsy ensemble brings the blues back to where it began with their gospel-and country-influenced stylings featuring electric, acoustic, and dobro guitars.
The Lee Boys
Saturday, August 2 at 8 p.m.
So-called "sacred steel" has done well in recent years both nationally and locally – buoyed by releases from international superstar Robert Randolph as well as a 2011 Blues and Jazz Fest appearance by the Campbell Brothers; if you've not yet experienced the power and grace of this unique style, now's your chance.
SUNDAY, AUG. 3
Misery Bay Big Band
Sunday, August 3 at Noon
If you make it back to the park by noon, ease that hangover with your yearly dose of American jazz orchestra. This one has over 400 years of combined playing experience, and a bunch of saxophones, trombones, and trumpets.
Cheryl Hodge Trio
Sunday, August 3 at 2 p.m.
The label "female jazz siren" is often misapplied to warbling wannabes - but not in this case. Cheryl Hodge is the real deal. Backed by local heavies Frank Singer and Joe Dorris, Hodge's performance is one of the more highly-anticipated of this year's lineup.
Stephen Trohoske's Jazz Gypsies featuring Roby "Supersax" Edwards
Sunday, August 3 at 4 p.m.
Speaking of highly anticipated, local music maven Steve Trohoske's assembled yet another intriguing project featuring well-known and beloved local players Eric Brewer, Stix Thompson, and Allen Zurcher, all of whom will set the stage for Pittsburgh-based alto sax player, the phenomenal Roby "Supersax" Edwards. Make sure you're front and center and watered and fed before this one starts.
George Burton Quintet with Terell Stafford and Tim Warfield
Sunday, August 3 at 6 p.m.
Young pianist George Burton's complex-yet-accessible brand of bop has been turning heads across the eastern seaboard and beyond for some time now; rooted in jazz's proud past but reaching for jazz's bright future, Burton's work is astonishing, so you better catch this guy while you still can.
Jane Bunnett & Maqueque
Sunday, August 3 at 8 p.m.
In the early '80s, Canadian Jane Bunnett visited Cuba and returned with Afro-Cuban influences that would go on to define her career. Luckily for us, she'll bring those island rhythms - and her all-female, all Cuban band, Maqueque - to the stage as the sun sets on another fine festival. Whether that stage remains standing when she's through with it is something you'll just have to find out for yourself.