Erie At Large: January 3, 2018
Meet Chris Rieger, Democrat for Congress  
January 3, 2018 at 12:30 PM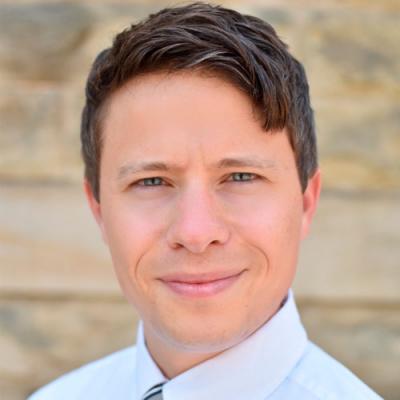 In the wake of the 2016 presidential elections, Democrats, in particular, focused their attention toward the 2018 midterm elections. Their hope: to make 2018 a change year on par with the three most recent midterm elections.
In 2006, Democrats gained 31 seats in the House and six seats in the Senate. Four years later, Republicans picked up 63 seats in the House and took back the six Senatorial seats lost in 2006; and in 2014, Republicans added 13 more seats in House and nine more seats in the Senate.
These swings are largely seen as electoral backlash toward the party which holds, and the President who resides in, the White House. Historically, since World War II, the party in power in the executive branch loses 25 seats, on average, in the House of Representatives as a result of Congressional midterm elections, according to analysis by Vox Media. In fact, the president's party has lost Congressional seats in 16 of the last 18 midterm elections.
Pennsylvania Democrats would like to see this trend continue in 2018 as they search for a candidate that is both wonkish and charismatic enough to take on Republican Representative Mike Kelly, who was first elected to Congress in the change wave in 2010 unseating then Congresswoman Kathy Dahlkemper.
Chris Rieger hopes to be that candidate. He's a 33-year old lawyer from south Butler County hoping he can convince voters that he can preserve what's left of the Democratic agenda in Washington to the benefit of the rather homogenous and sprawling 3rd Congressional District, which includes western Erie County, as well as parts of Armstrong, Butler, Clarion, Crawford, Lawrence, and Mercer counties.
Rieger ran unsuccessfully for a seat in the Pennsylvania House of Representatives in 2012. He's been active with groups advocating for the preservation and expansion of the Affordable Care Act, as well as Fair District PA, which lobbies to dismantle the gerrymandered political districting in the Commonwealth that has turned PA-3 into a bastion of white conservatism — nearly 95 percent of the electorate in this district is white and less than 5 percent of voters are black or Hispanic.
We met when Rieger came to town for a regularly scheduled meeting of the Erie chapter of Keystone Progress, a grassroots organization that supports myriad progressive issues across Pennsylvania. We talked about his motivations, his priorities, and his plan to unseat a four-term conservative incumbent in the era of Trump.
Jim Wertz: Let's talk a little bit about how your work has affected your decision to run for the 3rd Congressional District.
Chris Rieger: When I ran for public office, for State House, against Daryl Metcalfe last year in south Butler County, I wanted to find a way to get more involved in my community, so it was a very local level of thinking at the time, which is why I ran for a smaller office.
The morning after the election, I didn't wake up and say "okay, well that was great, so now I'm going to go up against the car salesman from Butler." That thought didn't register, but based on what happened on November 8th of last year, I knew I wanted to stay visible and stay involved, however I could.
I got a call from a friend of mine down in north Allegheny County who said "we need speakers for Fair District PA," which led into me doing presentations here and there throughout Butler and Lawrence counties, for fair districts, because the gerrymandering issue is big with me as well. This is around the time the healthcare issue really took off, based on the Affordable Health Care Act vote last May. We put on a couple of in-person town halls that I moderated — one was in Cranberry Township, one was in New Castle. So, when I've been doing my stump speech, I've been talking about how I've now conducted more in-person town halls in the last five months in front of Representative Kelly's constituents than Representative Kelly has in the last six years.
JW: Tell me about the composition of that team, and how that's helping you to mobilize here in the early stages of the campaign.
CR: We're basically organized by regions, largely throughout the 3rd, so many of them were involved in my State House campaign last year. The majority of them actually are not part of any official Democratic party apparatus. Some are, obviously — the Butler County committee, which I'm very close with, is working with me down my way. But I'm working with Lawrence County Action in New Castle, the Democratic Women of Mercer County has a number of activists who are getting behind our campaign, and of course, Keystone Progress Erie is going to be enormous in our efforts up in Erie because this is the highest concentration of voters that we want to get out. I think the next stage in the game is to get all these groups coalescing and working together. I think that's the next challenge, right when the primary season kicks off.
JW: You're a young guy. You're a smart guy, but you're a young guy. You've got a youthful appearance to you.
CR: I'm older than I look [laughs].
JW: But the fact remains that Dan Lavallee has mounted the only significant challenge to Mike Kelly in 2014, and one of the biggest hurdles he faced was his age, and the lack of political experience, and he was hammered for that, in the Erie Times News in particular, in their endorsement of Mike Kelly.
CR: I met Dan a few times last year — I think he ran a fantastic campaign, and I think what he had going against him wasn't his youth at all; what he had going against him was a matter of timing. I think 2014 was a rough year for Democrats up and down the ballot nationwide, and for Pennsylvania, minus [Governor] Tom Wolf. But when people meet me for the first time, they're genuinely excited that we have a new, fresh young face coming in. I'd like to think I'm bringing a youthful energy to the district. But I still think my experience in the private sector, my experience in my private practice, and my work with the kind of clientele I have, and throughout my volunteer work, gives me a number of great life experiences and great relationships that can help me with this race.
JW: This seat has historically been controlled by Erie County politicians, Republican or Democrat, up until Mike Kelly. Erie voters are clamoring for a candidate from a northern part of the district to run. Your experience is primarily in the southern part of the district and you live at the southern point of the district. What's your answer to Erie voters, Erie Democrats in particular, but Democrats and Republicans who are looking for someone to represent the needs and the challenges of Erie in Washington?
CR: My answer to the people of Erie, is that we're trying to bring a positive, progressive, economic message to the 3rd district. I think that's a message that still resonates with voters in the city of Erie, who feel like their voices have been shut out for a while because of both gerrymandering and the fact that they feel that their representatives, particularly Mike Kelly and Glenn Thompson, aren't as successful as they need to be. If you look at Erie County, Barack Obama won Erie County by about 16 or 17 points in 2012, Trump of course won it by two; it was a 10,000 vote swing. Those are primarily Democrats, the Obama coalition Democrats. So, I think the question our campaign, and many campaigns are trying to answer is "how do you win them back?" I think you win them back with those grassroots economic issues, things like a living wage, healthcare for every American, and getting private money out of politics, which is an idea even many independents and Republicans can get behind. We're trying to bring that message everywhere.
JW: One of the challenges Dan Lavallee faced was that 3 out of 4 voters had no idea who he was, according to a Mercyhurst University poll in October of 2014. You've got a few months to make that up, and you're likely — I think — to have a Democratic challenger in the primary.
CR: Well that's one reason we announced when we did. We announced comparatively early. We announced back in the third week of August, and we were able to build a grassroots organization immediately, like I said, with all of these groups we've reached out to. And one thing I've been saying is, "Are we going to outspend Mike Kelly?" Of course not, it would be naive to think that. But we are going to outwork him.
"I'm not going to let the voters forget about the healthcare vote last May. I think it was immoral. The Congressional Budget Office's estimates were very clear about what that bill would have done to people in PA-3 as well as nationwide."
JW: We talked about your broader issues, but if you had to carry a single drumbeat through this election, what's it going to be?
CR: I'm not going to let the voters forget about the healthcare vote last May. I think it was immoral. The Congressional Budget Office's estimates were very clear about what that bill would have done to people in PA-3 as well as nationwide. And we're not letting people forget about that. The issue of healthcare is not going away. The Affordable Care Act is far from perfect as most people know — and everyone wants to make it better, but the issue is how do we make it better? So that started the drumbeat I think, with a lot of these groups I've been discussing with, that's what got us to organize the healthcare town hall. And again, it's an issue that's personal to me, based on the people I represent as legal counsel. So that, and income inequality, I think are issues that resonate with many Americans, because they're low-level, local issues. They're national issues, but they affect everyone individually.
Jim Wertz can be reached at jWertz@ErieReader.com, and you can follow him on Twitter @jim_wertz.