Erie at Large: Parks and Recreation
Jim Wertz explains the troubles with not utilizing some of Erie's best parks.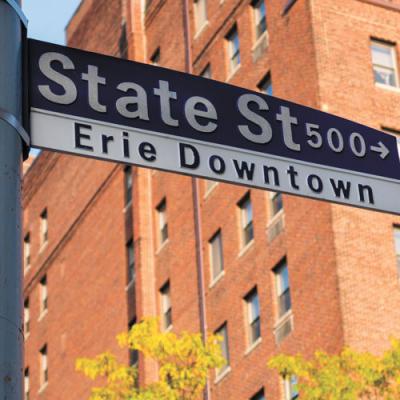 Erie City parks are one of the most underrated assets in the region. Many of the city's best parks are often underused and to some extent unknown to city residents and visitors because of neighborhood reputations for violence that are often perceived to be rooted in drug traffic and turf wars. Some of the concern is warranted; some of it is not.
If only we had our own Ron Swanson and Leslie Knope of NBC's now retired Parks and Recreation to set the record straight and get people back to the park. That fictional duo would try to get people to those long forgotten neighborhood treasures even if it meant poorly staged meet and greets and tearing down aging gazebos in favor of more squatterless accommodations. They may even drop a rib festival in the midst of the construction zone just because they can.
While this may be the premise of your favorite "Must See TV," it's also your city government, trying hard to make aesthetic changes in the face of the real problems so that city residents can better enjoy their brisket.
On the eve of Erie's annual Wild Rib Cook Off and Music Festival in Perry Square, Mayor Joe Sinnott held a press conference to champion the city's many parks and summertime recreational activities for the youth of Erie and their families. The Mayor's office also produced a full color guide to city parks, which is available at erie.pa.us. It all sounded so promising. The city has great parks, and despite what many people believe, the city still has great neighborhoods.
So why wasn't one of those parks in one of those neighborhoods the site for this year's rib festival?
The demolition of the gazebo in Perry Square is part of the vision for downtown Erie and for Perry Square, generally. But were contractors not asked to complete the renovation of Perry Square before the Rib-Fest? If they promised to do so and missed their mark, will they be held accountable by the city? Or is it just a graft-worthy oversight, the kind that seems to be so popular in city folklore?
Regardless of why the beautification of Perry Square carried into an annual event – on the calendar since last year – why did city leadership not choose to move the festival in order to showcase one of the city's underutilized parks in an underappreciated neighborhood?
There would have been no better way to reintroduce the people of Erie to the beautiful Bayview Park on W. Second and Cherry streets than to move the festival there. Once one of Erie's most
Why did city leadership not choose to move the festival in order to showcase one of the city's underutilized parks in an underappreciated neighborhood?
utilized baseball diamonds, the park is comparatively unused, existing only for the people who live within a few blocks of the park. Festivalgoers could have parked along the Bayfront Parkway and downtown in conjunction with the Front St. footpath. Those with some extra spring in their steps could have walked up the new footpath at the foot of Cascade Street. The pedestrian crossing isn't done yet, but Erie City Police have been directing traffic there for years. One more Saturday night would have been child's play.
Or why not take the party to city's East Side? Like Bayview Park, the Wallace Playground at Front and Wallace streets has equally beautiful views of the Presque Isle Bay and Lake Erie. Parking is plentiful and people will go there, as evidenced by the success of the Troika Russian Festival a few weeks ago.
East Side, West Side, Uptown or Downtown, the bottom line remains that the city had options but chose not to exercise them because it was simply easier not to. The city still collected fees from the vendors and the vendors still got paid from the visitors that came downtown despite being jammed into half of Perry Square.
But at the end of the day, this rant isn't really about the Rib Fest. It's about a pattern of city governance that's indicative of a much larger problem. If city officials continue to flounder in the paradox of quixotic mediocrity, a Parks and Recreation-style mockumentary of a city where "a fairly simple project is stymied at every turn by oafish bureaucrats, selfish neighbors, governmental red tape and a myriad of other challenges" will be the least of our worries.
Jim Wertz can be reached at jWertz@ErieReader.com, and you can follow him on Twitter @jim_wertz.