Erie At Large: The Age of the Digital Voter
State Rep. Ryan Bizzarro co-sponsored same-day voter registration legislation.
January 7, 2015 at 8:00 AM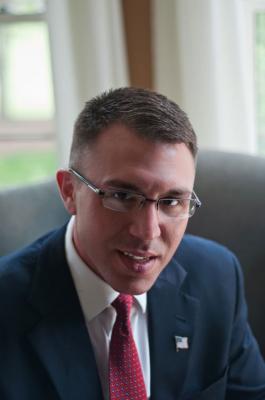 Voter engagement, or should we say the lack thereof, is the greatest threat to democracy in the United States.
The process of registering voters and then getting those voters to the polls is emerging as one of the great mysteries of the Western World alongside Stonehenge and why kids instinctively love the song "Let It Go" from the Frozen soundtrack.
There are a multitude of reasons why voter engagement is down. Chief among them is the fact that the process – the actual registering to vote – remains largely an analog enterprise in a digital age.
In the Commonwealth of Pennsylvania, this means that you currently need to register in person at a county voter registration office and visit a number of state offices, including Armed Forces Recruitment Centers or Centers for Independent Living, among others. And voters must register 30 days before an election.
The National Voter Registration Act of 1993 – also known as the Motor Voter Act – made it possible for voters to register and update their voter registration status when obtaining or updating their driver's license. Pennsylvania and 43 other states signed on.
It seems to be simple solution, but it was revolutionary in 1993, because it was the first time that the voter registration process came to voters rather than the other way around. Besides the motor voter law, voter registration in the U.S. largely remains a throwback to the nineteenth century.
Voters can now download an application from votespa.com, but there is currently no way to deliver the application electronically. Instead, voters are required to print the application and mail or hand-deliver the hard copy to the county voter registration office.
Young voters in Pa. are increasingly disenfranchised by this process, because it is less and less rational as the ubiquitously electronic app-centered world becomes their standard form of engagement.
Ageist critics will be quick to declare that young people aren't interested in politics and have therefore excluded themselves from the political process.
Nonsense.
According to the Pew Research Internet Project, most Americans had landlines and less than half of the country went online every day on the eve of the 2000 election. By 2014, nearly half of the homes in America were wireless only and most Americans were using mobile devices to "get news" and "talk politics" daily.
Indeed, mobile electronic culture is making people more engaged, not less. But there's a dangerous paradox that's emerging, because while people 18 to 29 years old are more politically engaged than ever, they're registering and voting less and less.
For the better part of a decade technologists, activists, and, in rare cases, politicians have discussed ways to modernize the electoral process. In a sense, they've struggled with the process of democratizing democracy, making civic engagement hyper accessible.
In 2012, Napster co-founder and former Facebook executive Sean Parker shared a stage with former Vice President Al Gore at SxSW to discuss ways that tech innovators could play a more significant role in encouraging their followers to be more civically engaged. Just ahead of the 2014 midterm elections, Parker announced the launch of Brigade, a tech startup aimed at boosting civic engagement in which he invested $9 million.
But all the money in techtown can't save our political system.
Electoral reform is the solution.
To that end, State Rep. Ryan Bizzarro has signed on to co-sponsor legislation in the next legislative session that will allow for same-day voter registration, and he previ ously co-sponsored legislation to begin electronic voter registration.
Like the Motor Voter Act, these bills are simple starts to resolving larger problems, but revolutionary in the context of contemporary voter engagement at the state level.
Critics of such bills cry wolf about voter fraud related to same-day voter registration and a host of other issues. But a study by the Brennan Center for Justice at New York University School Of Law concluded, "It is more likely that an individual will be struck by lightning than that he will impersonate another voter at the polls."
Perhaps the only problem looming larger than registering people to vote is giving them someone to vote for.
The largest group of registered non-voters in this country are political Independents. In Pennsylvania, this can be attributed to our closed primary system, in which registered members of a political party can only vote for candidates of that same party in primary elections.
Closed primaries effectively disenfranchise registered Independents, who are less likely to vote in general elections because they've had no choice in the selection of candidates.
In Erie County, open primaries could mean the balancing of political scales, as the power is stripped from our historically heated Democratic primary.
Don't get me wrong. As an onlooker, the Democratic primary is great fun and often better than primetime television. But for the vitality of the region, it may have exceeded its usefulness.
Allowing citizens to vote by candidate rather than by party in the primary election cycle also moderates campaign rhetoric. Instead of working to rally the party extremists, open primaries might foster pragmatic solutions for an informed electorate rather than dogmatic political bomb throwing from the folks on the fringe.
Now that sounds like a campaign-worthy revolution.
Jim Wertz can be contacted at jWertz@ErieReader.com, and you can follow him on Twitter @Jim_Wertz.