Erie BayHawks Bring Big Time Talent to Town
G League games a tip-in for affordable entertainment
February 12, 2020 at 11:15 AM
Where do your favorite ballers go after college? The best of the best will declare for the NBA Draft and go toe-to-toe with the world's elite. Others may get called for traveling, receiving offers to play in pro leagues abroad. Still more grow in stature outside of the game, extending their reach to new careers and interests while continuing to ball recreationally. Since 2001, however, there's been another outlet for those who possess NBA-caliber talent, but are in need of a little more refinement — the NBA D League, now the NBA G League (the 'D' stood for developmental, the 'G' stands for Gatorade — because sponsorships).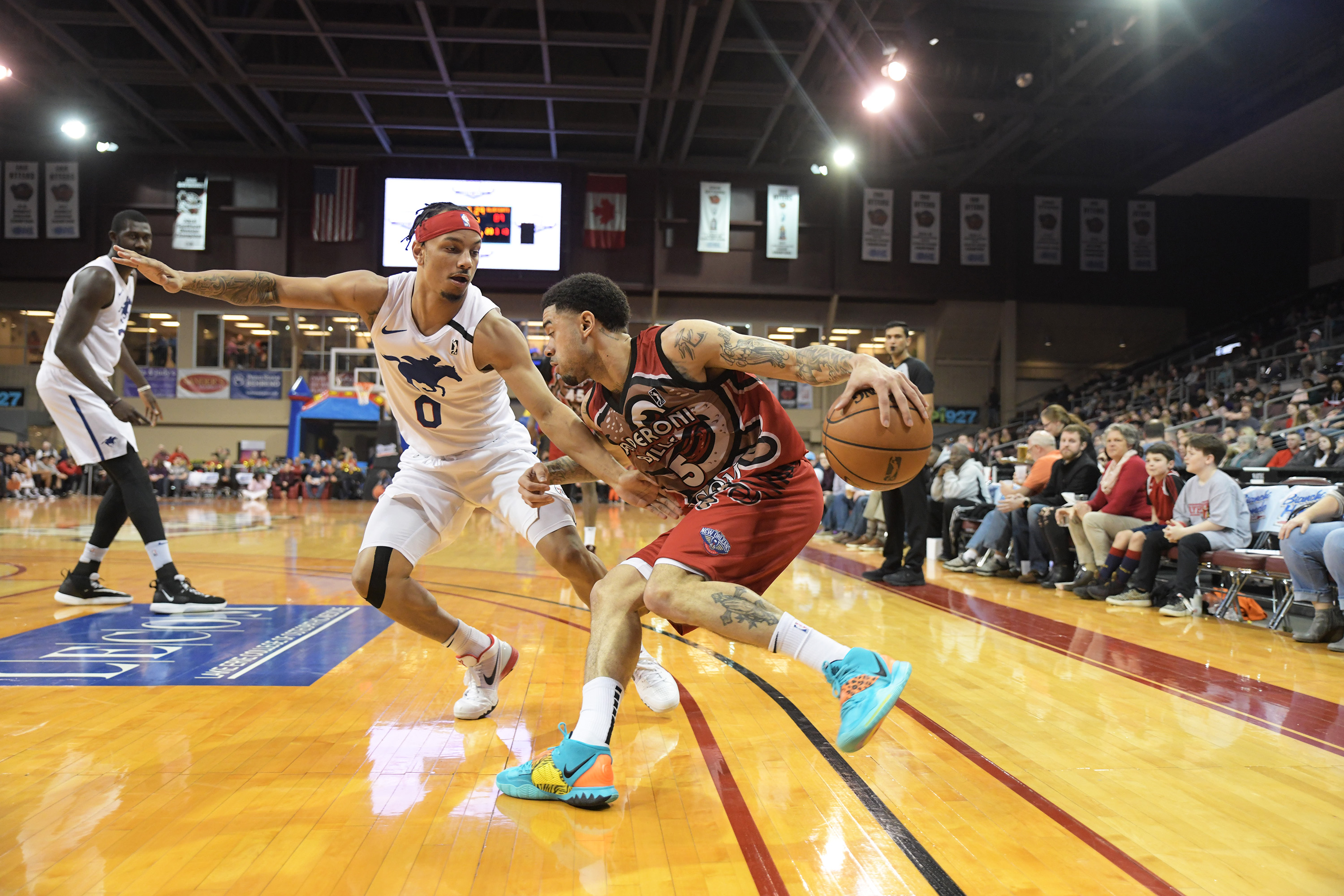 Erie BayHawks point guard Josh Gray (5) dribbles around the Delaware Blue Coats' Justin Robinson (0) during a game on Saturday, Feb. 1. The BayHawks, under the guise of the Erie Pepperoni Balls, fell to the Blue Coats 111-103.
The G League's wingspan now stretches from coast to coast, with 28 teams and a 29th (Capitanes de Ciudad de México) set to join next season. Since 2008, one of those teams has been the Erie BayHawks, and in those 12 years, BayHawks team president Matt Bresee has seen the level of talent and play "get better and better." Look around the crowd at Erie Insurance Arena on any game night and you'll see t-shirts representing the "blue bloods" of NCAA Division I basketball — Duke, Kentucky, North Carolina — depending on who's on the court for either team. These are historically impressive programs that recruit categorically impressive athletes, the same type that routinely come through G League venues.
"Less than one percent of the kids that aspire to play the game ever even make it to this level. So as a lifelong basketball fan, every once in a while I have to remind myself this is Erie, Pennsylvania where I grew up," says Bresee with a bit of a twinkle in his eye. The current BayHawks roster includes alumni of big-name programs such as UConn, Wisconsin, UCLA, and LSU. "A lot of it for these guys is right time, right place, right opportunity. People have said that you could take the last three to five roster spots and your top three or four guys on a G League team, and just depending on what opportunity one guy had over another, they might be interchangeable in terms of talent." In fact, more than half (52 percent) of current NBA players have spent at least part of the careers on a G League roster.
As with all G League clubs, the BayHawks carry a pair of two-way contract players — those who play under an NBA minimum contract and can be called up by the affiliate's parent franchise at any juncture during the season. For the BayHawks, they are former Arizona State forward Zylan Cheatham (16.1 points per game, 11.6 rebounds per game) and former LSU point guard Josh Gray, who is fifth in the G League in scoring at 23.2 points per game. Both briefly spent time with the NBA's New Orleans Pelicans this season.
The rest of the roster is constructed from affiliate players (those who spent time with the parent club in training camp but didn't make the team), G League draftees, and G League player pool pickups (essentially free agents). Since reaching the Eastern Conference Finals after the 2017-18 season (then as the Atlanta Hawks' affiliate), the BayHawks have fallen near the bottom of the G League standings. No matter — because even when the games don't break the BayHawks' way, the promotional team works hard to make the game day experience a slam dunk for both basketball junkies and casual fans alike. Family nights, date nights, guys night, girls night, corporate events — pick a game and let the good times roll.
The BayHawks are a layup in terms of value — especially weeknights, when all lower bowl and main level seating is half priced (dollar hot dogs and pop on Thursdays). "The way we see it, there's a couple ways you can experience a game," explains Bresee. "You can sit in the top row and still not have a bad seat to watch basketball." For budget-minded families or large groups and organizations, enjoy great discounts packages and a quality vantage point from anywhere in the arena. For those who care naught about affordability, courtside may be their ticket. "It's a different experience down there — you can hear the players, the interactions with officials. We can watch these world-class athletes bang against one another in the post and it gives you a different feel for the game." With a dedicated waitstaff to supply you with food and drinks, you can more or less remain glued to your seat.
During the BayHawks' Feb. 1 game as the Erie Pepperoni Balls (with appropriate uniforms and branding to match), one could hear head coach Ryan Pannone barking instructions at players during an uneven performance in which the good guys rallied from behind and secured a significant lead before ultimately squandering it in the fourth quarter. Despite the Pepperoni Balls' misfortune, that weekend's promotion is one of the more popular and creative examples the team has baked and/or fried up, seizing a golden (brown) opportunity to nestle a little bit of hometown flavor into the proceedings.
"I joke with people that part of my job is to be on conference call explaining what a humanoid pepperoni ball character looks like," Bresee quips. "These are the big tough decisions we get."
For much easier decisions going forward, check out one of these key remaining promotional dates:
Feb. 22 — Mardis Gras Party (New Orleans Pelicans affiliate night) with themed uniform auction benefiting Gaudenzia
Mar. 6 & 7 — Ladies Night (feat. ATHENA) and Slam Dunk Breast Cancer Night (pink uniforms, honoring victims and survivors, female speed painter at halftime)
For the full BayHawks schedule, visit erie.gleague.nba.com. The G League regular season wraps up Mar. 28.
If the fate of the world hinged on Matt Swanseger making a clutch free throw, your chances of emailing him at mswanseger@eriereader.com would be doomed.