Erie is Giving More
Number of benefactors, beneficiaries continue to burgeon with each Erie Gives Day
Erie is a lot of things. Chief amongst them in both our past and our present — and we have no reason to suspect it wouldn't be into our future — is that Erie is giving. 
For proof, one needn't look further than Erie Gives Day. 
Launched in 2011 by the Erie Community Foundation, Erie Gives offers the opportunity for donors to make a contribution to nonprofits throughout the Erie area during a 12-hour window on a single day, augmented by the contributions of prorated matching corporate sponsors. 
This year, Erie Gives will take place on Tuesday, Aug. 13 from 8 a.m. to 8 p.m.
Last year, 381 nonprofits received $4,471,123 — a $43,246 increase from 2017 — with 7,945 individuals contributing, 260 more than 2017. Amounts received and folks donating have grown each year, continually marking new records in both giving and givers, beginning with $774,444 and 2,770 donors eight years ago.
Of note, the average 2018 gross gift was $220.34 with more than half of the participating nonprofits receiving at least one gift of $1,000, according to the Erie Gives website. The largest gift, $114,676, was made to the Shriners Hospitals for Children. 
An additional injection to the charity of individuals by way of prorated matches in 2018 came from the Erie Community Foundation, GE Transportation, Erie Insurance, Presque Isle Downs & Casino, Northwest Savings Bank, McInnes Rolled Rings, E.E. Austin & Son, ERIEBANK, Knox Law, Erie Times-News, and Little Caesars. 
New to Erie Gives in 2019 is the ability to cut a check, made out to the Erie Community Foundation and accompanied by a check donation form, which can be found online at ErieGives.org or at the Community Foundation, located at 459 W. Sixth St., Erie, PA 16507. To have your check count, it must be received by the Foundation at that address no later than Monday, Aug. 12. 
The previous method of paying by credit card — Visa, MasterCard, and Discover — will still be accepted. 
The prorated rate match from the Erie Community Foundation and its corporate sponsors — $295,000 — is back, too, with Gold Sponsors: the Erie Community Foundation, Erie Insurance, and Wabtec Corporation (formerly GE Transportation). Other sponsors include: E.E. Austin Companies, ERIEBANK, Knox Law, Little Caesars/Dickey's BBQ, McInnes Rolled Rings, and Northwest Bank.
Additionally, the North East Community Foundation, the Corry Community Foundation, and the Union City Community Foundation — regional affiliate foundations — will provide additional prorated matches — $25,000, $10,000, and $7,500, respectively — to nonprofits specific to those communities, which will receive two prorated matches.
For the past two years, Erie Reader editors and contributors have highlighted nonprofits they donate to. We're doing that again this year to showcase a small sample of some of the places in our community we care about deeply. We hope that you'll take the time to get to know these nonprofits and that you'll take the time to head over to ErieGives.org to explore the entire list of participating nonprofits to find one or several — there's no limit to the amount you can give or the number of nonprofits to which you can contribute — that serve our community in ways which you want to see continue. 
Then, get your credit cards or checkbook ready. Because on Tuesday, Aug. 13, it's time to remind the region and beyond that Erie is giving. — Ben Speggen
Who: Mary Birdsong, Writer
Giving to: Erie Bird Observatory
Who they are: Erie Bird Observatory was founded by three women in 2018 to continue the work that has been done in the past by locals and by Audubon PA. Its mission is fostering enthusiasm for birds and conservation through ornithological research and public engagement. The EBO operates the bird banding station at Presque Isle State Park and also conducts water bird counts, shorebird monitoring for endangered piping plovers and common terns, and marsh bird surveys which track endangered least bittern as well as other wading birds. It also works with regional electric companies to safely keep ospreys from building their nests on electric infrastructure.
Why I'm giving: Besides being a writer for the Erie Reader, I am also an assistant director and the lead shorebird monitor with the EBO. We are working very hard to establish our new nonprofit and welcome the support of the community. We aim to preserve birds, their habitats and bring the Erie community together around the magnificent natural resources we are blessed to have.
Bonus: Federally endangered piping plovers are nesting at Gull Point again this year, a point of pride for our community. Let's keep this going!
Who: Jonathan Burdick, Writer
Giving to: International Institute of Erie
Who they are: In the institute's own words, they are part of a nationwide network called the U.S. Committee for Refugees and Immigrants (USCRI) which "open[s] doors for uprooted people, helping the world's most vulnerable rebuild their lives." They provide essential resources for Erie's New Americans to assist them on their path to self-sufficiency. They are also extremely efficient: over 95 percent of USCRI's spending goes directly to program delivery, helping 85 percent of resettled families become self-sufficient within six months.
Why I'm giving: In fiscal year 2016, the United States admitted nearly 85,000 refugees. In fiscal year 2019, that number has been cut to 30,000. Recent news suggests that the current administration may shut down the resettlement program completely. Despite such changes in policy and an increase in xenophobic rhetoric throughout the U.S., the International Institute of Erie continues doing important work with our immigrant and refugee populations.
Bonus: Around 20,000 of Erie's residents are New Americans, with half of those being refugees. You don't have to travel far to see the great things these valued community members are doing in the city.
Who: Brian Graham, Editor-in-Chief
Giving to: Friends of the Erie County Public Library
Who they are: Friends of the Erie County Public Library is an organization dedicated to helping support the numerous activities and programs for adults and children offered by the Erie County Public Library.
Why I am giving: Since before she was even able to sit up on her own, my daughter has been a regular at the Blasco Library. She absolutely loves the staff in the Children's Library and is a regular at the Tuesday Toddler Time program. She's always eager to share the crafts she makes and new songs she learns from the instructor. And she usually leaves with a big bag of books to read at home. The Blasco Library is a community treasure and I'm happy to support it this Erie Gives Day. 
Bonus: My daughter feels very comfortable in the Children's Library and will often go to the front of the class and stand next to the instructor like she's the assistant during story time and songs.
Who: Jessica Hunter, Publishing and New Media Coordinator; Photographer
Giving to: Inner-City Neighborhood Art House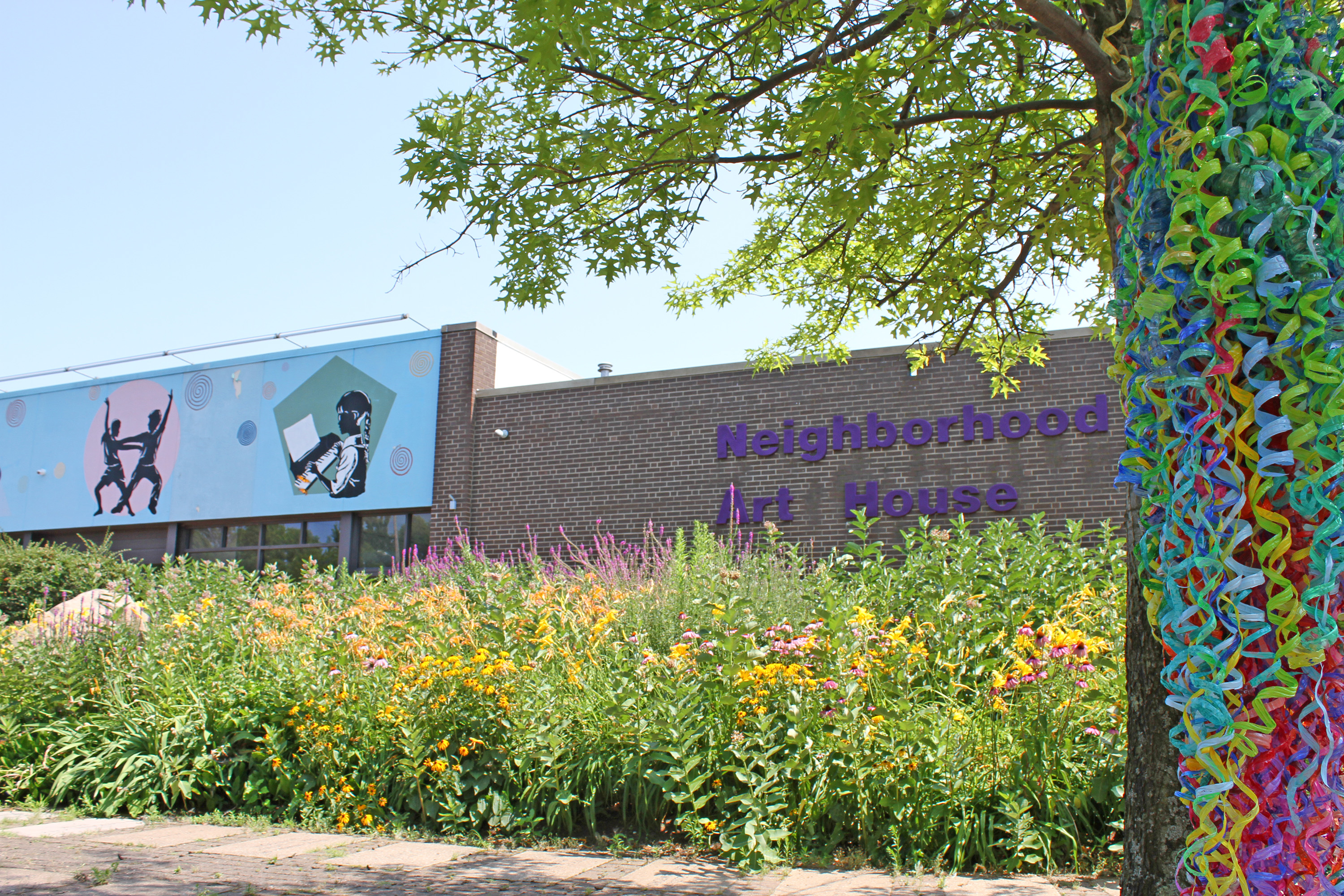 Who they are: The Inner-City Neighborhood Art House offers a free after-school program for inner-city, at-risk children in Erie. The program provides a wide variety of visual, performing and literary arts, and environmental action classes. In 1995, the Benedictine Sisters of Erie opened the Inner-City Neighborhood Art House because they believe that the need for the arts in the lives of the poor is as real as the need for bread. The Neighborhood Art House enables children to experience beauty, grow in positive self-expression and self-discipline, and develop into full and productive human beings.
Why I'm giving: As a former educator having grown up in inner-city Erie, I can relate to and understand the importance of after-school and summer programs offered in a safe and nourishing environment. Most of the children that attend the Inner-City Neighborhood Art house live in the sections of the city identified as high-density poverty areas. Research shows that one in five children do not have someone to care for them after school. Children benefit greatly from these types of programs. They will learn hard work, skills, discipline, and teamwork that can be transferred to home, school and eventually the workplace. 
Bonus: My late mother-in-law, Susan, was a clay teacher at the Inner-City Neighborhood Art House. With her passion for art she was able to witness much joy and hope for the future of Erie through this program. If you'd like to get involved there are various volunteer opportunities from teaching to reading to tutoring and more! 
Who: Ben Speggen, Contributing Editor
Giving to: L'Arche Erie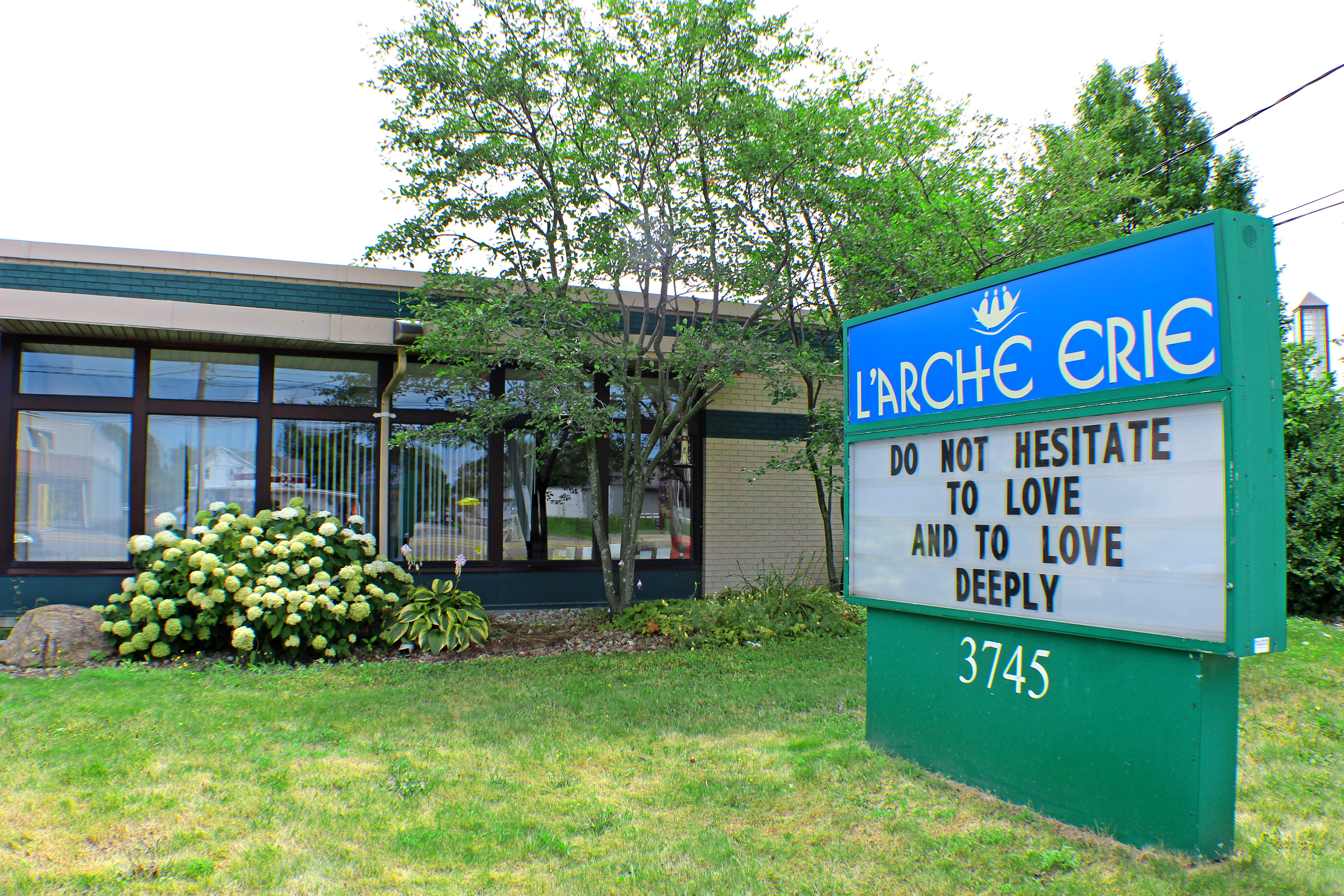 Who they are: L'Arche Erie is the local chapter of an awe-inspiring, international organization of more than 140 communities spanning the globe where those with and without intellectual and developmental disabilities share life experiences in hopes of deepening the human experience while exploring the human condition. The community here in Erie is the largest and oldest community in the U.S., opening its doors just a few years after the first community was founded in France in 1964, entitled "The Ark," (but in French, hence: L'Arche). Founder of L'Arche Jean Vanier, a philosopher, theologian, and humanitarian, who passed away this year at the age of 90, said that "the secret of L'Arche is relationship: meeting people, not through the filters of certitudes, ideologies, idealism or judgments, but heart to heart; listening to people with their pain, their joy, their hope, their history, listening to their heart beats." For a really beautiful and stunning look at what and who L'Arche is, check out the web series on YouTube #AsIAm.
Why I'm giving: The work of this organization serves as a constant reminder that although we may not always live in a world that is just, we must endeavor to make the world a more just place for all, as we are all vulnerable and all have gifts to share with the world. I can attest to continuing to witness that to this day, as I joined the L'Arche Erie community more than 10 years ago, first as an assistant and now as the secretary of the nonprofit's Board of Directors. Simply put: L'Arche celebrates life and endeavors to ensure that every person is afforded the ability to celebrate their life and the lives of others.
Who: Matt Swanseger, Copy Editor
Giving to: Bayfront Maritime Center
Who they are: Since 1998, the Bayfront Maritime Center has aimed to restore Erie's connection to the water — especially for citizens who would otherwise not have the means or opportunity. The BMC's educational initiatives include, but are not limited to, the Erie High School Maritime Program (continuing a long partnership with Erie's Public Schools), the Erie Adaptive Sailing Experience (or EASE, for youth and adults with physical and mental challenges), and the ongoing reconstruction of the schooner Porcupine (which will eventually facilitate an onboard STEM classroom and offer public sailing excursions).
Why I'm giving: Because no one's dreams should be run aground. I first discovered the BMC last year during my coverage of their annual Cardboard Boat Regatta — and was immediately impressed with both its physical facility (please note: it is not located within the Erie Maritime Museum) and its extensive programming. From steering underwater robots to taking to the water on recreations of historic vessels like the U.S. Brig Niagara and Lettie G. Howard, there's a lot to get excited about. Building enthusiasm and opportunity around our waterways is the surest way to preserve them.
Who: Nick Warren, Managing Editor
Giving to: Erie Animal Network
Who they are: The Erie Animal Network (EAN) is there to help pets. Through social media and grassroots networking, their mission is to find where lost animals belong. Whether they are strays or have been abandoned, the EAN will always do its best to help spread the word. Founded in 2011, the organization is made up of volunteers and provides other important services, such as the Community Pet Food Bank they founded in 2012. They also offer educational classes, support for feral cat caretakers, chained dog outreach, and Project Cat Track. 
Why I'm giving: One rainy afternoon in November, I spotted a friendly Calico cat in a parking lot downtown near work. She was quick to come right up to me, and noticing that she had a collar on, I picked her up to see if I could get her back home. She looked well-taken-care-of albeit out of place. I posted a photo of her to my Facebook account and many of my friends suggested I contact the EAN. They were immensely helpful and kind, and the "found" photo was shared hundreds of times. Though I never found her real owner, my new pet found me. "Hopey" has been with me since that day and I'm still grateful for the help the EAN gave me, and more importantly for all the wonderful, selfless work they do in the community.
Bonus: Pair this with a donation for a place like The ANNA Shelter, Because You Care, The Erie Humane Society, or Orphan Angels Cat Sanctuary and Adoption Center. As per the latter, be sure to check out Brooke Surgener's new video "Everybody Wants To Be A Cat" from The Aristocats, which I was honored to play guitar for. In the video, we shared the screen with 10 wonderful cats, all available for adoption from Orphan Angels. 
Who: Jim Wertz, Contributing Editor
Giving to: Urban Erie Community Development Corporation
Who they are: The Urban Erie Community Development Corporation (UECDC) offers employment training and educational opportunities to a diverse population of Erie residents, particularly those who live in southeast Erie near the organization's base of operations, the Rev. E.F. Smith Quality of Life Learning Center. Initially established to provide access to services and opportunities for African-American children and families, today the organization serves one of the most diverse populations in the city, including many immigrant and refugee families from Africa and the Middle East. 
Why I'm giving: There are few better illustrations of community than those you find at the UECDC. At any given moment inside that center, there is an elementary school student, for whom English is their fourth or fifth language, learning computer skills at an after school program; or an adult learning English or working toward their high school equivalency so they can get a job or go on to college; or young people playing soccer or basketball or tending the community gardens; or a community meeting that leads to dialogue, and understanding, and action. And once a year, the center's directors load a bus full of students for "Walking in Black History," a civil rights tour from Erie to Alabama and Georgia, where kids of various ages and ethnicities learn about the history and culture they've inherited and the country that they call home. 
Who: Adam Welsh, Editor-in-Chief
Giving to: Lake Erie Region Conservancy
Who they are: The mission of the Lake Erie Region Conservancy (LERC) is to identify, conserve, and protect the Lake Erie region's unique natural and cultural resources, while also promoting sustainable development through research and outreach. That mission has not changed since LERC's formation in 2000, when they led the charge to the creation of Erie Bluffs State Park, a beautiful one-mile stretch of Lake Erie Shoreline between Girard and Springfield townships containing Elk Creek, several different Great Lakes region ecosystems, wetlands, and of course the 90-foot bluffs overlooking the lake. As founder and Executive Director Tom Fuhrman puts it: "The goal is simple, protect as much open space as we can."
Why I'm giving: While Erie Bluffs is still LERC's most significant accomplishment, the land trust conservancy continues to grow and is doing exactly what Fuhrman and company set out to do. As stated in Ben Speggen's illuminating piece from the Jun. 5 issue of the Erie Reader, they started with zero acres under their belt, but have now been involved in 49 conservation projects, "totaling 1,754 acres having a value of $13,333,314," according to Dave Skellie, president of LERC's board of directors. He continues, "We want to ensure that open, green space exists for continued wildlife habitat, protected water quality, and for people who want to enjoy natural areas." Our corner of the world is undoubtedly a gorgeous place worth protecting for future generations. That's something I think all of us can get behind.
To donate to a local nonprofit of your choice, visit eriegives.org from 8 a.m. to 8 p.m. on Tuesday, Aug. 13.