Erie Natives Chase a Dream with Rathskeller: A Musical Elixir
Original musical seeks to register high proof among NYC theater community
September 8, 2021 at 10:02 AM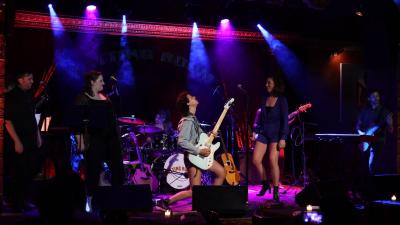 If I were to tell you that a Broadway-quality musical could be conceptualized, written, cast, choreographed, and produced in less than a year, you might tell me that I should go home because I'm drunk. But no matter what the breathalyzer test may or may not say, the fact of the matter is that Rathskeller: A Musical Elixir will debut at the New Ohio Theatre in New York City's West Village later this month after only nine months in development.
Don't worry, creative producer Julian Decker and director Rachel Rudd can scarcely believe it either. After all, it seems like just yesterday they were both involved in Erie's community theater scene — Decker with the Erie Playhouse (he says he "grew up" there) and Rudd with the Playhouse, Mercyhurst Prep drama program, Footlights Summer Theatre, Station Dinner Theatre, and her own Triple Threat Studios (among other things). It was Rachel's husband, Chris — "who doesn't consider himself a theater guy" — who first broached the idea of a dive bar musical 15 years ago.
Although there were talks to get the project off the ground back then, they dissolved like the head on a draught beer as familial and business obligations took precedence. And then the pandemic arrived, slowing all of society's systems to a near halt. All of the sudden, the creative well — and will — were refilled, and Rathskeller was pulled out of the cellar ("Rathskeller" is a German word referring to a basement bar or tavern). In the intervening years, the Rudds' daughters, Grace and Sydney, had grown into young adults and established their own theatre company, Dame Productions, in Marietta, Ga. near Atlanta. Grace was eventually able to get on a call with Decker, who currently teaches theater and runs his own studio in New York City, and things began to happen very quickly — you could say the pace was staggering.
Although initially conceived as a jukebox musical (i.e. borrowing songs from popular music) following one man's struggles with alcoholism, Decker felt that approach to "this subject matter was totally going to do it a disservice." He leveraged his connections to cultivate a team of creatives that he'd either worked with before or whose work he had admired in the past. His college classmate and friend, Collin Kessler, was recruited to write the book, while Brianna Barnes composed the music and lyrics. Decker explains that because the book was written before the music (contrary to convention), a jukebox-like dynamic evolved anyway, as the songs were informed by the characters' individual quirks and nuances as they appear in the script. The ease of that collaboration made Grace Rudd's job of choreographing all the more natural.
Those characters, by the way, are portrayed by a diverse cast of actors culled from all over, including right here in Erie. At the center of the narrative is the man, portrayed by Erie singer-songwriter Doug Phillips in middle age. Rudd explains that the man wanders into a dive bar that unbeknownst to him is actually purgatory — each act is a faded and scarcely recognizable memory from his gradually deteriorating life. The other principal characters represent in some facet the Seven Deadly Sins that either beget or are begotten of alcoholism — Pride, Greed, Lust, Envy, Gluttony, Wrath, and Sloth. Genevieve Ellis, a Buffalo native who recently appeared in the Erie Playhouse production of Into the Woods was a unanimous choice for the Lust-inspired character.
Decker reiterates again and again that in showbusiness, there are only two degrees of separation — he mentions the connections between him and the Rudds and Erie, between him and Collin and Brianna (the two were also familiar with another from college), and between him and the Erie Playhouse and Ellis. "I saw her, I reached out to a connection to connect me with her, and boom, she's in the show." And that's essentially how a bunch of Erie theater people rubbed their eyes and woke up in New York City. "I don't know if you know much about Erie theater, but everywhere I go, and anyone who I meet, I tell them about how active the Erie community is in theater, and they're like 'Where's Erie?' and 'Why is it that active?' I don't know, but it just is. We have turned out a ton of exceptional working actors, directors, and really cool managers," relays Rachel Rudd.
Unless you can make it to the New Ohio Theater the weekend of Sept. 24 - 26, unfortunately you will not be able to see the culmination of that — there are no plans to stream the performances live or record them for public viewing. However, the team is optimistic that the production — privately funded in its entirety — will eventually see wider distribution through high-end regional theaters, Broadway, and eventually smaller school and community theaters once the material is licensed as a package deal down the road.
For now, they're proud (arguably not a Deadly Sin when borne out of hard, honest work) that they'll be able to promote a successfully executed production that has universal appeal, embraces inclusivity (women, BIPOC, and LGBTQ+ individuals both on stage and behind the scene), and a book and score that tie together seamlessly. We'll drink to that — in moderation, of course.
Matt Swanseger's (mswanseger@eriereader. com) dive bar choreography has historically been of the improvised variety — kind of what Ornette Coleman is to free jazz.