Erie Philharmonic Coming Out of Its Shell
Warner upgrades highlight an optimistic outlook for 2017 and beyond.
January 18, 2017 at 3:15 PM
Ludwig van Beethoven's Missa Solemnis, a solemn mass in D major, is remarkable for its immensity, grandiosity, and ever-shifting dynamics. Even more remarkable was the fact that its composer scored the 80-minute behemoth for variously pitched strings, brass, woodwinds, and chorus without the benefit of hearing a single note. Here was a guy that had gone so deaf that by the time it was first performed (1824), he scarcely noticed the applause.
It stands as resounding proof that limitations can, in fact, be overcome. And although it may not always be clear, people will cheer one on so long as one's best effort is made.
No doubt about it, Erie has faced its share of obstacles over the years – but despite this, it has remained a place where arts and culture can still thrive. Although Erie (especially in January) will never be confused with a rapturous ascent to Paradise, it does parallel the Missa Solemnis in one key regard – that multiple parts working in unison are capable of transformative beauty.
In his 10th season with the Erie Philharmonic, conductor Daniel Meyer has been in the foreground of the metamorphosis. The Cleveland-area native has witnessed "steady" growth in the Symphonic Series and "significant" growth in the Pop Series concerts that comprise the Philharmonic season. Meanwhile, the Warner Theatre is poised for phase IV in its ongoing renovation program, slated to begin this summer. Unlike Beethoven, Meyer is hardly deaf to the enthusiasm surrounding his oeuvre.
"A large segment of people subscribe to both series. To me, that speaks to the fact that our audience knows we're going to put on a great concert whether it's [George] Gershwin, John Williams, or [Igor] Stravinsky," says Meyer.
Meyer immersed himself in both the classical and popular forms growing up, parlaying his fondness for music into a career. Meyer's mother started each of her four children off on piano in kindergarten before letting them select an orchestral instrument around the age of 10. Instead of watching TV after dinner, the family would gather around to play children's songs and standards to lay a musical foundation. These sessions helped spark her eldest son's imagination; Meyer soon began improvising countermelodies and eventually writing his own music in high school, including operettas based on the works of Geoffrey Chaucer and Bram Stoker's Dracula.
"Music has always been part of the fabric of my life," says Meyer.
It was during Meyer's graduate and postgraduate career that he discovered his love of conducting – "deconstructing a score, figuring out how it was put together, and determining how it can be best represented." Since then, he has held an assistant conductorship in Knoxville, Tennessee, a residency in Pittsburgh, and numerous guest conductorships throughout the United States and Europe. He currently heads the Erie Philharmonic and Asheville Symphony in North Carolina, which he carefully treats as distinct and separate entities.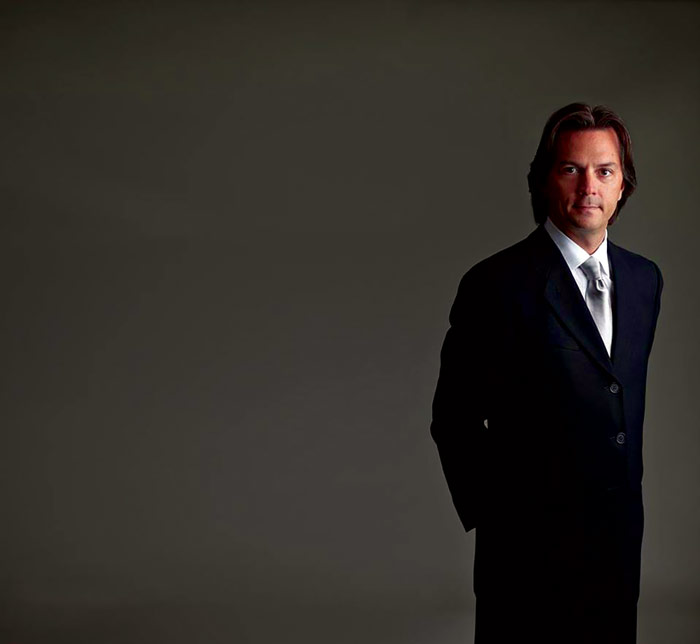 "The orchestras are very different; the audiences are very different; the acoustical stages are different. I cannot program the same thing because I have to tailor to facilities, audience, and the availability of guest artists," Meyer explains.
What he most appreciates about Erie audiences is "their willingness to experiment, to accept and enjoy the music we've decided to play them. We've built a degree of trust that when we take the stage, we believe in the music we're playing, that it has something to say, on an emotional, intellectual, or, at best, spiritual level, where you're lifted out of your seat and transported to some other realm."
Transcendence should be more consistently attainable once the Warner receives its final round of upgrades. The Art Deco and French Renaissance-styled theatre was never intended to host symphony orchestras; it was built in 1931 by Chicago architects Rapp and Rapp as a venue for vaudeville acts and movie screenings. Like a pullout couch bed or an inflatable air mattress, the Warner has been functional during Meyer's stay, but has not always offered the best support. For instance, the orchestra shell (the hard, curved surface behind the orchestra that funnels sound towards the audience) has outlived even its original donor, the Syria Mosque concert hall in Pittsburgh (demolished in 1991).
This year, the Warner is finally ditching the hand-me-downs and outfitting itself with modern amenities.
This year, the Warner is finally ditching the hand-me-downs and outfitting itself with modern amenities. Phase IV of the restoration project will add a new orchestra shell, a new orchestra pit, an enlarged, partially hydraulic concert stage, more generous lighting, climate- and humidity-controlled storage, and an optimized acoustics system. As listeners, concertgoers will awaken to a greater depth and quality of sound. As a concert programmer, Meyer has already awakened to a vastly expanded range of potential offerings, from powerful symphonies to intimate sonatas.
"Bring on the excavators," implores Meyer.
Together with the Philharmonic musicians (most of whom are locally-sourced from Erie County and the tri-state area), Meyer has already begun planning next season's menu, and it promises to be more diverse than ever. However, the remaining entries in the 2016-17 season should prove anything but bland – next month, the orchestra will perform the entire soundtrack of Casablanca in-sync with the motion picture. In March, world-renowned pianist Emmanuel Ax will sit in for performances of Beethoven's "Emperor" Concerto and Gustav Mahler's Symphony No. 4. April will both uplift audiences with the music of Disney and shake them to the core with the sheer force of the organ – if they let it.
"Our art form asks for someone to listen for an hour-and-a-half and turn off their electronic devices. It's really hard [these days] to ... invest yourself in what's going on onstage … and give yourself to the experience."
That would be more of a challenge if the Philharmonic wasn't so damned enjoyable to listen to. For now, Erie seems to be keeping its ears open to whatever the future may bring.
Matt Swanseger can be reached at mswanseger@eriereader.com. You can follow him on Twitter @SwazzySwagga.