Erie Philharmonic Returns to the Mid-day Art Break With Woodwinds in Tow
You just heard some Blues and Jazz this past weekend, but now it is some for something a little lighter.
August 5, 2015 at 9:15 AM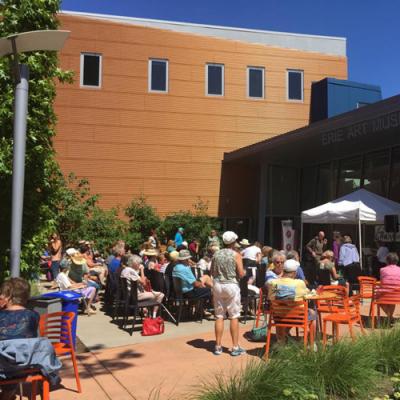 If you went to the Erie Art Museum's Blues and Jazz Fest this past weekend, you heard the shredding sounds of a guitar, the euphonic ballads from a harmonica, combining to make those ever-present, heavy blues tunes.
Head to the Erie Art Museum's Fifth Street patio this week to hear something else entirely — the light, airy sounds of the flute, the clarinet, and the other members of Erie Philharmonic's woodwind quintet. The warmth and quiet clarity that the music brings cannot be found elsewhere, especially at noon on a Wednesday.
Stick around for a gallery tour, and let the sounds transcend the Mid-day Art Break with this free performance. Grab a bagged lunch or a sandwich from the Wave Café and enjoy the show. With only two more performances left in the series, now is as good of a time as any to enjoy live, free music during your lunch break.  – Lauren Griffith 
Noon, Aug. 12 // Erie Art Museum, 20 E. Fifth St. // erieartmuseum.org