Erie Ski Club Brings Warren Miller Film to Erie
Do you love Erie? Do you love the snow? The Erie Ski Club does, and they're bring a ski film to Erie to prove it.
December 1, 2011 at 10:30 AM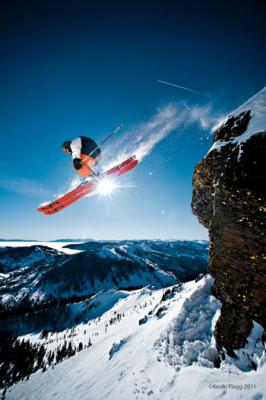 It's a late November evening. And those two words—late and November—mean one thing in Erie: snow. And maybe another: wind. And maybe one more: cold.
But it's late November and the thermometers are recording temps over 60 degrees.
So after a day of basking in the sun, donning T-shirts, and riding with the windows down, over 150 Erieties sit, tucked away in a room at the Tom Ridge Environmental Center where the temperature inside is lower than outside.
"It's the ski film—it's the premier name in ski film," explains Scott Cable, of the Erie Ski Club on the screening of Warren Miller's 62nd film: "… Like There's No Tomorrow," an entertainment film about the world of skiing and living the carpe diem life, the reason all of these people have gathered—some in shorts, few in coats.
Erie Ski Club has been active in the Gem City for four decades now, with a dedication to skiing, fitness, and outdoor life and recreation, and this is the Club's second year bringing a Miller film to Erie. With nearly 150 members, the Club gathers at least once a month to head off on ski trips—some local, some regional, some renowned resorts. The group hits the east coast—Vermont, Maine, New Hampshire—but also hits slopes in their backyard with the Peek 'N' Peaks and the Holiday Valleys.
"Because we're a group—and a large group—we can bring a lot of good things to our members," Cable tells me in a telephone interview. And the good things come in the way of group rates when skiing, member discounts at the Erie Sports Store, and most of all, fellowship—likely one of the main reasons folks have gathered here tonight.
But there's another, stronger and underlying reason: the group is using this screening as a means to raise money for a charity. Currently, the charity lacks a name, says Cable, but its current mission is to make the world of skiing available to inner city children.
"It's an expensive sport," admits Cable. "It can be difficult for low-income families, but we're trying to get something going so that we can pay for the bus and lift tickets, and possibly provide clothing."
Additionally, Cable is working to bus students in from the Erie school district to see the movie free of charge in hopes of spreading his love for skiing.
Cable, who's eight years young to the area, attended a couple of trips with the ESC and then decided to join the organization and was later brought on to its board. He took on the film project "because it's something I want to build," he says, "something I want to grow." And by grow, he means to the size of Celebrate Erie and Roar on the Shore—for the world of skiing.
But those are summertime events—events that happen when all our city's people come out of their caves for three quick months, packed with multiple events each night with the idea that this, this season, is it because all too soon the snow will be here and force us back into our caves.
"I'm so mad there's no snow right now," says Cable, and thems fightin' words. "I love Erie because of the snow. It's just a totally different mindset."
And it is. You can love the snow—or at least that's what Cable's trying to promote with ESC by bringing films like "… Like There's No Tomorrow."
Entertainment films, particular ones with smaller fanboy status run the risk of being esoteric to anyone not already excited about or interested in the subject mater—in this case, that is to say, if you're not already pounding the slopes, carving through the powder, and lost in the majesty of the mountains, you'd be lost in the film.
But this film manages to capture something deeper as it spans the globe from Alaska to New England to India to New Zealand, following renowned skiers taking to the slopes in search of, well, a good time and a reason to live like, well, there's no tomorrow.
Narrated by Jonny Moseley, the film opens with Lynsey Dyer and Lel Tone as the two skiers head to Kashmiri Himalaya. Mixed with breathtaking landscape shots, the two women stroll through a local town. Decked in neon, '80s-retro apparel, they stick out like, well, folks in neon retro apparel. But director Max Bervy pays particular attention to capture one of the women remarking that even though they don't speak the native language, they speak snow, and so do the locals, and together they share the joy of what it is to take on a mountain, and that common language sets the tone as the movie takes off at breakneck pace down the slope and across the globe from location to location to location, with 11 segments in all.
The movie does lull in the middle. After all, with the absence of plot and traditional storytelling elements other than "man, did you see that?!" some of the shots become difficult to distinguish from others. And then there's Colby James West and a yeti—two things that come off more as gimmicky than funny, where they both distract from the film's continuity and genuine message of: live for the moment.
The film ends on a somber note, with a reflection of the life of skier Kip Garre. And one of the film's most touching lines comes from a fellow skier who says he lives with no regrets but does wish he could've spent just a moment more on a peak of a mountain with Garre before descending to learn just a bit more from him about the terrain they were about to challenge.
So somewhere amid the "dudes" and the "sicks" and the "sweeeeeeeets" and the "mountain is like pukin' snow, man," the film touches you somewhere deep in your heart's core—these are happy people in tune with the world around them as it challenges them and they challenge it. And maybe we cringe just a bit at the "wickeds" and "gnarlys" because we're not the ones saying them because we're populating offices, riding the bus, and pounding the pavement. Early in the film one skier, with a snow-adorned face, bright smile, and soft eyes squinting from the beaming sun reflecting from the snowbanks sighs, "there's never a day I didn't think, 'damn, I shouldn't have gone skiing today.'" And that's exactly it: these people have found a way to live every day without fear of losing the next—they are living life happily just one day at a time.
And we can be happy that Erie Ski Club is working—even in 60 degree days in November—to spread the love of skiing, and snow, in hopes that we can all look around and be happy to have the seasons right here in our own backyard.
"…Like There's No Tomorrow" is playing at The Big Green Screen Theatre at the TREC at 7 p.m. Friday, Dec. 2 and Saturday, Dec. 3., with a matinee showing at 1 p.m. Sunday, Dec.4. Last year the shows sold out, so getting tickets in advance is recommended.  Warning: catching any of the remaining shows will likely tap into your inner outdoor sports fanboy with a resounding carpe diem hallelujah. Tickets are $10 in advance or $15 at the door. Call 838.4123 or visit warrenmiller.com for further information.