ErieMade Business Academy: Reimagining Entrepreneurship
New ECAT Mentorship program exemplifies creative alignment
April 20, 2022 at 10:00 AM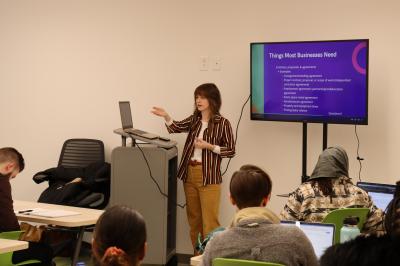 Few would argue that Erie is undergoing a rebrand. What remains to be seen, however, is its ultimate direction — and just as important — who has a say.
If entrepreneur mentorship programs like the ErieMade Business Academy have anything to do with it, the answer will be anybody who has the drive and desire to, regardless of who they are or where they come from. Combining the resources of Bridgeway Capital's Creative Business Accelerator (CBA), the Western Pennsylvania Entrepreneur Diversification Fund, Erie Arts and Culture, and the Erie Center for Arts and Technology (ECAT), the ErieMade Business Academy is aimed at transforming the "American dream" from theory into practice for historically disenfranchised populations.
For many would-be entrepreneurs, the gap between aspiration and attainment is not a matter of ability; it's a matter of accessibility. Because they cannot or do not know how to access the necessary financial, educational, and motivational resources, their ideas often fall by the wayside. This represents a huge loss to communities socially, economically, and culturally as huge stores of creative potential go essentially untapped.
Jude Shingle, arts program director at ECAT and a 2016 alumnus of Erie's 40 Under 40, doesn't believe there is a resource problem. "It's getting people to see that the resources are for them, or to understand the resources exist, or talk about them in a different way. That's the work." 
Building awareness is a lot easier, though, when you're building it right in front of them. Location is one reason why ECAT, housed in the extensively remodeled former Wayne School in the heart of Erie's lower east side, was such a perfect match for ErieMade. Generously equipped and beautifully appointed with 80,180 square feet of studio, conference, and activity spaces, ECAT has already been helping area middle and high school students reframe their expectations of what's possible with its clean, open, naturally lit atmosphere. 
"Environment shapes attitude," affirms Shingle. Now it's doing the same for entrepreneurs-in-training. In turn, the ErieMade stakeholders hope that the new businesses can go on to reshape their environment by creating quality jobs, reactivating post-industrial spaces, reviving Main Street corridors, and elevating underserved populations. There are many inner-city neighborhoods — especially as one radiates further out from State Street — that could reap huge rewards from that investment, the area around East Avenue being one of them. 
The other reason ECAT allied itself with ErieMade (through the Bridgeway CBA) is its philosophy. Explains Shingle: "We have an approach to career development that's very holistic. So it's not just about giving educational resources, it's also thinking about the whole person, and what barriers do you have to getting an education? Then we wrap support services around that." 
Confirming that alignment is Katie Johnson, associate director of the CBA at Bridgeway Capital, who at times sounds like she's paraphrasing Shingle. She refers to Bridgeway as a "social impact investor" driven to "invest in small businesses that are women-owned, BIPOC-owned, veteran-owned, and those located in low to moderate income areas." In short, she says, the "overall reason for Bridgeway is to provide capital options for people who have barriers to capital." She calls ErieMade "one of the programmatic expressions of what we do."
Johnson explains that in order to "access capital as a tool to create resilient businesses," prospective entrepreneurs must demonstrate "capital readiness" by preparing or repairing credit, creating a business plan, filing paperwork, obtaining licenses and clearances, etc. Grooming participants for capital readiness is one goal of the ErieMade Business Academy (in particular to apply for $2,000 grants through the PA Council on the Arts). The other is instilling a genuine belief and confidence that their business plans can succeed far beyond the scope of the six-month program, which officially wraps up late summer.
"It's about empowering the members of the community who are living in this part of town, to invest in and see themselves as business owners — to find a truly viable career in it," Shingle says.
Heading these efforts at the ground level is project consultant and business assistance specialist (and a 2021 honoree of Erie's 40 Under 40) Kristen Santiago. Despite being just 28 years old, she coaches from a wealth of experience as the owner of two successful area businesses, the locally-themed retail shop Gone Local Erie and the small business and entrepreneurial consulting firm Ivy + Atlas. Under her tutelage is a cohort of 21 designers, artists, designers, craftspeople, micro-manufacturers, and makers from the greater Erie region, painstakingly selected from a pool of 40 applicants.
"It was a really competitive process. And it was really exciting," Santiago recalls.
At the start of the program in early February, Santiago met one-on-one with each member of the cohort to get a grasp of their individual goals, visions, and circumstances and design a personalized curriculum around their needs, strengths, and weaknesses. Group presentations are given once a month at ECAT to break down high level topics that are applicable to any business, while Santiago continues to hold individual coaching sessions bimonthly by video conference. 
In the end, Santiago says the program "is going to be different for everybody. Everybody works at their own pace. You'll have somebody who will attack and do their entire business plan, and then you'll have others who do it section by section, working more slowly and methodically. We need to acquaint ourselves with their working style and how they can be best held accountable."
Echoes Shingle: "The way we've really marketed this program is 'We're going to meet you where you are.' You're part of a cohort. Everyone's figuring this out together. And that's extremely valuable because being an entrepreneur is terrifying … we're super excited because we just saw a diverse pool of applicants who typically don't see themselves as, and may not even use the word 'entrepreneur' to describe themselves." 
So even if homework and tutoring sessions are the bulk of the ErieMade Business Academy, there is still tremendous benefit in attending monthly class. "Not only do you get training on a topic that can be applicable to most or all of the people in the room, but you also get to hear from other people, hear their stories and struggles," says Santiago. "It's really easy to sit there and think, 'Oh my gosh, this person's at this level there, and they've accomplished this and did that and where am I at and what have I done?!' But the second that the walls come down and people start being transparent and vulnerable, everybody else in the room understands it's not a new thing — it's a universal issue." 
Although the anxieties and doubts surrounding entrepreneurship are universal, the language around it is often not. Therefore, Shingle says, it's been important to adapt that lexicon in a manner that suits anyone — whether or not they're not from a business background or even speak English as their first language. Santiago feels honored to work with the three New Americans in the program, who were variously recruited through Erie Arts and Culture and their CHROMA Guild (Santiago thanks Kelly Armor, folk art director) and the City of Erie's New American Council (kudos to Niken Astari Carpenter, New American liaison). 
Technology can also be a hurdle for some, especially to those who didn't grow up with it. Santiago says Patrick Moran, emerging technologies librarian at the Erie County Public Library, has been instrumental in getting them up to speed through Blasco's Idea Lab, an adult maker space that offers free access to equipment and classes. "It's a lot of connecting the dots."
Whether there are future iterations of ErieMade remains to be seen, but everyone sounds optimistic. "A lot of businesses are already working on their business plans and making leaps. Some people have already gotten grants and have just done great things. So we know that this is working really well," enthuses Johnson, who has seen similar programs flourish in Pittsburgh and elsewhere throughout Bridgeway's 15-county footprint in Western Pennsylvania. 
"I'm floored to be part of this program and having an impact on so many businesses. Because I know how hard and how lonely it can be," admits Santiago. "And also to have the support of organizations like ECAT and Bridgeway and Erie Arts and Culture — all of the pieces are working together in such a cool way. If the same marrying of all the resources could happen in other sectors of this city, amazing things would happen."
"I digress. That's another article for another day." 
One we certainly hope to write.
Matt Swanseger can be reached at mswanseger@eriereader.com